The Rite
Thank you for rating this movie!
Read your review below. Ratings will be added after 24 hours.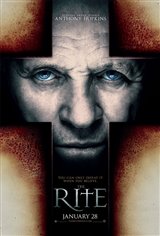 ---
Please rate between 1 to 5 stars
Showing 1 to 44 of 44
October 28, 2011
Completely distasteful. Well beneath what we expect of Hopkins...what the heck was he thinking????
August 16, 2011
The first great movie of the year with Anthony Hopkins at his creepy best. The rest of the cast is under his shadow for most ofh te film but manage to keep up. The visuals by director Hafstrom are beautiful and the film has great atmosphere. After seeing Alice Braga in Predators i was concerned thet she wouldn't be able to play a civilian character but i was wrong. A terrifying, dramatic, and thought provoking film.
March 31, 2011
Anthony Hopkins was brillant, as usual. Good, scary fun!
March 25, 2011
Anthony Hopkins was creepy in this movie. Great exorcism movie!
March 22, 2011
Great movies especially with Anthonie Hopkins.
March 07, 2011
boring at times
March 01, 2011
Awesome movie, way better then the exorcist
February 27, 2011
Great movie! It was very freaky! You can't go wrong with a movie starring Anthony Hopkins.
February 27, 2011
Anthony Hopkins was excellent! Scary. Very entertaining.
February 26, 2011
Great scary movie! Even better with Anthony Hopkins and no fakeness! Loved it!!
February 20, 2011
Anthony Hopkins was absolutely brilliant in this film and I was impressed with the quality of this thriller. I found it thrilling! Many scary movies become stupid, I didn't find that with this movie. I highly suggest seeing this film. A great movie!
February 19, 2011
Good idea lacking suspense
February 11, 2011
Scary!!
February 11, 2011
Very intense spooky somewhat with the scenes in the movie from the very start till the end,also Anthony Hopkins did well in his role performing an exorcism on a young, pregnant woman as a priest. You could feel the devil inside her and him, especially the wicked make-up and his great performance real assured you, evil did exist in this world.With faith in God,Colin O'Donoghue had doubt not to believe in him at the beginning and got his heart set back in God direction at the end as he set free the priest,Father Lucas and went on to become a priest. As a big fan of Oscar winner,"Silence of the Lambs"~Anthony Hopkins, you can't miss this movie..the battle against the Devil, especially based
February 10, 2011
Terrific. Love Anthony Hopkins...and he was at his best!
February 10, 2011
Scary!!
February 10, 2011
I wan't to be scared... but no, I didn't even jump once.
February 10, 2011
great movie it was another oscar for hopkins
February 10, 2011
The Rite is definetly the Right movie to go see if you want to experience the 2010 version of the Exorcist. It has everything you want in a Possesion movie, romance, comedy, action, and foul mouthed demons. What more can you ask for. The twist is somewhat predictable early on in the film, but overall it is well done, and quite the entertaining watch. For the love of God, stop reading this review and go see it !!!
February 08, 2011
amazing movie, reaally power4fyl. great actors too
February 08, 2011
A very poor movie. My husband almost fell asleep. I wanted to leave mid-show. A big snoozer!
February 07, 2011
This moive was funny-scary. It was totally cheesy at the end but stil enjoyable.
February 06, 2011
Amazing, Scary and Entertaining what else could you want in a movie. Anthony Hopkings is Fantastic. Definetly a must see
February 05, 2011
This movie should have been called The Lite...as in Exorcist Lite. Great potential. Lame. Original Exorcist from 40 years ago puts this yawner to shame. Rented The Last Exorcist after seeing this flop and was more entertained by a bunch of no name actors in a low budget B movie. Would not recommend The Lite...er...Rite.
February 05, 2011
Overall this movie had a lot of "filler" in my opinion. However Anthony Hopkins pulled off another amazing performance! He has to be nominated for this one! Also it is based on true events which makes it a little scarier ; )
February 04, 2011
Kept me on the edge of the seat and sometimes jumping. Great acting Fab makeup
February 04, 2011
certain spots Made U jumped. It was very good acting and fab for makeup
February 04, 2011
very well done
February 04, 2011
Kept me on the edge of my seat, as always Anthony Hopkins delivers. At times, found the storyline a bit slow. Very suspenseful.
February 03, 2011
Disappointing.....not comparing it to any other movie of it's ilk....just disappointing overall.
February 02, 2011
Boring !!! Slow !! Predictable !!! This is nothing more than an Anthony Hopkins fan club, dream come true. And even he was overdone. What I really liked is how a man of little faith can accomplish in 5 minutes what the best couldn't do over a period of weeks.
February 02, 2011
WOW!!!! EXCELLENT MOVIE!!!! I will see this movie again!! Anthony's best performance!!
February 01, 2011
I thought this movie was well done. I even jumped a few times in the theatre.
January 31, 2011
Love it very interesting 2 thumbs up
January 30, 2011
Just awsome
January 30, 2011
Excellent movie, very well acted and explained in a way that people could relate to. It was very believable and scary because it is based on actual people and events.
January 29, 2011
I liked it. Well done. Interesting story.
January 29, 2011
With all the "believe in your own greatnes instead of God" nonsense that is being spouted as self help these days, it was refreshing to see a good movie about the power of faith in God.
January 29, 2011
this is a way better movie then the last exorcism and Sir Anthony Hopkins performance was amazing.
January 28, 2011
For those who study the subject will rate this movie as real as documentary can be. Truly recommended, very entertaining at the same time educating.
January 28, 2011
Good suspense
January 28, 2011
my eyes couldn't leave the screen,
January 28, 2011
wow cant believe how much this sucked