The Roommate - User Reviews
Thank you for rating this movie!
Read your review below. Ratings will be added after 24 hours.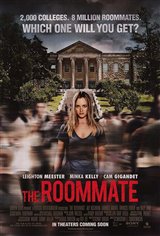 ---
Please rate movie 1 to 5 stars
Showing 1 to 43 of 43
July 23, 2011
You saved me a lot of hlsase just now.
June 12, 2011
The acting was good but the story line sucked. It is a horror movie for a 5 year old. Come on Hollywood.
June 05, 2011
it was enjoyable
May 30, 2011
Very predictable. Seen it all before.
April 02, 2011
Lame, predictable movie
March 18, 2011
COOL MOVIE
March 17, 2011
two stars at best, nothing like "single white female"
March 17, 2011
I went to see this movie expecting a good thriller. The opening comes right out of the blue. Its too fast paced. There is barely any storyline structure or memorable performances. NOT scary. NOT suspenseful. Pathetic and infested with forgettable performances. I can't even recommend this movie for a one night rental. The atmosphere is dull and lifeless. The ending is so last minute thinking. The climax had no ability to impress me. I regret ever spending my money on this piece. There is not one unique thing this movie has to offer. I'll be surprised if anybody mentions this film's name in the future.
March 16, 2011
it was not worth the money
March 09, 2011
Creepy! Makes me rethink some of my friendships haha!
March 03, 2011
The ending just didn't do it for me, but overall it was a great movie.
March 03, 2011
The ending just didn't do it for me, but overall it was a great movie.
February 28, 2011
ok movie but we seen this kind many times before
February 25, 2011
this is a great movie cant wait to watch it!!!!!
February 21, 2011
I KNEW FROM THE PREVIEW THAT THIS MOVIE WAS GOING TO BE LAME. IT'S ALMOST "SINGLE WHITE FEMALE" FROM THE 90'S. I WOULDN'T PAY TO WATCH THIS MOVIE NOR WOULD I PICK IT UP OFF THE STREET AND POP IT INTO MY DVD PLAYER.
February 20, 2011
it was a terrible movie!! dont go and spent your money. it was so slow and boring...
February 20, 2011
it was a terrible movie!! dont go and spent your money. it was so slow and boring...
February 20, 2011
Okay movie, it has its good parts, but nothing special.
February 16, 2011
It was well acted but the storyline could have been better. Wasn't scary at all. Very close to Single White Female, only not as good.
February 16, 2011
This movie should have been called Single White Female II. Same story, different generation. Worth renting on DVD (or buying out of the clearance box) but not worth the money spent at the theatre. Roommate did a decent job at playing creepy psycho girl though.
February 15, 2011
THIS MOVIE IS GOOD
February 15, 2011
This movie reminded me very much of Single White Female
February 15, 2011
Excellent movie. Great suspense!
February 15, 2011
Absolutely one of the best movies I have seen in a long time. It is a spin off from "single white female", but better actors and effects. 4 stars!
February 14, 2011
I'm only giving this movie 2 stars because the cast did a good job. The movie itself however, was terrible. Predictable and slow, I was sooo bored through the entire thing. If you cant watch this movie for free, don't bother. That's how much its worth.
February 11, 2011
WOW that is one scary roommate!
February 09, 2011
Surprisingly good, great acting by Kelly and Meester
February 09, 2011
I thought it was creepy and suspenseful! I loved how the movie was fast-paced. I know that other reviewers expressed similarities to an older movie (which I have also seen), and I thought that this movie was a well-done, up-to-date version of that theme.
February 08, 2011
Your typical suspenseful flick. Don't get me wrong here, Leighton has done an extraordinary job as portraying a sociopath killer. However, the storyline as a whole gives a "seen it before" vibe. If you loved the OC(show) and Disturbia (movie), then you would love the Roommate. It had a good selection of soundtracks and the screenplays were pretty good.
February 08, 2011
amazing
February 07, 2011
beyond my expectations.....wanted more...smh!
February 06, 2011
The movie was very predictable, but in a way it made it funny. The audience in the theatre started laughing half way through the movie at the scenes that were suppose to be scary.
February 06, 2011
I didn't like it. If you really want to see it, wait for it on DVD. Not worth the $10.
February 05, 2011
A waste of time. Not thrilling, or scary. 1 star.
February 05, 2011
This movie sucked.
February 05, 2011
Number 1 at the boxoffice...booyah!
February 05, 2011
Scary and fun!
February 05, 2011
Wow, this was made almost 20 years ago, called "Single White Female" with better actors. Hollywood is officially creatively Bankrupt!
February 05, 2011
I like the movie alot so good!!!!
February 05, 2011
so bad!!!!!!!!!
February 04, 2011
Thank you to the person that called that rude commenter on the disgraceful reference to suicide and the way they put it it sounded as if they want Hollywood to fail in general. To me now that suggests a dislike for movies in general so why did you pay the money to go to a theatre where you will probably be disappointed anyway that makes you a idiot with absolutely no life taht feels the need to complain about everything in the hopes to be considered itelligent. I loved teh movie the director's visuals seemed so out of palce in this movie that it was refreshing to see them in a movie like this it was a great film for the kind a film it wanted to be a teen thriller. The audience i saw it with
February 04, 2011
I loved it, and I dont think rating a movie to suicidal stuff is quite clever, not to mention very rude towards people who know/have had someone do something like that in their life.
February 03, 2011
This is a joke, right? What crack smoking, film school reject green lit this mess of an idea? If you are a premenstrual teenage girl, this might pass for entertainment...everyone else - protect your brain cells! They're under attack by Hollywood yet again. The bright spot in all this, is that theatre attendance keeps shrinking, so maybe... God willing... the movie business will hang itself with its own poorly made rope.