The Scorpion King
Thank you for rating this movie!
Read your review below. Ratings will be added after 24 hours.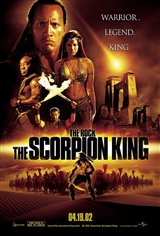 4.33 / 5
User Rating
Based on 8194 votes and 65 reviews
---
Please rate movie 1 to 5 stars
Showing 51 to 65 of 65
April 25, 2002
The Camel had the most personality in the entire movie
April 25, 2002
Quite frankly, the movie did not make much sense. There is no shred of historical accuracy to the whole thing. To the people who have watched the film: the sorceress was talking to a camel for heaven`s sake! Surely there is something a bit off kilter about that. The movie has nothing to do with either of the two Mummy movies, and basically is good for folks who want to see a semi-naked Kelly Hu, and the Rock in a loin cloth. Total waste of money at the cinema, wait for it to come out on video.
April 24, 2002
Wicked Movie Two Thumbs up way up..I`m going to buy this Movie On DVD when it comes out right away! THE ROCK did an amazing job i was very impressed. Keep it up buddy... MAKE SOME MORE MOVIES ROCK
April 24, 2002
Not too bad, but I don`t think it lived up to all the hype it was given.
April 24, 2002
THE ROCK ROCKS KELLY HU IS SEXY
April 23, 2002
Awesome one liners, nice action, but definitely needs some character development. The whole Scorpion King bit seemed thrown in to sponge off The Mummy hype.
April 23, 2002
Excellent movie. The Rock is great on this one.
April 22, 2002
Lots of fun, good action, and very entertaining!!
April 22, 2002
i thought that it was quite good.
April 19, 2002
Best movie ever, lets go watch it Tharsan.
April 19, 2002
FANTASTIC MOVIE , THE ROCK WAS FASCINATING FOR HIS FIRST BIG BUDGET MOVIE
April 19, 2002
THE ROCK IS THE BEST THING THAT HAS HAPPENED SINCE THEY INVENTED THE T.V. !!!!!!!!!!
April 19, 2002
GO SEE IT! AMAZING!!!!!!!!!!! ONE OF THE BEST MOVIES!!!!!
April 19, 2002
The Rock and Vin Diesel are the next action stars....Bye Bye Stallone, Segal, Van Damme and Arnie...