The Secret in Their Eyes
Thank you for rating this movie!
Read your review below. Ratings will be added after 24 hours.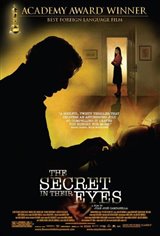 ---
Please rate movie 1 to 5 stars
Showing 1 to 21 of 21
July 05, 2011
Awesome....simply awesome!
April 20, 2011
Haunting and mesmorizing. A very good movie that stays with you long aftet the credits roll.
September 25, 2010
Excellent!
September 04, 2010
Wonderful. Well acted, witty dialogue, emotionally intense and complex.
August 18, 2010
EXELLENT!
August 17, 2010
good suspense. it's great to see foreign films.
July 29, 2010
This Argentine suspense-thriller deserved its best foreign film Oscar win. Riveting film with many slow-burning twists and turns. Amazing and believable performances.
July 29, 2010
Great acting.
July 28, 2010
I love foreign films it was great, i will buy the movie,, too boring for kids though
July 27, 2010
Excellent movie that is so engrossing the subtitles aren't a distraction.
July 19, 2010
Surprisingly well done. Should be an award winner.
July 19, 2010
Oscar Winner for sure!
July 15, 2010
Worth 4 stars but the ending could have been better/more intelligent. As it was, it was a letdown after 2 hours of excitement.
July 15, 2010
This is a highly praiseworthy film and was a worthy winner of the AA for Best Foreign film;although I also liked A Prophet for the award. Indeed,a great deal is glimpsed in the eyes including those of a heart-broken husband of a murder victim,the eyes of a killer and those glances hinting at the longterm longings of unrequited love.The film unfolds slowly at first and succeeds in giving us characters that we truly care about. There are moments of action as well as suspense.There is an amazing chase sequence through the stands of a crowded Buenos Aries soccer match. Alfred Hitchcock would be wowed by the tense scenario that plays out to a unexpected twist climax. I can't praise this one enoug
July 08, 2010
Deserving of every award. Brilliant!
July 05, 2010
A wonderful, compelling film. Best I've seen in awhile.
July 02, 2010
Masterpiece!
June 30, 2010
Masterfully done, engaging and engrossing, well worth tracking down. Proof positive that you don't need anything but a decent script and actting to make a film work, and work this one does! Highly recommended!
June 16, 2010
the most captivating movie i have seen in ages very interesting mix of drama humour and romance simply amazing
June 10, 2010
Best movie with a totally unexpected end
May 04, 2010
AMAZING MOVIE!!!! THE BEST OF THE YEAR.