The Sisterhood of the Traveling Pants 2
Thank you for rating this movie!
Read your review below. Ratings will be added after 24 hours.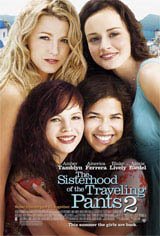 ---
Please rate between 1 to 5 stars
Showing 1 to 38 of 38
September 27, 2009
Its best animation movie ever made really i like it alot
December 01, 2008
Utterly horrible, money I will never get back.
November 26, 2008
Cute...a good rental.
November 24, 2008
AWSOME the best movie ever i loved all of it i saw it with my friends and it made them cry lol
October 05, 2008
Best Movie EVER!
September 15, 2008
It was awesome. Lots of action and excitement. Way better than the first movie!
September 14, 2008
I truly love this movie..... I was excited watching this movie. Everybody in the cast did an awesome job in the movie!!!!!! Can't wait for it to come out on dvd cuz i'm gonna buy it.
September 06, 2008
loved it to bits............. lots of fun
September 06, 2008
Silly and boring beyond belief. Would have left before it finished if not with 4 others
September 06, 2008
Terrible movie. Painful to sit through. I usually like girly type flicks but this one was boring beyond belief. Save your money and go see Mamma Mia (even see Mamma Mia twice if it gets you out of seeing this poorly acted time waster
August 25, 2008
AMAZINGGGGGGGGGGGGGGGGGGGGGGGGGGGG!! its so sweet and funny. but honestly i dont think guys would like it, so if u want to punish a guy or just want to have a fun girls night out go and c it.
August 24, 2008
i love these movies, i watch them like 20 times in a row, rue fact !!
August 20, 2008
this movie rocks
August 18, 2008
great movie the first one is just as good i totally recommmened this movie to any one!
August 17, 2008
worst movie of my life its based on three books they took a shortcut of the movie making plan first movie was WAY better
August 16, 2008
Alexis bledel stole the show! She was amazing
August 15, 2008
more leaning towards a 4.5 and a great girls movie. Look for more of my reviews. E.B.A.
August 15, 2008
Beautiful movie, the perfect girly feel good film.
August 13, 2008
This was truly a perfect summer movie. I found it to be noticeably better then the first, which is a plus. There were so many well thought out events, surprises, and touching moments. I'm really hopeing there's a third one!
August 13, 2008
I love bridget she is my favorite than tibby than carmen then lena no offence lena
August 13, 2008
this waas a good movie ., <3 yeeah i waant to go see it again.,'<3..............
August 13, 2008
Loved it!
August 13, 2008
Enjoyable light hearted movie. Fun to see with your girlfriends.
August 12, 2008
this is a great movie! i am so happy that they all got together again! i love this movie!
August 12, 2008
The guys are really hot , it was a great movie!
August 12, 2008
A great follow up to the first movie but still great even if you haven't seen the first installment. Excellent.
August 11, 2008
i thought it was really good... and the guys in the movie were scrumptious
August 11, 2008
Excellent!
August 11, 2008
We went to see this for my brother's birthday party and had a wonderful time! 5 stars to be sure!
August 09, 2008
This movie was great and the books are fantastic!!
August 09, 2008
the movie was REALLY good :)
August 07, 2008
This is the best movie i have ever seen and i have seen a lot of movies.
August 07, 2008
OMG this movie was amazing i would watch it over and over and over again......one of the best movies for 2008!
August 06, 2008
great movie for everyone
August 06, 2008
this movie was awsome