The Sorcerer's Apprentice - User Reviews
Thank you for rating this movie!
Read your review below. Ratings will be added after 24 hours.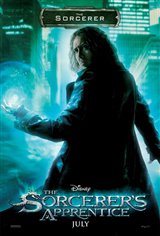 3.98 / 5
User Rating
Based on 707 votes and 173 reviews
---
Please rate movie 1 to 5 stars
Showing 1 to 50 of 173
January 10, 2011
Finally got to see The Sorcerer's Apprentice and as I knew I would from the trailers...I LOVED it! The dragon was awesome...can I buy one of those? lol I would tell all my friends to see it...great movie to watch with your kids! ;) (hope I win the swag bag!) :)
November 24, 2010
The Sorcerer's Apprentice was very entertaining - it was refreshing to see Nicholas Cage in a good role which he handled well. Nice special effects. A good movie for the whole family.I would recommend this movie.
November 16, 2010
money well worth it.. that dry sarcastic humor!
November 15, 2010
The movie was definitely a Disney Movie and the underdog got to shine. It was light fun.
November 04, 2010
Really really good! Enjoyed this movie a lot!
November 02, 2010
I liked this movie with Nicholas cage. it was entertaining and the kids really liked it. I would watch it again.
November 01, 2010
Not amazing...but entertaining.
October 27, 2010
great beginning and middle.... not so much the ending... very predictable....
October 26, 2010
Jay Baruchel is such a star! Great cast.
October 13, 2010
Great story and plot but Cage spoiled the show with his poor performance.
October 12, 2010
Great story, great adaptions from disney's animations to a distinct, stand alone movie, great music coorilation to this adaption. and Cage is still hot.
October 07, 2010
i really enjoyed this movie.
September 30, 2010
Very good movie. Specials effects are amazing. I loved the cars effects. Something new. Bringing a young gig (scientific genius) to take a place of honor (especially side by side with Nicolas Cage - Wow) in a production is different and interesting for those out there who has more to offer, people are now willing to listen and admit your presence and contribution.
September 30, 2010
For being based on a Disney short this was a pretty frickin good movie!!
September 27, 2010
A very good movie which was well produced. The actors combined with the special effects made for a movie which was good to watch.
September 23, 2010
Very exciting magical movie. A typical Disney movie, always very entertaining.
September 23, 2010
very entertaining...action packed...
September 23, 2010
Wow. Huge disappointment. Nick Cage normally does better work. Baruchel is pretty good, but that's about it.
September 20, 2010
The ode to the original, with the mops and everything was pretty much the only thing good about this movie. There were some ok special effects, but nothing super special. You'd be ok to miss it.
September 17, 2010
A fun movie, just sit back and be entertained with great special effects. Not for the too young, but a good parent/kid movice.
September 16, 2010
I liked it, thought it was fun, funny and action packed.
September 12, 2010
Loved it
September 10, 2010
This is a fun movie for all ages.
September 09, 2010
All I can say is I am looking forward to the sequel!
September 08, 2010
I absolutely loved the movie in all sspects even though normally im not much into fantasy movies but nick cage was in there mentoring a boy to be his apprentice. Loved the special fx and love story elements woven into the story line and ending was very touching. Friend noticed mop scene from original SA from Disney was back in scenes too:)
September 06, 2010
Excellent movie , but felt rushed. This probably could have been 2 movies and more done with the storyline . But very entertaing
September 05, 2010
enjoyed this movie, quiet entertaining.
September 04, 2010
i felt as if I saw this plot many times over...
September 04, 2010
Could have been so much better. I liked the actors, but the plot was a little lacking. But a good movie, even for kids.
September 03, 2010
I really loved this movie. I always love movies with magic in them. Lots of action and great story.
September 02, 2010
i loved this movie. it was great and it had a great story line and the actors where great. 500 stars!! but thats just me :P
August 30, 2010
very enjoyable
August 30, 2010
Good entertainment
August 28, 2010
Great family movie
August 28, 2010
Forgettable summer fun, it was fun while watching...but you forget it the next day. Who didn't have the One Republic song "Secrets" in their head by the end of the film?
August 27, 2010
It was good entertainment and the suspense was great...but it was scary in parts for the younger viewers...mind you if their use to harry potter than this is not a factor.
August 26, 2010
Individually, I love the actors in this. But together, they don't make a super movie. But it was alright. I loved how they had a similar 'Sorcerer's Apprentice' scene with the brooms. That alone was worth the price of admission.
August 24, 2010
Could have been better but an entertaining movie for the family. We'll add it to our DVDs. I'd like to see a stronger sequel.
August 23, 2010
I really enjoyed this story and all the cool effects in it.
August 23, 2010
lots of great special effects, interesting story line. Definitely worth watching.
August 23, 2010
I was kind of disappointed. I expected lots of special effects. That is why I went to the theatre to see it rather than rent it on DVD.
August 21, 2010
Great fantastic movie. I really enjoy watching it. Good movie for all the family and all ages.
August 20, 2010
In my opinion, another smash hit for Nick Cage. It's a pleasure to see a movie without all the nasty language and gore. Wonderful special effects. A must see for the whole family!
August 20, 2010
it was totally awesome
August 19, 2010
My son loves The Sorcerer's Apprentice better than Harry Potter.
August 18, 2010
Pretty good, cool effects.
August 18, 2010
Pretty good movie! I was a little skeptical at first but it turned out great. The special effects were top knotch and I especially liked the omage to the Fantaasia cartoon with the mop and buckets!!
August 18, 2010
It held my interest with all the action packed scenes. I thoroughly enjoyed this movie!
August 18, 2010
Great story line...really enjoyed this movie and I thought it was funny.
August 17, 2010
Not ahead of CLASH OF THE TITANS as THE BEST MOVIE OF 2010, and despite THE SORCERER'S APPRENTICE having a lot of epiphany, it's still got great CGI effects and action! For those going to see the movie, STAY FOR THE CREDITS, there is a SURPRISE ENDING as they finish!