The Star - User Reviews
Thank you for rating this movie!
Read your review below. Ratings will be added after 24 hours.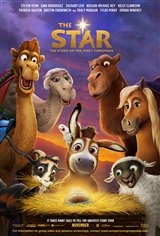 ---
Please rate movie 1 to 5 stars
Showing 1 to 24 of 24
February 09, 2018
Hilarious!
January 06, 2018
An absolutely wonderful Christmas movie!!! Beautifully told, true to the meaning of what Christmas is about!! Our 9 year old grandson loved it! The effects of the angels in this movie are awesome!
January 01, 2018
EXCELLENT STORY
December 27, 2017
Many great quotes from the Bible. Very sweet and a lovely reminder why we celebrate Christmas. Will be a new Christmas classic.
December 26, 2017
I am going to purchase this movie and it will become a tradition in our family to watch together every Christmas!
December 19, 2017
Great way for kids to here the true meaning of CHRISTmas.
December 17, 2017
Such a cute way to tell the story of the first Christmas. Very well done, the right mix of light hearted humour to bring some fun to the story & keep the kid's attention. I wouldn't hesitate to bring a child of any age to watch it, & it was also entertaining for us parents. Loved it!
December 07, 2017
My friend recommended it, said it was great for adults and kids alike, a beautiful Christmas story, makes you smile!
December 07, 2017
This was the best movie. I went without a kid and really enjoyed it. It is the true Christmas story told thru the delightful eyes of the animals. Take the whole family, or see it alone, you will enjoy it!
December 06, 2017
Finally, the true (or close to true) story of Christmas.
December 05, 2017
Loved it! An amazing movie. Quite enjoyable and heartfelt.
December 02, 2017
This movie is one of the best If not the best animated movie ever Better than frozen toy story Despicable me Up And even what framed roger rabbit Go see it again and again It's Christmas time
December 01, 2017
The idea was good. It is insulting to human intelligence that movie makers think children need potty humor & adults need sexual innuendo to be amused - in a nativity story, no less.
December 01, 2017
Absolutely fantastic! Great for children and adults like! Great animation with intrigue, humor, clever wit, and inspiration for all. We all clapped at the end of the movie and left there feeling on top of the world. Very inspirational and uplifting and totally appropriate for all ages! Helps one better appreciate the "real meaning of Christmas".
November 30, 2017
Everyone loves animals and these were adorable. The story is great and even though it was not all factual it was very nice. Hopefully it might change a life. Good music. Great for all ages.
November 29, 2017
I was very pleasantly surprised by the quality of this movie. The story of the nativity is told from the animals point of view. There is humor, great music and some very moving scenes. The cg animation is high quality. I highly recommend it for all ages.
November 29, 2017
Great fun for a new take at the Christmas story.
November 25, 2017
This movie is great for all ages. At the end of the movie, the young kids that were at the movie started clapping! What an inspiration to those of us that had brought our grandchildren and children to the movie theater!
November 24, 2017
Great movie for all ages
November 21, 2017
Excellent movie for all.
November 20, 2017
Loved the whole thing!!!
November 19, 2017
I loved this movie. I took my three grandchildren who loved it also. So refreshing,funny, and finally the most beautiful story ever told !
November 12, 2017
This movie was amazingly touching and as a believer of the lord, this was the perfect movie for children to enjoy & learn while having a better understanding in a different perspective. Beautiful movie! I advise everyone out there to bring their kids and family to go watch it, you all will love it!
November 12, 2017
Lovely movie, filled with humour and a lot of unexpected turns! Lovely animation, voices and a great ending that almost made us cry with joy! Amazing version of the Nativity story that is very pleasant for adults and children alike. Anca