The Switch - User Reviews
Thank you for rating this movie!
Read your review below. Ratings will be added after 24 hours.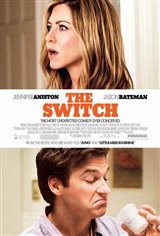 ---
Please rate movie 1 to 5 stars
Showing 1 to 50 of 96
September 07, 2011
Ellen Barkin is sooo smoking hot in this movie! Her character starts off as a boorish, roving womanizer (her male half is played by the excellent Perry King) who meets his demise when the women he's wronged decide to murder him. Before you can say Holly Golightly, he's brought back to life -- as the sort of eye-popping bombshell of a woman he spent his whole life chasing! A must-see comedy that proves the battle of the sexes is only skin deep!
April 27, 2011
The only reason I am giving this two stars is the great chemistry between the little boy and Jason Bateman, otherwise, will somebody please tell Jennifer Aniston to STOP doing the same movie over and over and over again!!
January 31, 2011
Enjoyed it better second time around.
January 18, 2011
A good rental
November 16, 2010
A funny move about two friends coming together to raise a child that they created with out either ones knowledge, since Kassie Larson (Jennifer Aniston thinks that her baby's dad is Roland (Patrick Wilson) in fact the truth is that her baby's dad is Wally Mars (Jason Bateman).
November 16, 2010
OK movie at best...
November 04, 2010
Probably one of the worst this year! What a group of self doubting, self absorbed people...a said group of people and values....I would not ever recommend renting it.
October 27, 2010
Typical movie and plot line. Only part I enjoyed was the scenes between Jason Bateman and Thomas Robinson
October 27, 2010
AWWWWWW... very cute... makes me miss my family even more... love it!
October 12, 2010
Cute chick flick. Heartwarming, funny, and keeps you on the edge of your seat. I have always loved Jennifer Aniston flicks and this is another one to add to the list!
October 07, 2010
Loved it....saw it twice and laughed both times......loved the little boy in it...
October 01, 2010
I liked this storyline. People do drink a lot and can't remember. Hahaha. Just like me.
September 30, 2010
predictable but cute!
September 30, 2010
Cute movie. Jason and Jen look good together too.
September 29, 2010
pretty funny
September 27, 2010
awesome!
September 27, 2010
booooooorrrriiiiiingggggg....
September 24, 2010
Really enjoyed this. Was a little slow but had a good story line.
September 23, 2010
It was very cute. I always love Jennifer Anniston - she just seems so real! The little boy was amazing. I hope to see him again very soon. Jason Bateman was very believable - just a regular guy. It was a really enjoyable movie to watch.
September 23, 2010
Jason Bateman steals the show...
September 18, 2010
It was a fun movie to watch. Kid was priceless! I do wish they would have picked another pic for Jason Bateman, and in the commercial, only because it kinda gave it away....I would have rather enjoyed finding out during the movie....it would have been funnier.
September 16, 2010
A bit slow but very cute! Definitely a chick flick!
September 16, 2010
Was a lot better then expected. Not a huge Jennifer Aniston fan but Jason Bateman and the kid were fantastic.
September 16, 2010
An average comedy. Batemen is good.
September 16, 2010
So Funny! I really like him as an actor and the kid was priceless
September 13, 2010
This movie was alright. I expected it to be more of a comedy, but it ended up being a drama. Jason Bateman is charming as always, and Jennifer Aniston is good too. The kid in this movie is a scene stealer - just adorable!
September 12, 2010
I really liked it. I like that way Jason Bateman is maturing as an actor. It just really worked for me.
September 12, 2010
predictable and unoriginal story
September 09, 2010
Very good movie. I laughed a lot throughout the whole movie.
September 08, 2010
A light romantic comedy, entertaining
September 06, 2010
Good for a couple of laughs and you can count them....two.
September 06, 2010
perdictable, movie was good, but one of those movies to rent at home
September 06, 2010
what a horrible waste of time. It has to be the most boring movie I've seen in the last two years. Totally miscast
September 05, 2010
This is more than a chick flick, it is about relationships and courage. Guys could see it too.
September 04, 2010
good movie, nothing earth-shattering but well played and good casting
September 03, 2010
Cute, light-hearted and fun movie with a fair share of both laughs & tugs at the heartstrings. Jason Bateman was great and the kid hilarious.
September 03, 2010
GOod Movie but nothing special..
September 03, 2010
I didn't have high expectations for this movie but figured it would be cute. And it is cute, but more than that, it's funny. Yes, I groaned in a few places but mostly I found myself laughing out loud.
September 02, 2010
it was cute ,cute plot but low budget movie it bores you towards the end.its just too bad because for such a great actrice you expect more in the movie.better wait for a rental rather then spend more for it
September 02, 2010
mediocre
September 02, 2010
Bateman much stronger performance than Aniston
September 02, 2010
Just a wonderfully sweet and feel good movie. I wish there were more like this! Thumbs UP!
September 01, 2010
Was a good way to just forget about work for a while but I am sure to forget about this movie in a month.
September 01, 2010
LOVED IT! I love those two working together!
September 01, 2010
Very boring, and the movie was all over the place... The little boy did a good job with his part, though.
September 01, 2010
It was nothing more than a good TV movie. Maybe Jennifer Aniston should think of doing something other than comedy.
September 01, 2010
A really cute movie!! I loved the chemistry... I loved the boy.. He was adorable! It's one of those movies you don't want to end
August 31, 2010
I laughed so hard in places, this was a wonderful movie after a gruelling day at the office. I have recommended it to everyone.
August 31, 2010
Not as funny as I expected it to be. More of a sentimental moivie
August 30, 2010
A lot of really funny parts, but a lot more dramatic than I thought it would be. A great movie to see with the girls :) Loved the little boy who played Sebastian!