The Three Musketeers - User Reviews
Thank you for rating this movie!
Read your review below. Ratings will be added after 24 hours.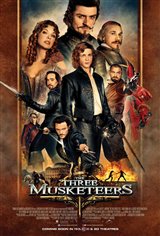 ---
Please rate movie 1 to 5 stars
Showing 1 to 50 of 75
November 23, 2012
I love movies like this. The stunts were great and Logan did an awesome job!!
July 19, 2012
1 1/2 stars just because it had a couple of cute moments. mila jovovich was upset because the studio didn't get behind this movie. i can see why...it's a supreme pile of poo-poo.
June 11, 2012
i found this movie surprisingly good with lots of action. i wasn't expecting much but i really enjoyed it.
January 01, 2012
The movie had a good mix of humor. The costumes were amazing. It was time well-spent.
December 25, 2011
Excellent adaptation of a classic. Good cast and a creative take.
December 22, 2011
Milla Jovovich is great as always and underutilized in a slick modern re-imagining of The Three Musketeers. With an undeniable visual flair and fast paced action and likeable characters its good popcorn fun but you will soon forget it as you leave the theatre. A strong 3 stars
December 22, 2011
I like that a woman got join the all boys club! It was fun!
December 16, 2011
Loved it. It was an fun adventure from start to finish. It just goes to show that the classics are forever.
December 16, 2011
great movie i loved it
December 11, 2011
Amazing movie, just wonderful.
December 04, 2011
I wish this movie followed the novel more as it's one of my absolute favorite stories of all time. This movie was too flashy, not enough about the character build up as the novel was.
November 24, 2011
Boring,waste of money.
November 24, 2011
Big, loud, lame.
November 24, 2011
Fun and entertaining adaptation of the novel (and previous films).
November 21, 2011
Why do they keep remaking movies?
November 20, 2011
I enjoyed this movie the special affects were well done.
November 18, 2011
i love this movie it was so much fun.it was my my fave musketeer movie other than the man in the iron mask . this movie cool exciting and orlando bloom as the villian for a change he was awesome yep defintly a four star movie .
November 14, 2011
Disappointing.
November 14, 2011
It was ok, I liked all the fantasy aspects that were added, which at the same itme made it unbelievable, but it is something kids would take more enjoyment from.
November 14, 2011
It was fun and entertaining, had nice fighting scenes.
November 12, 2011
doesnt rate up to other Musketeers movies
November 09, 2011
WoW, I enjoyed the movie right from the beginning to the end! Great Job!
November 08, 2011
It was a good story and everyone played well, but it just didn't stand out a a wow or anything like that. Thank goodness though, that there wasn't a lot of over the top effects or swearing, which was a relief.
November 08, 2011
I loved the action and adventure!
November 08, 2011
loved the three muskateers such a great movie!!
November 07, 2011
Some great action scenes although some characters were not likeable
November 07, 2011
I actually enjoyed watching this movie. It was a fun and entertaining film; with a new take on an old classic.
November 07, 2011
DAJA VUE
November 06, 2011
DEJA VUE
November 04, 2011
Interesting interpretation of Alexandre Dumas' classic soldier buddy tale, heavily influenced by the Matrix's bullet time action effects.
November 04, 2011
sometimes they should not do remakes,originals are always better. but this one was good
November 04, 2011
I was really disappointed in that movie, I was hoping for a big movie like the others musketeers' movie done before. But that one wasn't as good as the old ones. It wasn't a serious story and the romance is too cheesy!
November 03, 2011
This movie was so great...the sort of flick everyone should go and see. I don't know why there're so many bad ratings for it...sure, it's not realistic, but that's fantasy, my friends!!
November 03, 2011
Now so believable
November 02, 2011
Very fun, entertaining and enjoyable! A movie appropriate for the whole family! :)
November 02, 2011
This has been made too often , the bangs are little bit bigger but everyone knows the story..wait for dvd!!1
November 01, 2011
If you're expecting a take-your-breath-away blockbuster, you're not going to get it here. The storyline is weak, and the acting is very, very cheesy. However, if you go just expecting a cheesy, swashbuckling, silly romp of a movie, go see it. I'm not sorry I saw it--it had its moments.
October 31, 2011
wow, you'd think with how many times this story has been done they'd be able to come up with a movie that has some depth to the plot, an interesting angle....something! Nope. Some pretty sweet costuming and quite a few good actors, all of which just couldn't help the single dimensionality of this movie, which was fancy costumes. A complete waste to have it in 3D as well....who thought that was necessary?!?!
October 29, 2011
excellent movie!
October 29, 2011
Definately not to be taken as a direct interpretation of the book but an amusing, campy version. Glad I payed only $6 for admission and did not spend the extra money for the 3D.
October 29, 2011
I really wish there were a 1/2 star ranking. This movie is terrible. The only redeeming quality is Matthew Macfadyen's voice. His more than capable acting ability is stifled by the script. The only good comedic element is Orlando Bloom as an evil Duke. Now that's funny!
October 29, 2011
It was just okay!
October 27, 2011
It doesn't do much to break new ground, but it was a genuinely enjoyable movie. Good laughs, good sword fights and good acting. I enjoyed watching it.
October 27, 2011
If you want to see this movie, see it in 3D. It's more fun that way.
October 25, 2011
A waste of time and money.
October 25, 2011
An amazingly fun swashbuckling action flick. Not meant to be taken seriously and had many people in the audience laughing as it went along. I highly recommend this.
October 25, 2011
entertaining
October 25, 2011
found it enjoyable