The Three Musketeers
Thank you for rating this movie!
Read your review below. Ratings will be added after 24 hours.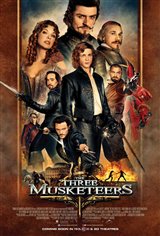 ---
Please rate between 1 to 5 stars
Showing 51 to 75 of 75
October 25, 2011
The worst movie I've seen in a very long time. Filmed beautifully, no script, poor acting, completely uninspired. See one of the old versions or if you like a good swashbuckling movie see Errol Flynn in Captain Blood (as old as it is, better than this...)
October 25, 2011
I was expecting more from this film. It didn't have full conclusion and was just pushing for a sequel. Overall it didn't fill my expectation of a good movie,
October 24, 2011
And the razzie goes to...?
October 24, 2011
Pretty bad. Trust the reviews. I've got to stop wasting my money on 3D. Next time I'm seeing the 2D version.
October 24, 2011
This movie needed Raquel Welch.
October 24, 2011
I'm guessing these filmmakers never read the book? This movie is really silly. Just over the top nonsense.
October 24, 2011
liked it
October 24, 2011
Good movie for light entertainment. Mila Jovovich surprised me in the role of Milady, which she portrayed quiet well.
October 24, 2011
A swashbuckling adventure.
October 24, 2011
great take on the source material
October 23, 2011
Sort of a dopey movie. I think if you're twelve years old and under you might enjoy it, but with all the swordplay, it might not be suitable for kids that young.
October 23, 2011
The best film Paul W.S. Anderson has ever made, and it's still unbearable. 2 stars.
October 23, 2011
This movie is great in 3D!!! The story needs work though. The acting is fair all around. On the plus side is frequent action scenes that look great.
October 23, 2011
A 3D mess. Avoid at all costs.
October 23, 2011
Fun to watch. Didn't feel like I wasted a couple of hours.
October 23, 2011
Not bad, but not great either.
October 22, 2011
awesome story line very impressed loved the action more or less its 2D over lay with 3D but well worth the watching i give this movie 5 stars and the actors very cute
October 22, 2011
Muskatarded!
October 22, 2011
Can someone please keep Mr. Anderson away from the camera?! My, oh my, another worthless movie to add to his resume. 1 star is too high. Zero stars. In closing, lathering this garbage up in 3D is not going to make it a hit! Those days are long gone, Hollywood.
October 22, 2011
great action
October 22, 2011
Great Movie!
October 22, 2011
good action movie
October 22, 2011
Ha-ha! Yes, I had fun watching this reinvented Renaissance fantasy of D'Artagnan and the Three Musketeers that has a slight 'National Treasure' kind of techno-twist to it, has a fairytale book style look to it, and see all the various characters spoofed a bit. Worth the watch, and have never read the original book, had to Wiki for that, but for having only seen the odd variants in past movies, I didn't care how well it was true to the original or not. 3D definitely done nicely and not overdone.
October 21, 2011
A pig of shame of a movie...I think the studio felt the same, because they had to slap some 3d on this turkey to get people in the seats.