The Trotsky - User Reviews
Thank you for rating this movie!
Read your review below. Ratings will be added after 24 hours.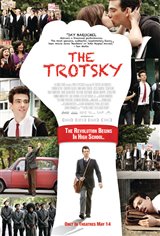 ---
Please rate movie 1 to 5 stars
Showing 1 to 30 of 30
July 30, 2010
great movie, really enjoyed it, watch and enjoy
July 30, 2010
A good story. Interesting concept for a story. Now tighten up the script and loosen up the characters a bit. And you will get a really good movie
July 27, 2010
This is what you call a smart comedy. It is full of political jokes, and if you feel it getting too teen coming-of-age, it will add a bit of Russian history. I would have preferred if they gave us more political history and less teen comedy, but then again they probably wanted an audience.
July 27, 2010
Engrossing picture. Jay Baruchel does an excellent job. With this picture, he'll be around for years to come for sure. Excellent story, and camera work and production not something I normally notice, but it was excellent in this. Jacob Tierney did an excellent job!
July 20, 2010
Comedic at times. Rather boring, and uneventful.
July 19, 2010
Jay is great in this movie!
July 16, 2010
Nice,amiable,quirky comedy. It doesn't deliver as many laughs as it should or could have but the idea of a youth attempting to live his life according to a perceived notion of destiny ie that one's name is prophecy is amusing. Jay Baruchel does possess some comic smarts. Colm Feore,however seems embarrassed to be in the movie. In reality,of course wouldn't someone in the family have gently suggested that the young man attend a few sessions with a therapist? Also,did young Bronstein not read about the real Leon's brutal,untimely end?
July 16, 2010
acting:5 score:5 direction:5 very good little movie rating:4/5
July 15, 2010
Not terribly funny to my taste.
July 15, 2010
This movie is a riot, I saw this movie a week ago and i'm still laughing!
July 15, 2010
A fun Canadian movie with a quirky character.
July 14, 2010
Not my taste for a movie. Funny at times but really a silly movie.
July 13, 2010
A fun movie.
July 13, 2010
pretty funny. Overall, a good movie and worth spending the money to see.
July 12, 2010
Not funny enough to call a comedy, not compelling or interesting enough to be a drama.
July 11, 2010
I thought it would be a little bit funnier, but it was still pretty good...I love the cast. If you like Jay Baruchel, you will love this movie.
July 10, 2010
I'm proud to be Canadian and this film does our country proud! Great to see Saul Rubenik again!
July 04, 2010
Excellent picture in every way. Nice to see Montreal native Jay Baruchel cast in a wrole that suits him perfectly.
July 02, 2010
Jay Baruchel impresses again.
June 29, 2010
the directer should be put in jail for robbery! pay to see this,i think not!
June 07, 2010
This movie was highly predictable, vulgar and the dialogue was very flat. The movie seemed to play to the 45 yr old, bald man/pot belly-comic nerd demoraphic.
June 07, 2010
The Worst Movie have EVER SEEN>>>..pure AGONY.
June 04, 2010
HIlarious. This movie is not for morons. If you're looking for toilet humour and fart jokes, this is not for you.
May 26, 2010
20 minutes too long with the worst romantic subplot in history. Some nice comic setpieces, though.
May 24, 2010
I should have read the first review. This movie SUCKED.
May 24, 2010
A good comedy, interesting topic and a message to kids to get involved. Anything out of Quebec is great!
May 23, 2010
I'm not sure what the last reviewer is rambling about...his/her's is the kind of review you might find smeared on a bathroom wall. This is a very funny movie, with an excellent story. See it if you're not a rambling maniac.
May 15, 2010
What's wrong with you reviewers, you are the reason that i shelled out money to see this. The main charecter is RICH, dadddy owns his own factory, wifey drives a fancy car daddy drives a convertable, kids live in a mansion and Leon"the main charecter" has mental issues, yet why noone knows, why the list he is making of trying to live someone else's life. Alexandra the pedophile gf, made me sick, and you'll see why if genders were switched well then, you'd get a diff. reaction. Canada poroduces poor standard cinema and I am appaled we give funding to such c_a*.Yes hollywood procuses a bunch of crumy screenplays but at least they back it financially.