The Twilight Saga: Breaking Dawn - Part 1 - User Reviews
Thank you for rating this movie!
Read your review below. Ratings will be added after 24 hours.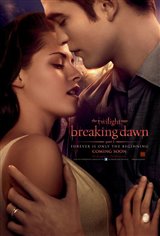 4.00 / 5
User Rating
Based on 1106 votes and 323 reviews
---
Please rate movie 1 to 5 stars
Showing 1 to 50 of 323
August 24, 2022
For imbeciles only.
February 09, 2015
Wow, so good.
February 09, 2015
Great storyline.
February 09, 2015
Such a nice movie and story line.
February 09, 2015
Love Love Love this movie.
March 03, 2013
I really love twilight
September 28, 2012
It was a bit slow but at that moment I Didn't mind! It was an interesting 'slow'. Nothing that would bore you. It was quite good actually. But I still think it could have had a bit more substance to it. More depth in the story, that is.
April 20, 2012
the epic romance of our time.
March 30, 2012
go team edward!!!! go team cullen clan!!!! whoohoo!
March 30, 2012
i absolutely loved it! ii can't wait 'til part 2 comes out! i especially can't wait to see bella as a vampire, her daughter, renesmee, as well as her charming husband edward, and the rest of the cullen clan, and the wolf pack. super excited to see, well... everything in part two!
March 29, 2012
i love this movie so much:)! i love them all!! can't wait til part 2 comes out:):)!!
February 19, 2012
a new horror classic!
February 19, 2012
dumbest thing i've ever seen
February 14, 2012
slow and boring the entire movie... next one should be much better.
February 11, 2012
i thought the twilight breaking dawn was the best out of all of them, they really stuck to the book and made sure the story line kept straight. the acting was much more coached and bill condon did a good job with the love story and kept it alive. kristen stewart really proved herself in this one, and will make a good vampire in part 2 it's a good way to end the twilight saga !
February 02, 2012
we loved it because it was really awesome. edward looked cuter in this movie. he wasn't as cute in the other ones. this movie followed the book well! i think that they shouldnt of cut the movie in half and made it for november 16 2012. that made us mad! and we are on team edward!
January 12, 2012
it was an GOOD movie, but it is kind of too sexual for people uder the age of 14. Pay ATTENCTION to ratings! They are Mainly right, Most Of The Time.....
January 08, 2012
This one is definitely more of a drama, and well scripted although people who have not read the books will miss out on some unspoken allusions in the movie. The CGI is very impressive.
January 08, 2012
Excellent!
January 07, 2012
entertaining movie
January 06, 2012
I like the other 3 movies before but it was still good.
January 06, 2012
A good movie to watch if you've read the books and want to see words turned into pictures! Job well done!
January 06, 2012
Good....... If your a teenage girl.
January 06, 2012
Not a movie to spend money on
January 05, 2012
Great movie if you like and follow the series. Frustrated that they cut it in half and will have to wait a while for part 2.... but overall this one follows the books quite well. I think they could of been a bit more realistic looking with the wolves in a few scenes and still had the same message.
January 04, 2012
the cinematogrphy of this movie ws very well done. it was intigueing and lovely to watch
January 04, 2012
poorly acted, not engaging enough
January 03, 2012
Very bad acting.. worse made movie of the series. Movie does follow the box well
January 03, 2012
Love all the Twilight movies and books. I've read the books and watched the movies more times than I care to admit. The movies were pretty close to the books except some parts in breaking dawn part 1. A few scenes were the same as the book, but others didn't come close (wolves physically attacking the Cullen's) I know changes need to happen, but I can't understand why others scenes are cut in the way they are. This being said I can't wait to see Breaking Dawn part 2.
January 03, 2012
I didn't find it as good as the other 3 but it was still really good.
January 03, 2012
Amazing movie!!! Best of the series!! Will watch this over and over again!
January 03, 2012
The first half of the film was a little cheesy, but I enjoyed the second half a lot more. As I haven't read any of the books, watching the movies for their surprises and plot twists is fantastic.
January 02, 2012
Breaking Dawn part 1 was romantic and funny! I am excited to see part 2 to see what happens now that Bella is a vampire!
January 01, 2012
They tried so hard to create scene by scene from the book about the honeymoon. Boring!
January 01, 2012
awesome movie- although it moved really fast.. I cant wait for the next one
January 01, 2012
Totally enthralled through the whole movie, wanted to watch the next movie the moment this was over. Awesome
January 01, 2012
The movie was true to the book.
January 01, 2012
love this movie. in fact love all twilight movies and books. seen all movie except breaking dawn part 2. cant wait to see it.
January 01, 2012
great movie love the story but some fx was too much
December 31, 2011
Best Movie of the year. New Director and a new twist to the epic storyline!!!
December 30, 2011
Amazing movie - cannot wait to see part 2. The movie was true to the book. Stephanie Myers is a great storyteller and the actors brought her book to life.
December 30, 2011
This movie was okay.
December 30, 2011
I love the movie. can't wait to see part 2
December 29, 2011
My wife raved about this movie, she loved it.
December 28, 2011
Awesome movie, can't wait to see part 2...the wolves are back with a vengeance.
December 28, 2011
Although they took some liberties with the storyline, I found it to be an excellent representation of teh book. A fantastic movie but the wolf voices were a bit too develish for me.
December 28, 2011
LOVED THIS MOVIE - IT REALLY SHOWED THE LOVE THEY HAVE FOR EACH OTHER - VERY FAST MOVING AND CAN'T WAIT FOR PART 2
December 28, 2011
Still awesome!! Satisfied all Jacob's/Edward's fans. :)))) looking forward the the final one.