The Twilight Saga: Breaking Dawn - Part 1 - User Reviews
Thank you for rating this movie!
Read your review below. Ratings will be added after 24 hours.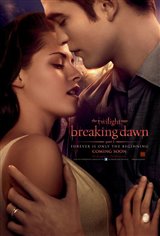 4.00 / 5
User Rating
Based on 1104 votes and 322 reviews
---
Please rate movie 1 to 5 stars
Showing 301 to 322 of 322
November 11, 2011
I can't wait to see this movie..it's A movie FRIDATE with my boyfriend??
November 11, 2011
going to be amazing!!!!
November 08, 2011
lame they r scared of an infant fathered by a dead glowing vampire, good effects vampire need some more fairy dust.
November 02, 2011
omg i love the twilights and cant wait to see this 1
November 02, 2011
AHHHHHHHHH! I CAN'T WAIT TO SEE IT... :D
October 12, 2011
This movie is going to be awesome
October 09, 2011
i love twilight seires it is awesome i can't wait till it comes out i am going to watch on nov.18 the day it comes out. TOTAL TWILIGHT FAN WOW!
September 26, 2011
Going to be the best movie of the year other than HP7 Part 2!
August 22, 2011
Should Be As Good As The Book!!!!!!!
August 09, 2011
This is going to be a great movie, cant wait!
July 13, 2011
I truly think this one will be worth the wait. All anyone wants is a stable life and family. I don't think that's too much to ask for.
June 23, 2011
i love twlight and the whole cullen family an jacob wishing that breaking dawn is not the last movie just like harry potter he got a lot of secqueals i cant get enough of twlight all 3 an i kno the 4th is going to be even better an congrads edward an bella sorry jacob but i hope evry thing work out and u find your true love love ejana gates ?
June 20, 2011
Looks like they've captured to essence of the characters... Also looks like they're tackling some of the more sensitive relationship issues..Nice to see them finally step up to the plate...About time!!!
June 18, 2011
I've read the story and it's amazing iam so exciting for the movie
June 06, 2011
best movie series and since its coming to the part that everyone is waiting for, its going to be great. bella and edward getting married and having a baby and jake and the wolf pack decide to kill the kid. cant wait till november.18
April 07, 2011
The book is awsome. I hope the movie does it justice. I know part one is gonna leave off a part that will leave everyone hanging.
March 31, 2011
i think if bella is pregnant the movie will be very interesting, because you don't know if she is going to die or live, also rosaline never liked bella so this will have to be a rough friendship. jacob and edward come to a truce which is very difficult, and jacob left the wolves for bella so jacob might be killed by his own family. i feel sorry for bella but she might live.
March 25, 2011
Cant wait :D
March 08, 2011
i love that movie i cant wait to see it
December 15, 2010
this is going to be the worst movie if bella gets preagnent and get married she sould of canceled the wedding that will be inchresting and keep going on with the mistury
November 29, 2010
books r good but movie
November 23, 2010
i read all of the books to this series and saw the first three movies. although this one will be gruesome and for mature ages (that is if the directors leave the part of Bella giving birth in) i think it will still be a great movie!!!!