The Twilight Saga: New Moon - User Reviews
Thank you for rating this movie!
Read your review below. Ratings will be added after 24 hours.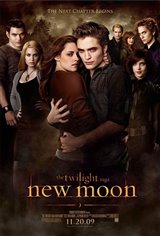 3.84 / 5
User Rating
Based on 1754 votes and 266 reviews
---
Please rate movie 1 to 5 stars
Showing 1 to 50 of 266
March 21, 2012
i love this film so much <3 <3 <3 this film has inspired me so much u knw about..... about vempire !!!!!!!!!!!!!!!
July 13, 2011
Mind-blowing!
January 16, 2011
this should be a oscar winner
September 12, 2010
How friggen hot can jacob be??? OMG i didnt care how much chemistry lacked between bella and edward i was staring at the wolf.
August 06, 2010
i can honestly admit i hate twilight but this film was not bad
August 05, 2010
Didn't care for it when I saw it in the theatre, however, after watching it on the movie channel, I have grown to respect the director and the performances more. Go figure.
July 06, 2010
STUPID MOVIE!! books are awesome, the movies are garbage... steer clear
July 04, 2010
Horrible direction, acting. The cinematography was great, and the effects not bad, however, the accompanying music and overall score did not suit the film. THis film seemed rushed, and missed the mark entirely. This interpretation/adaptapthin from the novel was not done well at all, and sadly was worth watching. I loved this novel series, and yes, the first movie was far superior to this.
May 20, 2010
A total waste of my time.. horrible acting, extremely weak plot line, effects are lame at best.
May 20, 2010
Horrible. I don't think it can get any worse....I feel everyone in this film needed an extra year of acting classes.
May 13, 2010
come on what a waste this movie was so garbage they making part 3 so it better then this
April 12, 2010
garbage....I thought after Twilight, more effort would be made to make better movies in this franchise - I was wrong - this movie is worst than Twilight.
March 13, 2010
I LOVE THIS MOVIE CANT WAIT TO C THE NEXT 1
March 07, 2010
Wellll, I had huge expectations going in because I am a huge twilight fan, but I was disipointed. It had alot of good scenes but there was to much of Bella being depressed and love and stuff like that. The ending wrecked the movie and it got so boring I almost fell asleep. They should have kept the 1st director, it would have been better.
March 03, 2010
such a good movie!! ;))))
February 28, 2010
it was awsome.the best
February 15, 2010
taylor lautner is the hottest guy ever and he does not deserve to be with taylor swift
February 14, 2010
i love it because i loved jacob in the 1 one even thow he had little parts
February 08, 2010
it was amazing,so much better than twilight!! i totally loved it, one of the best movies i've ever seen
February 08, 2010
it was so awesome its more of a romantic one and they acted super well but they could of had more of edward and a littel less jacob becuse he was one every single secen and less victoria becuse she was fired on the first one so they shold not keep bringing her up.and edward cullen acted rely good so yeah but its more of a teens move but it was terrifac so you shold go and see it there is also a site www.thetwilightsaga.comwich you can talk to the real cast:) jhust like me
January 27, 2010
loved it its so romantic
January 24, 2010
Loved it and will surely buy it when it comes out on dvd so I can watch it over again a few times.
January 24, 2010
best movie in the world!!!!!
January 20, 2010
It was awsome!!! It was so sad!!!
January 19, 2010
A disappointing follow-up to the first movie. Very poor acting and a choppy story which drags and stumbles toward an abrupt ending. I hope the team that butchered this movie is either replaced for the coming installments ..or learns from their errors with this one.
January 18, 2010
What a romantic and beautiful movie!It is not about traditional Dracula from Transilvania. This movie is full of the greatest human's feeling-LOVE.It is so romantic like a dream.Who does not like Love? Fabulous!
January 15, 2010
Weak acting. poor story and overall just an over produced teen flick
January 14, 2010
Love it.
January 11, 2010
A thoughtful, engaging movie that demands multiple viewings. 5/5
January 11, 2010
Thrilling in every way imaginable!
January 11, 2010
Excellent addition to the saga! I've seen it 14 times...so far!
January 10, 2010
I can't stop watching this movie!!!
January 09, 2010
The best vampire movie ever!
January 04, 2010
not as good as the first one would not see it again waste of money but i liked how it told the story of jacob's tribe and how he turned into a wolf and why
January 02, 2010
I loved it. I'm nearly 40 years old, and I loved it. I went and purchased the first two books after watching this movie. I could watch it again for sure.
January 02, 2010
saw it a second time....love it!!!
December 31, 2009
i love twilight/new moon and taylor is so cute
December 30, 2009
totally awesome!!!!:P
December 30, 2009
What else needs to be said!!!
December 30, 2009
If you love the books you will love the movie!!
December 28, 2009
an awesome movie
December 28, 2009
the best movie ever i could watch it all day all night and 4 ever...
December 27, 2009
It was a bore. The story line was horrible, and there was no attraction between the love interests. THe only decent acting came out of Taylor, the guy who plays Jacob.
December 27, 2009
it was the best movie ever made
December 26, 2009
Such a good movie! If you havent read the series it keeps you guesing and very interesting!
December 26, 2009
I LOVE THIS MOVIE,JACOB IS TOTALLY HOT,FIVE STARS!!!!!!!!
December 25, 2009
this movie is sooo cool and sooo exiting
December 23, 2009
It was an Okaay movie. But i got bored... they dragged some stuff out. I was starting to fall asleep during the movie. I liked the first one better.
December 22, 2009
I love this movie could watch it over and over again!!!!
December 22, 2009
LOVE LOVE LOVE IT! ;) Seen it three times in theatres <3 :P