The Visit - User Reviews
Thank you for rating this movie!
Read your review below. Ratings will be added after 24 hours.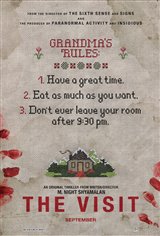 ---
Please rate movie 1 to 5 stars
Showing 1 to 34 of 34
January 22, 2016
It's a fun movie. At first I wanted to rate it harshly, but compared to what? it's not trying to be Oscar worthy. it's entertaining, not overly scary, and I liked the twist.
December 18, 2015
Terrible movie, total waste of time.
December 18, 2015
Terrible movie
November 02, 2015
Super good it kept me at the edge of my seat
October 27, 2015
Best Shamalayan film in forever, and pretty clever overall. I'm not a fan of the hand-held / found footage genre, and the technique works ok here but only ok. Script wise, it was great, and the acting is good. Funny, creepy - a nice little Halloween treat.
October 12, 2015
This was a stupid waste of money. My husband and I hated it,it made no sense whatsoever.
October 08, 2015
This was not an intriguing film at all. Poor storyline and not scary.
October 01, 2015
I went with my daughter-in-law and we both hated this ??movie??
September 25, 2015
Seems you either love it or hate it. I really enjoyed it. For me it was original, at times unexpectedly comical but in a way that didn't effect the creepiness, had some interesting twists built into it and lots of very awkward suspenseful moments that kept your curiosity strong as to what would happen next.
September 24, 2015
Save your money and time.....just no worth seeing.
September 20, 2015
far better than I expected. most online reviews get it wrong dubbing it a "found lost horror footage" genre; but instead its more a videographic "making of" documentary by two budding journalistic explorers into the human condition (old folks/grandparents; skeleyons in the closet; etc) ... but as creepy moments escalate, we are lured into its "abnormal normalcy", do the bold and curious kids get in over their heads? do their suspicions play out in something horrifying or just normal for old folks? does the inquisitiveness of these kids show journalistic daring do? well, you'll find out how far it goes! it was a fun ride! worth the see
September 19, 2015
What a let down.. Every moment being filmed got to be annoying.. Not scary. Just creepy and the ending did surprise me. The reason for the mother not having contact with her parents for years was lame.
September 18, 2015
The acting by all was excellent. The kids were hilarious. Good combination of laughs and scares. Entertaining flick.
September 18, 2015
The "surprise" ending that some people on here are referring to is anything but a surprise. Saw that coming within the first 15 minutes of the film. What's with the 5 star reviews? It really wasn't a good movie, had possibilities but ..... no.
September 16, 2015
The worst movies I have seen and a total waste of money. The acting is poor, it's not scary or funny; it is just juvenile nonsense. I expected much more after viewing the trailer and I was so disappointed. Unfortunately the theatre I went to only showed this movie in the VIP auditorium, I don't know why, so it was even a bigger waste of money. I won't be going see any horror or 'scary thrillers' anytime soon because they never seem to work.
September 16, 2015
Movie was entertaining. Good acting, great funny moments and overall a great thriller. Not much of a horror film though.
September 16, 2015
Disappointing, I expected a lot for than a 'Blair Witch' knock off. Dirty diapers on an old man aren't scary, it's just sad.
September 15, 2015
Awesome film! Unsettling, fun, gross and bizarre - you're in for a real ride!
September 15, 2015
GREAT!! Movie had fun enjoy the comedy and had a unexpected ending
September 14, 2015
The movie doesn't take itself seriously and is meant for an audience that understands that. It's not meant to be terrifying, although it does have a few jump scenes that made the entire theatre scream. And then laugh. Not at the movie, but with it. If you're looking for a cinematic experience, stay away. If you're looking for a good time with an audience, this is a must see in theatres!
September 13, 2015
Excellent movie! Very suspenseful and entertaining. Not a minute went by where I was not glued to the screen. The acting was amazing and so was the cast. The actress who played 'Nana' did a brilliant job and should definitely win an award. The boy in it was also brilliant and very funny. The movie was more funny than scary, but that's what made it great. And the best part of The Visit, is the ending! You won't see it coming...
September 13, 2015
VERY slow paced...not scary at all, just what you see on the trailer.
September 13, 2015
Amazing
September 13, 2015
I had high expectations for this one. Unfortunately, it was a little disappointing. Slow going though a decent twist at the end and some scary moments, but this gets a 5/10.
September 12, 2015
Not as great as touted. Nauseating jerky filming. No real scares except with the occasional jolt of loud music. Not worth our time sitting there.
September 12, 2015
It had some scary scenes which had the audience screaming. It also had a lot of comedy and had us laughing a lot. If you really want a scary thrill then go see it alone.
September 12, 2015
I thought this movie was fantastic. The twist was great and even though some people I know expected the twist they only guess parts of it, and some say it didn't ruin the movie just made the final act stronger, scarier.
September 12, 2015
I was kind of disappointed in that this movie was not as scary as I expected it to be given it was directed and written by M. Night. S. The trailer was scarier than the actual movie. The movie had some good scenes but not enough.
September 12, 2015
Dreadfully unoriginal. We guessed very early on what the "twist" was so when the ending came we just groaned. I really wanted to like this movie but it was just plain bad. The leads were annoying know-it-all kids, the Blair Witchesque shaky camera and home movie concept has been done to death. The movie would've been better if not shot that way. And the rapping ...... !
September 11, 2015
Found it boring except for last 10 minutes. Acting was fine. Too much of the kids talking into the camera, gets annoying. Even at the very end, the only violent stuff was poorly shown, just quick flashes. Waste of money.
September 11, 2015
It was the best movie I've ever seen, very scary plot, not too many jump scares. I will be going to see this movie again!
September 11, 2015
Very disappointing movie. Complete waste of time.
September 10, 2015
Smart and suspenseful. Enjoyed this movie a lot!!!!
September 10, 2015
well done, it's the 6th sense all over again