The Wedding Ringer - User Reviews
Thank you for rating this movie!
Read your review below. Ratings will be added after 24 hours.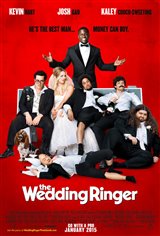 ---
Please rate movie 1 to 5 stars
Showing 1 to 15 of 15
May 30, 2015
Much better then I thought ! Very funny !
April 20, 2015
Kevin Hart is so funny
March 22, 2015
This was a funny movie with some great touching moments. Yes it has some swearing and crude humour...but that shouldn't be a surprise due to the rating. It had some great moments.
February 15, 2015
Laughed so hard I wish I had rewind. Sure I missed half the movie while laughing!
February 09, 2015
The trailer didn't show any swearing or inappropriate behavior so I thought it was suitable for me but I was very uncomfortable through the whole movie. Way to much cursing and sexually suggestable scenes. For a Christian it was very unpleasant to watch.
February 07, 2015
I'm 62 and was worried that this movie would be one geared to 16 year olds but in actual fact I found the movie very funny and laughed out loud several times -- loved it!
February 07, 2015
Disappointing occasionally laughed too much profanity and really Kevin Hart....A dog and peanut butter scene you can surely do better than that for a laugh. Stooped a bit low with that one Save your money folks not worth the admission
February 03, 2015
A major disappointment as my two girlfriends and I left after 25 minutes because the cursing was gratuitious and unnecessary. We thought it would only be in the beginning and then subside. I'm surprised at Kevin Hart because normally his movies have 2-4 curse words and then it's over. This had multiple in one sentence and he doesn't need to do it because he's funny without it. Too bad. I will pay closer attention to the movie rating next time.
February 03, 2015
This movie would appeal to a mostly male audience, between the ages of 12 and 24. I walked out, and I'm a little disappointed with myself, because I knew better. I was looking for a good laugh. I did laugh once.
January 30, 2015
Went with my best friend while both of us were having a bad day. Man, what a pick me up! We laughed almost the entire movie, as did the completely full theater. It is a light hearted, just for fun comedy and I will definitely see again.
January 25, 2015
Fine sequel to The Wedding Planner with Kevin Hart in the Jennifer Lopez role.
January 25, 2015
Good date night movie. It had lots of good laughs and it didn't get too sappy at any point.
January 23, 2015
awesome movie!
January 20, 2015
You get what you'd expect, light fun. Kevin Hart is great love his attitude!
January 19, 2015
Very funny movie!!