The Wolfman - User Reviews
Thank you for rating this movie!
Read your review below. Ratings will be added after 24 hours.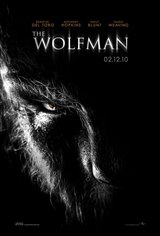 ---
Please rate movie 1 to 5 stars
Showing 1 to 50 of 81
October 30, 2014
Since tribute.ca won't tell you, take note that the original WOLF MAN movie is playing at selected theaters tonight as part of the THE MUMMY/THE WOLF MAN double bill. Don't miss your opportunity to see these monster classics on the big screen!!!
March 26, 2012
finally, an awesome horror movie!
January 28, 2011
really bad movie....the acing, other than Emily Blunt, was awful....even the special effects weren't that good. A very disappointing flick.
November 27, 2010
It rocks! 5/5
August 12, 2010
One of the worst movies I've seen. A complete wate of talent and time.
July 28, 2010
This movie was not without its charm. I really shouldn't fault it for "not being my cup of tea", because what it does, it does well. I just was not really on board. I'm quite a fan of period piece horror, and this is a good example. There's something about the set pieces and the mood of the film that really reminds me of Alan Moore's comics (and adaptations), which is something that definitely works in this film's favor. I really like the way the remake really nailed the theme of a werewolf being powerless to control or restrain the actions of the wolf he becomes, and being racked with dread the night before and guilt the next day. Benicio Del Toro was a rather inspired choice for Lawren
July 26, 2010
This movie was a huge dissapointment!! the parties involved in making this garbage should be embarassed with themselves as no effort was clealry made to make a decent movie. I guess the studio thought "just put Del Toro, Blunt and Hopkins in it and people will enjoy it". it was one of the worst movies I have ever seen.
July 24, 2010
Horrible movie. First, the director obviosuly had no clune what he was doing as the scenes were disjointed and unintelligible at time. Secondly, I needed subtitltes to understand Del Toro. He's a very good actor , but he needs to be reminded not to mumble. Finally, the script sucked. What a waste of talent. The only thing worth watching was Emily Blunt.
June 12, 2010
The visual effects were good.Story line was predictable, but very enjoyable. Not too gory like too many movies today trying to sell the stroy lines with gore.I'd see it again.
June 06, 2010
Wonderful action!
May 13, 2010
wow a classic that was going to be good is my garbage someone why wow waste of my time
March 30, 2010
This is in my opinion the best horror film of the year so far. The visuals are stunning to behold and it really an eye candy feast. The gore is strong so if yu have weak stomach stay home for this one. Benicio del Toro's acting was good it could have been a little bit better but what can you do. Anthony Hopkins was great but I didn't have to tell you that. The one thing that was disappointing wa The gypsy Maleva didn't have a very big part. The big acting surprise came from Emily Blunt, she was amazing any clip would not do her justice. Her performance must be seen as a whole to be appreciated. Just amazing MOVIE LOVER.
March 07, 2010
Horrible movie...no meaning to it. The effect were nice but which crazy person likes to see another human being turn apart... I still feel sick in my stomach.
March 04, 2010
AWESOME is the only way to describe it! 5/5
March 03, 2010
It was alright, but not nearly as good as I had anticipated. Benicio Del Toro and Anthony Hopkins were great actors but the plot was very shaky. There were a lot of items that never tied up at the end, which was a little disappointing.
March 03, 2010
I have seen this movie,and I am only nine.it was really gory.it wasn't the best movie in the world.I think the best movie I have seen is saving private Ryan.
March 02, 2010
Too predictable.
March 01, 2010
Just ok, nothing special. Could have been so much better but there were no scary parts and without scary parts, what's the point? Rental. lochnesshampster
March 01, 2010
the cgi was well done, the script was truly garbage. and the acting was just horrible. I would not recommened this movie to anyone absolutely horrible.
March 01, 2010
CLASSIC! Great to see this doing so incredible at the box-office!
February 27, 2010
it was good
February 25, 2010
A decent, scary and entertaining re make of one of Universal's classic monster movies. Gorier than I expected..Benicio Del Toro's sombre acting and facial expressions capture the lonely, troubled character in much the same way that Lon Chaney Jr. did many moons ago..Anthony Hopkins was great in his role as well. A bit rushed in some parts, a bit too slow in others, the film has a bit of a time finding itself, but is still worth a watch in my opinion.
February 25, 2010
so bad it was comical. waste of time and money.
February 23, 2010
wait for dvd if you're interested, because we were interested and we (group of 4), and we all laughed through it... cast is great but they get lost, and some of the effects are cool but only at first. an overall disappointment. i know they're re-telling a story but it was a little too predictable...
February 22, 2010
I would have rather rented it. Plot sucked, ending sucked. The only good things were the actors who tried their best to make the movie good. See something else and rent this one
February 22, 2010
Acting. Special Effects. Dialogue. Emotion. If only the movie had some of these it might have been good. One of the worst movies I have seen. American Werewolf in London is the werewolf change all others are compared against. This was the opporutnity to re-set the bar. Not much better than watching Thriller, and at least you get dancing zomibes with that. Horrible.
February 22, 2010
Very entertaining...go on and take a bow...
February 21, 2010
Not great, but very good. The acting is filled with talent in most scenes, the story unfolds nicely, and the ending isn't what you'd expect.
February 21, 2010
Scary and thrilling, THE WOLFMAN is this generation's AVATAR.
February 20, 2010
low end quality movie ! nothing great bout the story.
February 20, 2010
Retelling of a classic story. Beautiful scenery and cinematography.
February 20, 2010
Just watched this movie with my hubby we both agreed that it was a o.k movie, at least the buttered popcorn was great!
February 19, 2010
Expected more but still enjoyed it. No boobs and profanity like your typical horror flick which was a breath of fresh air! I can't believe the one guy who left a review doesn't know who Lon Chaney Jr. is... I pity you
February 19, 2010
This was a fantastic movie with unbelievable special effects. Just what a "werewolf movie" should be.
February 19, 2010
Lousy acting - especially Benecio Del Toro - stink-ola!
February 18, 2010
So cool! If you love the Universal classic you'll love this!!!
February 17, 2010
A sold 4.5 for the gore. 3 for the rest of the movie. Soo much potential, yet the screenplay and directing sucked so bad it was laughable. Del Toro is a great actor yet he was soo bad in this movie, had to be the morons that wrote it. It would have been great if it was the wolfman meets dirty harry, good ole clint could have made it fun
February 17, 2010
Excellent movie. It puts the recent Sherlock Holmes movie to shame. Much better all around. Great photography work!
February 17, 2010
Excellent movie! Very good photography, excellent script and story line.
February 17, 2010
horrible movie, worst acting ever!! cheesy and not entertaining at all. would never watch it again, almost fell asleep.
February 16, 2010
Pure crap. I love horrors but this was so second rate! What a waste of actors. And worst of all, now I have to listen to my wife about making her go see it.
February 16, 2010
EXCELLENT!!!!!
February 16, 2010
Best werewolf movie in ages! Exciting, scary, and better than Avatar!
February 16, 2010
A disappointing movie. Cast is good mind you, but story and special effects were horrid. Rent a DVD An American Werewolf in London it special effects of 1981 are must better and will save you money.
February 16, 2010
2 & 1/2 stars. Wait for the rental. Also keep in mind it's a remake of a classic and stays true to the original so koodos for that.
February 16, 2010
Wolf man should be done in 3D. AWOOOOOOOOOOO
February 16, 2010
Lon Chan, who is he? This would rock in 3D. Great date movie. Del Toro is the best wolfman ever. AWOOOOOOOOOOOOOO 5 stars.
February 16, 2010
Overall this remake of Wolfman was decent but nothing that stands alone in this day and age. The acting was poor on both Del Toro and Hopkins parts. Without good acting and a strong story its hard to become connected to the movie leaving it lifeless. Wolfman does paint some beutifully gloomy scenes acompanied by a slick musical score. I would recomend this as a rental or if you want to waste a little cash see it in theatres. 3/5 stars