The Wolverine - User Reviews
Thank you for rating this movie!
Read your review below. Ratings will be added after 24 hours.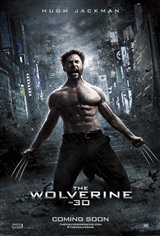 ---
Please rate movie 1 to 5 stars
Showing 1 to 50 of 80
January 04, 2014
Entertaining action, great cast of strong female characters, and interesting (but not exciting) storyline.
December 08, 2013
drivel.....yet another wasted X-men movie in a series of disappointing X-men movies. Wolverine (as a character) is cool enough to carry any movie he's in, but lame villians bring down a plot that was already weak, leaving you wondering why they even chose this script when there were so many better story lines to follow. Ignore the 5 star ratings, you'll watch like I did because you read the comics, but you'll be let down just the same.
November 18, 2013
Really great movie.
November 17, 2013
Loved how this movie followed the Wolverine mini-series comic books that detailed his time in Japan. Really enjoyed this movie and made sure to stay throughout the credits for the extra scenes:)
November 16, 2013
The Wolverine redeems the X-Men series and stays true to the comics and shows us Wolverine's true character, with his morals and ethics, as well as his snarky remarks and hardcore attitude. Some brilliant fight scenes (the train one especially) and an interesting albeit predictable story. Best superhero movie of 2013, I'd say. Even with the movie's annoying villain. And make sure you watch the after-credits scene! Spoilers!!
November 16, 2013
It was awesome
November 16, 2013
great movie great action special effects are great exciting good story
November 15, 2013
Wasn`t sure about this Japanese version of the wolverine but turned out very good and somewhat faithful to the X-men series. Good story and twists. Good in between/spin off/side story of the X-Men.
November 15, 2013
Another great Marvel movie. Great performance by Hugh Jackman reprising the role of Wolverine. Lots of action. Would recommend.
November 15, 2013
Better then the last one. even though the last one explained a lot, this is considered part 2.
November 14, 2013
GOOD MOVIE. LOVE HUGH JACKMAN ANYTIME.
November 14, 2013
Great acting again from Hugh J. The ending has whet my appetite for the next one!
November 13, 2013
awesome! hugh jackman is as great as ever. love story and action all the way
November 13, 2013
I love this movie and this character!!!!
November 13, 2013
Fun, ast-paced, action-filled movie. Interesting story.
November 12, 2013
I really enjoyed this movie.
November 11, 2013
Great action movie if you like the X-Men, lots of good fight scenes. Check it out!
November 10, 2013
this movie is amazing
November 10, 2013
i just love this movie. everything about this movie was great.
November 08, 2013
i went to see this moovie with a friend from work. my friend and i have seen all the xmen movies and decided to go together and see this one too. anyways we went and had so much fun and enjoyed this movie alot. it was funny and it had alot of great action.
November 07, 2013
Good build leading to his next film.
November 07, 2013
this is a all around amazing movie. It had just the right amount of action and amazing acting. I have been a huge Wolverine fan even when I was little. I can't wait for the next one!
November 07, 2013
Hugh Jackman gave a spectacular performance rivalling Jack Nicholson in The Shining, which I consider to be one of the greatest all time thrillers. The emotion, intensity and depth of feelings expressed in some scenes almost made you wish you could provide aid or solace to the Wolverine. Took me back to the age of superheros, only much better technological production.
November 07, 2013
Excellent Movie. Good passing, good story line.
November 04, 2013
Amazing
November 04, 2013
A good action film, although a little predictable. Always fun to see what makes a person who they are.
November 03, 2013
Great movie.
November 03, 2013
LOVED IT!! Hugh Jackman makes for one great wolverine!
November 02, 2013
i saw this movie with my friend and we loved it alot. hugh jackman was awesome and the action was great.
November 02, 2013
Any movies that concerns the x-men, are a must see!
November 02, 2013
As usual, Wolverine gives us some real action!!!!
November 02, 2013
Great action and good for followers of the Xmen series.
November 02, 2013
I thought this movie was kick ass
November 02, 2013
Tons of action and entertainment. You don't even have to be a comic fan to enjoy it.
November 02, 2013
I liked that they took the gloves off and let Wolverine be Wolverine in combat. Good story and good villains.
November 01, 2013
This movie isn't that good, expected it to be better. This movie doesn't seem to really match Wolverine's past that was shown in the very first part of the X-Men movies.
November 01, 2013
Just what the X-Men franchise needed after Origins. A good movie that will lead up to DOFP well
October 31, 2013
I felt this movie was not as good as in the comics. Some scenes were badly put together with poor graphics.
October 31, 2013
while this movie is not as good as the other x men movies, it is still enjoyable and gives fan more information on the background of the wolverine character.
October 29, 2013
5 stars for sure...it was terrific!
October 29, 2013
Thoroughly enjoyed this sequel to the events of X-Men: The Last Stand. While it wasn't the best Wolverine movie (I'm still waiting for an R-Rated film so Wolvy can really cut loose) it was far better than X-Men Origins: Wolverine. And of course, the post credits tease not only sets up the next X-Men film nicely, it allows a time period in which Wolverine has a chance to go on more solo adventures (Jackman willing) and be the best there is at what he does. In the end, a good film that I enjoyed.
October 29, 2013
It was OK..not as good as the first one....but Hugh Jackman is great!!
October 29, 2013
Great action and lots of entertainment
August 25, 2013
Could be better. One of best movie this summer.
August 17, 2013
Loved it! Surprisingly entertaining.
August 14, 2013
A movie that surprised me! It was quite good and the action was great. Story was line was good, but I should have rewatched the x-men movies to remind me of the story line. Greatly liked it!
August 10, 2013
Big Wolverine fan! I really enjoyed this movie. Good acting, good story. Found the actor that played Viper kind of annoying. Besides that everything was great.
August 06, 2013
excellent movie even as I'm giving it a three, most likely 3 and a half, did really enjoy it but their movies that have a first spark and then their movies that take time after u watch a few times like me with the avengers, really like that flick, so wolverine has some things that could of been better but for the most part i was glad seeing it, but don't leave when the credit's role stay and you will see
August 06, 2013
The first WOLVERINE is one of the ten best movies ever made, but this one barely registers.
August 05, 2013
I liked the first one better