The Woman King - User Reviews
Thank you for rating this movie!
Read your review below. Ratings will be added after 24 hours.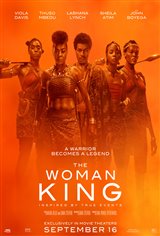 ---
Please rate movie 1 to 5 stars
Showing 1 to 50 of 61
October 05, 2022
Voila Davis did not disappoint. Great to see a woman be the leader of a movie. The co-stars were right on point. The scenario was so realistic and the story line was easy to follow. I've seen it 3 times. Totally rate this movie 5+ stars.
October 05, 2022
Orwellian dystopian nightmare.
October 04, 2022
It is ironic that a movie set with a people fighting against slavery is set historically in a people that perpetuated slavery even before white people did. This movie is propaganda and completely a-historical.
October 04, 2022
Strong....Powerful...People
October 04, 2022
This film is excellent in spirit and execution. Based on true historical events, The Woman King allows the viewer a glimpse of the Dahomey people's intense desire to remain free from being conquered and exploited during the early 1800's African slave trading done by both African and European slavers. The audience has an opportunity to realize what African people did to survive during those horrendous times. The all Woman defense force were called the Agojie (A-go-gee). I intend to view The Woman King again.
October 04, 2022
Viola Davis rocked it. Loved the entire movie from start to finish, with the exception of the dark arts, aka "Rocks" The rocks "LOL" not good.
October 04, 2022
awesomeness...all about woman power. Excellent cast, excellent costumes, and great comrades
October 03, 2022
This the best movie my group has seen. Thank You Galaxy Theater . We enjoyed your wonderful service. Thank for being so kind . We had large group & they want thank you as well.
October 03, 2022
How the authors are not ashamed of themselves? If they wanted a movie about African people they could use the Dahomey as the villains and some villagers they raided and enslaved as the protagonists who fight back/try to escape from slavery.
October 02, 2022
The worst woke garbage to ever hit the movie theater - and that's saying something.
October 02, 2022
Unwatchable.
September 30, 2022
Cheesy, overacted…!
September 28, 2022
great story with great actors
September 28, 2022
if you're desperate for female empowerment, and willing to squint really hard to avoid grossly distracting, politically driven historical license taken in the name of ticking all the industry required boxes, then look no further. Just please don't engage in the soft racism/sexism of lowered expectations, by invoking race, and sex, in an attempt to deflect the much deserved criticism that men face when churning out crap only half this bad (see Pathfinder, 300, Gods of Egypt, Braveheart etc.),
September 27, 2022
I am here because I have to come back and see it a second time. It's so good. Beautiful casting, 🎥 filming, acting and .. over all incredibly done. Top ranking.
September 25, 2022
Viola Davis was superb in movie - I give her A+++ acting but the movie story was a little boring B+++still enjoyed seeing it.
September 25, 2022
Everyone should see this film. It is not meant to be a documentary, but a film about female empowerment and sisterhood. This film is entertaining and features artfully, beautifully choreographed action scenes. We often allow creative license to filmmakers with men leading films, but seem to hold women to a different standard. Let's stop being so judgmental and become more curious and inclusive. Open our hearts to include all filmmakers/artists and not only a few select chosen creatives. Let's support Viola Davis, Gina Prince-Bythewood and the entire amazing cast for bringing us a few moments of entertaining pleasure. It is about time that all young girls have the opportunity to see a plethora of black heroines on the big screen. Let us celebrate this accomplishment. Love this long overdue film and will see it again and again!
September 24, 2022
This movie is about as accurate as a blind man shooting long distance... Overrated and overblown, the storyline is weak the acting mediocre, not a fan of painting one of the worst group of people who ever lived as some heroic, feminist fantasy
September 24, 2022
Well done relying on good acting for emphasis not gratuitous cursing. The storyline kept my attention and a nice surprise well into the movie.
September 23, 2022
Acting by Viola Davis over-rated. The team of warrior women with her make the movie.. Yes, it based on true life but I was disappointed in the lead acting.
September 23, 2022
THIS FILM IS BEAUTIFUL. It is not intended to be WOKE or ACCURATE - AND if other films are allowed the deference of an aspirational and inspirational "semi-fictional" narrative - this one deserves the same! Pathologically - too often, we create crudely, pathetic excuses for oppressing, critiquing, and limiting Black women in film and in the world. We are willing to honor a film about anyone else whether fictional or not (Rosewood, Django, etc.) as long as a black woman is not the lead. This must change. This film is for EVERYONE.
September 21, 2022
The unity as a kingdom
September 21, 2022
I had to walk out of this... I knew it would be bad, but I couldn't really sit through anymore after having vomited allover myself.
September 21, 2022
Viola Davis is good as usual, but the film just felt like someone had a specific agenda in mind that doesn't sit well with everyone.
September 20, 2022
Davis' performance is spectacular. The story line and the action was well balanced. This movie will leave waiting more. Hopefully their is a sequel.
September 20, 2022
Girl Power!
September 20, 2022
These female warriors exhibited power, strength, trust, and true family
September 20, 2022
Love it Love it Love it Love it. This movie is a must 👀see
September 20, 2022
Everything was totally awesome
September 20, 2022
Action; motivation and Woman Power. We are getting ready to go see this wonderful movie again.
September 20, 2022
Typical Hollywood today. ReWriting history to push woke agenda. Absurd film.
September 20, 2022
One of a kind production. I love this movie so much.
September 20, 2022
Best movie of all time!
September 20, 2022
Oscar winning cinematography
September 19, 2022
Everything from beginning to end!
September 19, 2022
Somebody goofed -- a woman is a queen, not a king. It's a decent movie, though. Probably would have upped my rating if I could have streamed it instead of being forced to see it in a movie theater.
September 19, 2022
Acting was superb .
September 18, 2022
Outstanding motion picture. Best blockbuster movie to come along in years.
September 18, 2022
The movie was very good. The negative comment come from racists and weak people that are pretty much controlled and told what to do. I can tell you that these negative comments are similar to other comments on different movie sites. White folks that fall prey to propaganda because they feel the need to complain. These folks had family issues growing up.
September 18, 2022
Riveting, empowering, different and well acted! A must see
September 18, 2022
Do your home work if you want to comment. This movie is more than bout slavery. I found it to be a good movie.
September 18, 2022
Well done, don't allow the negative feed back on it. It was well written and the actors / actress's were superb
September 18, 2022
Excellent, well done from start to finish.
September 18, 2022
This is the most vile piece of propaganda I have ever seen. It tries to turn some of the most evil people who ever lived into heroes. The people who made it must be full blown racists in order to glorify a slave based empire. I am glad that a friend bought our tickets. i would have wanted a refund.
September 18, 2022
Propagandistic crap which tries to sell the evil Dahomey kingdom based on slavery (long before the whites came to Africa) as some empowering movie for black people. The irony is some of the actors in this movie are most likely grand-grandkids of Africans enslaved and sold by the Dahomey. Dahomey used female warriors because they lost too many of their male ones in constant wars and raids against the other tribes. Not because they cared about equality.
September 17, 2022
I really enjoyed this movie. Great fight scenes. Acting was good.
September 17, 2022
Viola is a good actress but the movie is a leftist hollywood woke nightmare of lies. Thought the action was good - Now if it had just been based on the facts - but it was a racist nightmare of liberalism and feminist hogwash
September 17, 2022
Contrary to the negative feedback based on limited knowledge of these people, this story is not about the Dahomey (modern-day Benin) people, it's about a female army who led the resistance against colonizers. It is not meant to be an "answer" to "The Black Panther." The "Black Panther" is make-believe; in fact, the fictional Dora Malaje of the Black Panther movie was inspired by the real life Agojie depicted in "Woman King." For those who insist upon holding the Dahomey's involvement in the slave trade as the reason that this movie should not be supported, be reminded that it can never be compared to the systematic and deliberately dehumanizing brutal brand of chattel slavery which economically enriched this and other countries for centuries. Lastly, do not be baited into supporting one or the other African American producers. Support them all. We are not a dichotomy (all one thing or the other). Go see the movie with an open mind. Ms. Viola Davis and all of her co-stars give stellar performances. Five stars, indeed.
September 17, 2022
Viola Davis is wonderfully fierce and bad-ass in every scene !!! She is beautiful. Africa is beautiful. This is history as we have never seen it before. It made me feel proud to be a Black woman. I cried.