The Wrestler - User Reviews
Thank you for rating this movie!
Read your review below. Ratings will be added after 24 hours.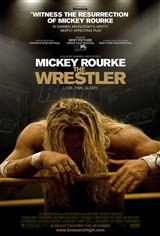 ---
Please rate movie 1 to 5 stars
Showing 1 to 50 of 52
March 29, 2010
boring as hell! terrible waste of time.
December 06, 2009
i thought it was very good it showed the troubles wrestlers nearing retirement have adjusting to real life
June 19, 2009
Within the top movies of all time, in the top 5 of mine
May 02, 2009
Great movie!
April 27, 2009
Good movie, incomplete ending leaves you guessing. Had I known I wouldn't have watched it. **'s
April 04, 2009
Great movie and a couple of superb performances!!
April 01, 2009
Well acted and a great performance by Mickey Rourke.Ms Tomei does a very good job too!
March 31, 2009
Difficult to watch the wrestling scenes with him getting injured but overall a really good movie & worth watching. Acting was excellent from everyone.
March 14, 2009
fantastic acting in a great movie
March 01, 2009
The most brilliant movie I've seen in years, excellent portrayal of a broken man trying to make it years after his prime.
February 28, 2009
This is a brilliant movie, intense fight scenes, profoundly moving story. It draws you in -- if you have a partner you will feel closer watching the film together. Also, it depicts working class culture beautifully.
February 28, 2009
The Wrestler: a truly amazing film with the spectacular return of Mickey Rourke and the redemption of both Evan Rachael Wood and Marisa Tomei. the direction is amzing and the film itself is just so great. for that it receives 5 stars
February 22, 2009
Depressing but great-this could have been Mickey Rourke's alternate life.
February 22, 2009
EXCELLENT!!!..really stuck with me,realistic,sad,great acting...will remember this movie for a long time......RS
February 20, 2009
excellent comeback for Mickey, I used to be his fan during the good old days, no doubt for OSCAR!
February 15, 2009
I wasnt really expecting much but I was blown away by Rourke's acting and Tomei's performance. One of the best films I have seen in years.
February 15, 2009
OSCAR WINNING ROURKE PERFORMANCE,,,, ROCK ON ROURKE
February 11, 2009
Best movie I have seen in a long time. Great acting and a heartfelt story, loved it!
February 09, 2009
Rourke is totally believable as a professional wrestler. He has the right look, build, and voice. An amazing performance. Plot is fairly thin and not at all unique but Rourke steals the show. And Marisa Tomei is also excellent as a stripper with a heart. Not as good as Slumdog but a fine film and I hope Rourke wins the Oscar.
February 07, 2009
Excelent performances.
February 07, 2009
Depressing but great!
February 04, 2009
Great script and great performances. Rourke and Tomei both deserve Oscars!
February 03, 2009
excellent
February 02, 2009
best movie ever it has soul and human touch
February 01, 2009
Excellent acting and very down-to-earth movie. The actor portrayed the wrestler as an actual human being struggling to make ends meet and faces life's problems like the rest of us. I felt like I was part of the movie, like I was actually there.
February 01, 2009
Those that criticize this movie are probably part of the group of society that support wrestling and cheer when people get hit in the face with a metal folding chair. I know its hard for some of you to actually "think" when you go to a movie but give it a try pod people.
January 31, 2009
Feeble effort. Terrible acting. No plot.
January 30, 2009
downright terrific
January 30, 2009
If there was a Zero star that would be it...IT WAS BAD...same story line as a gazzilion other movies..washed up actor gets a chance to make it big make amends..Micky is a bad ACTOR the plastic surgery he got makes him more apropiate for horror shows instead of watching his face on a jumbo screen...in all pass on the movie its a yawn.
January 28, 2009
Fantastic film. It's raw, gritty, and has a documentary style feel to it. The wrestling scenes were raw and violent (as was the aftermath of the matches on Randy the Ram). Mickey Rourke is great in this film and deserves the Oscar nom and if he wins it would be a great comeback. Ya gotta see this film!
January 27, 2009
It`s no Rocky but it`s still awesome
January 27, 2009
just great
January 26, 2009
Mickey Rourke At His Greatest!
January 26, 2009
The past 10 or 12 years for the lead actor have apparently been spent living a wasted existence and about 5 of those years were spent actually boxing in the lower level pro's. Mickey Rourke played Mickey Rourke, so in that context it was no great leap for him as an actor. A simple, enjoyable story line. It was well executed and entertaining, but it was no Oscar winner. signed.........GWH
January 23, 2009
awesome movie, first time ive been interested enough to see a movie in the theatre in a couple years. look forward to seeing rourke in other upcoming roles.
January 23, 2009
Stunning character piece. Mickey Rourke and Marisa Tomei are amazing.
January 23, 2009
Thoroughly enjoyed this movie! Mickey Rourke was excellent and I'm so happy to see him making movies again.
January 20, 2009
the only other actor that could have possibly pulled this role off is Daniel Day Lewis....maybe.
January 19, 2009
I saw this movie yesterday and I can't stop thinking about it still. Amazing movie. Mickey Rourke deserves the Oscar.
January 18, 2009
it was enjoyable, but nothing extraordinary. Rourke is good.
January 15, 2009
Mickey Rouke still can not act,,,,
January 15, 2009
That Marisa Tomei is one hot enchalada!
January 13, 2009
It was good but it had a few slow parts which kind of made me bored. Of course that is just me. So, it is a renter in my books. 3/5
January 12, 2009
Mickey Rourke IS the movie. He understood the core of the character and never over played it. His honest simplicity and reverence for the character should win him best actor. Marisa Tomei was good also. I did however find the photography of the back of his head annoying.
January 10, 2009
Rourke gives an incredible performance, is backed up almost too well from Tomei, and the direction is the icing on the cake for soon-to-be classic.
January 10, 2009
What a great movie. Definitely go watch it. Amazing character development. You get really attached to him.
January 08, 2009
Amazing movie - up there with Gran Torino, Curious Case of Benjamin Button, and Slumdog amongst the best movies of the year. The subtle acting, and realism make this the best of the bunch.
January 02, 2009
simply amazing
December 30, 2008
it was ok but Mickey aint getting no Oscar
December 30, 2008
really hard to watch