The Young Victoria
Thank you for rating this movie!
Read your review below. Ratings will be added after 24 hours.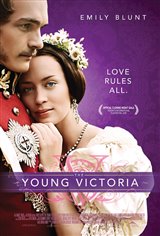 ---
Please rate between 1 to 5 stars
Showing 1 to 25 of 25
November 28, 2011
I really enjoyed this movie! The acting was very convincing and natural. A great way to tell a true story!
October 16, 2010
Very entertaining and most interesting. We often feel that life is easy for those who receive it on a silver spoon. Not so, as this film so poignantly tells.
September 06, 2010
A lovely film about love, life and politcs around marriage and royalty. Blunt is very, very good.
August 21, 2010
I really enjoyed the movie...surprisingly. I thought it might be dull but it wasn't even though it was admitedly, not fast paced. Blunt and Friend give great performances and they had wonderful chemistry.
August 19, 2010
A very good movie, with drama, romance, and surprisingly, funny. Blunt gives an excellent performance. One of the few time period movies I've seen where you actually felt like you were there. A very good movie.
August 12, 2010
A very good, smart movie. Very romantic and engaging. Emily Blunt is a pleasure to watch.
July 06, 2010
LOVE LOVE LOVE this movie! Very touching, moving, and powerful story, and Emily Blunt is incredible. Also the scenery, settings, and costumes were amazing
May 18, 2010
loved it!!!!
May 17, 2010
very good movie. A lovely movie to watch - scenery was breathless. Great performances.
May 14, 2010
A very good movie. Funnier than expected. I thought Emilt Blunt did an excellent job with this role. The movie is far less "heavy" than I imagined. The setting is, as expected, amazing.
March 01, 2010
The cinematography is amazing. It was awasome. Kept my attention the whole movie.
February 28, 2010
makes you think about people outside the role/job they do. good flow to movie
February 08, 2010
I really enjoyed this movie. I thought Emily Blunt did a superb job.
January 29, 2010
This movie was wonderful. The acting was superb and portrayed all of the characters wonderfully. Defiantly worth the time and money!
January 28, 2010
Good docu history,wonderful sets and costumes, good acting and study of the young queen most knew nothing about.
January 25, 2010
brilliant,...a true gem that is being over looked by film audiences. i m not the type of induvidual into sappy love stories. however, young victoria grabbed my heart,...bigtime.
January 10, 2010
this was the only movie during the holidays that all of us who went agreed was excellent.
January 07, 2010
This is an excellent movie and should be getting more attention by reviewers!
January 07, 2010
It was not a good movie. The begining was so so, but the rest part looked like a documentary boring TV film. Tne fact that there were about 10 people in the theatre speaks by itself...
January 04, 2010
I thought some of the editing was a bit sloppy, but otherwise an excellent movie.
January 03, 2010
absolutely fabulous
January 02, 2010
Absolutely beautiful movie. Rupert and Emily do a wonderful job at portraying Albert and Victoria. Witty and charming and for once, actually historically accurate (well for the most part. 5 stars!
December 30, 2009
Atlast,a romantic movie with substance and character. This is a movie I will take my daughter to. Excellent!
December 26, 2009
Gorgeous movie, fine acting, sumptuous photography, lovely romance.