They Shall Not Grow Old - User Reviews
Thank you for rating this movie!
Read your review below. Ratings will be added after 24 hours.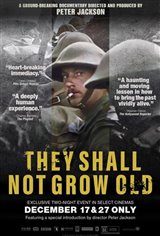 ---
Please rate movie 1 to 5 stars
Showing 1 to 27 of 27
December 11, 2019
The producer and the entire production team created a historical masterpiece! In order to understand 'just what' the team did to bridge a century's worth cinematographic change and their (apparent) intention to put into life the average British infantryman's "experience", you MUST stay an extra 30 minutes for the producer's story. The result was a truly tasteful, enlightening and a extraordinary Gift To History!
December 04, 2019
Fascinating portrait of a world gone mad. War is for kids and this is where that mentality was perfectly illustrated. Amazing technical achievement by Peter Jackson & Co.
March 09, 2019
A stunning tribute to the English servicemen who fought and gave their lives in the Great War. 'They shall not grow old' honors all those who should never be forgotten. A must see for anyone who values the lessons of history.
March 08, 2019
A movie that stays with you, make sure you watch the making of the movie in the end. They had to hire people who read lips and spoke with the same accent as the characters in the documentary to get as close as the actual spoken words from silent movie footages...
March 02, 2019
Real people in real story. Shows you the hellish life experience this was in matter of fact presentation. Stay for the trailer on how the movie was created.
February 17, 2019
Visually stunning and emotionally draining. All middle and high school children should watch this movie. Remeberance Day has a more pronounced meaning for our family now.
February 12, 2019
OUTSTANDING, What a experience, especially in 3D. The directors explanation of how they made this movie was also educational. Putting the sound track in by using lip readers etc showed the care they had in putting this together.
February 10, 2019
A documentary, to be sure, but unlike any I've ever seen in capturing the reality of the Great War. A brilliantly executed project.
February 09, 2019
Fantastic - the amount of intricate work required to create this film must have been enormous.
February 07, 2019
Hopefully Hollywood will take note of the success of this film. After 100 years it is shocking the anniversary of WW1 went by with less attention than Groundhog's day. This film is well done and thankfully did not move at a stupid rapid pace simply to meet the needs of people with no attention span. I don't wish to include spoilers but recommend this film-especially to young people between 10 to 15 years of age.
February 06, 2019
I had a great uncle over there who was gassed. Wish I could ask him now what it was like for him. Definitely stay after the credits.
February 03, 2019
I became intrigued the moment I began reading of the various processes involved in producing this documentary. I had seen vintage black and white photography colourized but never moving pictures. The result is amazing, especially when coupled with synchronizing the film to a modern speed. Forensic lip readers also provide clues to actual dialogue. Mr. Jackson and his crew deserve a great deal of credit for bringing century old clips to stunning life!
February 01, 2019
Should be compulsory for History class. Amazing ! Restoration, soundtrack so well thought out. Stay for the next 30 minutes to see what went into this documentary. Pull up your ancestry!! So proud I did.
February 01, 2019
This is fascinating. The care that went into restoring the film and creating the soundtrack is one of the finest pieces of film work I have ever seen. Some of the images are just haunting.
February 01, 2019
Slow, slow and slower, no plot, the same pictures for 2 hours. That's 2 hours wasted I will never get back
January 28, 2019
This movie should be mandatory viewing for every school child.
January 22, 2019
Loved everything about it
January 22, 2019
amazing! we need to acknowledge what happened and never forget.
January 19, 2019
I went to see the non 3D movie it's so good I plan to go back to see The 3D movie this week.
December 30, 2018
This film was the best film I have ever seen and I cannot wait to see it again. It was visceral, engaging, and honest.
December 28, 2018
Very impressive film . The colorization process really brings the footage to life in very graphic detail . It's uncomfortable to watch some of the footage but , the veterans of ww1 lived through those terrible times of war .The least we can do is witness it and honor them .
December 27, 2018
Very graphic. A great compilation. As a boy I know an oldtimer veteran of WWI ..and he told me how very horrible it was. This film used awesome colorising and all narration was of original voices recorded and some actually on the front lines in Flanders fields " where the poppies grow".
December 27, 2018
Great film. Historically reverent, respectful and authentic. A Herculean effort to put together.
December 27, 2018
I am blown away at this incredible movie! This is what the world has been waiting for...a comprehensive historical review of the war that was suppose to "end all wars"!! I saw it in Charleston two weeks ago and even my daughter in law loved it...it is in color and it's amazing!!!
December 27, 2018
It was incredibly well done and while they didn't have sound back then had you not realized it when you watched the movie you wouldn't have known that it wasn't authentic. I find it interesting that someone would "rate" a movie that they haven't seen. It is being shown at different times in different areas. If you see it, do yourself a favor and stay till the bitter end. It's too late now for Island 16, but hopefully this movie shall be shown elsewhere. It was truly remarkable.
December 27, 2018
A simple google search reveals they used forensic lip readers to determine what the soldiers were saying and then hired voice actors from the particular regiment's region to voice the words over the authentic footage. It further adds to the life that is given to the film by the frame rate adjustments and colorization.
December 21, 2018
They didn't have sound in the films back then, so I tend to doubt the authenticity of the movie.