Top Gun: Maverick - User Reviews
Thank you for rating this movie!
Read your review below. Ratings will be added after 24 hours.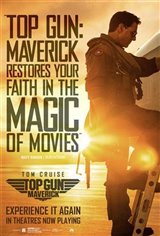 4.69 / 5
User Rating
Based on 620 votes and 185 reviews
---
Please rate movie 1 to 5 stars
Showing 51 to 100 of 185
July 28, 2022
Was a fantastic movie, great acting. I would go again.
July 26, 2022
Fabulous movie Want to see it again
July 24, 2022
Hate to say it but top gun was never station on NAS North Island. It's original roots were on NAS Miramar and then moved to somewhere in Nevada. Other than that it was too much like the original but yet exciting. I'll have to watch the original to remeber a couple characters.
July 24, 2022
Tom Cruise did it again!!! Never fails at acting. Sitting on the edge of the seat wondering what's gonna happen next. Definitely entertaining!
July 23, 2022
i never saw the first top gun i dislike tom cruise THIS MOVIE WAS FU----- GREAT somewhat predictable but very AMERICANA
July 23, 2022
Liked all of it. Dislike none to list!!
July 23, 2022
This was my 3rd time seeing Top Gun. It didn't get old. Tom Cruise keep making these types of movies. Making good movies seems to be a lost art in Hollywood these days. Looking forward to the next Mission Impossible.
July 22, 2022
Lots of action, if you like planes you'll love this movie. It's intense, funny, and dramatic. You'll want to see it again.
July 22, 2022
We saw two movies this year. This one and Elvis. Both were so good we had to see them twice.
July 22, 2022
Action from start to finish. Would definitely love to see it again.
July 22, 2022
Extraordinary film! Simply extraordinary!
July 21, 2022
Action packed and the storyline holds up through out the entire movie.
July 20, 2022
Opening scene fantastic. Whole movie Fantastic! Loved, Loved All of it! Will go see again!
July 19, 2022
VERY WELL DONE VERY EXCITING AND CLEAN FOR ALL AUDIENCES OVER 12YRS.
July 18, 2022
Incredible aerial photography like you have never seen. Great acting. A lot of very funny comedy but great action and dramatic moments. One of the best films I have ever seen.
July 17, 2022
This was a very uplifting action movie without the smut that Hollywood thinks we want to see. Well worth it for every American to see. Great job Tom Cruise and all. Bravo!
July 16, 2022
The action and the real fighter planes in action. The ending was epic!
July 15, 2022
Loved the first movie couldn't wait for the 2nd Maverick ! Was well worth the wait ! Outstanding performance <3
July 13, 2022
Loved action and acting was excellent
July 12, 2022
Not a fan of cruse but the aerial scenes were awesome. I didn't go because of cruse but the first top gun was outstanding so figured this one would be. Was NOT disappointed!!
July 11, 2022
Amazing draw on prior film. Terrific action and suspense. Well worth the wait for sequel! Wouldn't have missed it! Made me so happy to see a show on the BIG SCREEN again!
July 11, 2022
Likely Tom Cruise's best performance ever and he's done a lot of good films. His maturity as an actor is a real asset to the character he played 30 years prior! The story is great and all performances are well done and believable. In my opinion it's better than the original film and I can't think of another sequel i feel that way about. Definitely should be seen on the big screen!!
July 09, 2022
Very well written and produced ..... with strong cast and great acting. Sound and cinematography - along with music score - best suited for taking advantage of the big "screen". No weak aspects to this movie.
July 09, 2022
Rarely do I see a sequel that is worth the trip to the theater. Maverick is definitely worth the trip. Of course there are some parts that are pretty cheesy and could have used a little more thought but overall, it is a great sequel. Right up there with the original.
July 08, 2022
36 years since Top Gun, finally a sequel! Well done! The flying and training scenes were amazing! Plenty of humor and an amazing score make for the best movie of 2022!
July 06, 2022
Held our attention through out. Went with a group of 8 ages 30-50 and we all loved it. Well worth it.
July 06, 2022
This movie couldn't have come at a better time. Pro-American. No biased political agenda. Awesome story line and filming
July 06, 2022
Wholesale man refreshing to see a true pro American Film with no hidden agendas... It has now reached the over one billion dollar mark and deservedly so...
July 05, 2022
It was so thrilling, and I loved the flashbacks from the original movie!
July 05, 2022
Better than Star Wars!!!!! Thrilling!!
July 04, 2022
Better than the first….action, drama, humor. You couldn't ask for more.
July 03, 2022
Enjoyed It very much. Tied in the original Top Gun beautifully without capitalizing it too much. Great movie!
July 02, 2022
Loved it!! It's not the woke sh*t they've been putting out for the last few years
July 02, 2022
Loved watching a movie that showcases the goodness and excellence of the pursuit of skill, hard work, and the American spirit. All wrapped up in the character's personal stories. Fantastic. Please make more like this!
July 02, 2022
Excellent suspense, excellent footage, and the story was great! Perfect movie, 5 stars!
July 01, 2022
Really enjoyed this movie...almost as much as the original! Definitely worth going to see!
June 30, 2022
Tom Cruise has outdone himself! He is my favourite for all types of acting: action, comedy, drama, and romance. The guy can use story lines to generate feelings. Cruiser's crown jewel and the fastest instant classic ever!
June 30, 2022
Cruise never looked better but the real draw to this movie is its plot line. It keeps going and gets better all the time. Highly recommend!
June 30, 2022
Hands down the best movie I have seen in years, keeps you wanting more from the very beginning. This is definitely a MUST SEE movie for the entire family or a perfect date night !!
June 30, 2022
this is the best movie that's come out in a long time. The action is fantastic. the story is cool. the emotions are raw. the movie stands alone. if you haven't seen the original, that's ok. BUT. if you have seen the original, you'll get so much more out of it.
June 29, 2022
This Top Gun was amazing for me, loved it!
June 29, 2022
This was great! References the original, but definitely more action packed! Definitely worth seeing! Tom Cruise just keeps outdoing himself!
June 27, 2022
Outstanding movie!
June 27, 2022
Kept me engaged throughout the entire movie.
June 26, 2022
Doesn't have the chemistry of the first one.
June 26, 2022
As good as the original, if not better!!
June 25, 2022
Loved every bit of it.
June 25, 2022
It was just as good has the first Top Gun! It had a lot of action and a believable plot line. I loved it and it was wonderful to see all of the flying by the pilots. Tom Cruise is awesome!
June 24, 2022
Loved it, watched 5 times so far!