Top Gun: Maverick - User Reviews
Thank you for rating this movie!
Read your review below. Ratings will be added after 24 hours.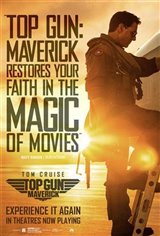 4.69 / 5
User Rating
Based on 620 votes and 185 reviews
---
Please rate movie 1 to 5 stars
Showing 101 to 150 of 185
June 24, 2022
The pilots and flying skills are incredible
June 24, 2022
Had me smiling and tearing up! Well done movie to take you thru a range of emotions. I heard a lot of sniffing going on in the theatre. Best movie in a very long time.
June 23, 2022
Excellent! Feel good, action, humor, love, friendship, nostalgia... it's got it all! Well done!!
June 23, 2022
This was one of the best movies I've seen in awhile - mainly because I didn't feel I was being sold a narrative on some politicized agenda or lifestyle somebody feels compelled to twist into the movie plot - I don't need to make a list - y'all know what kind of things I'm talking about. It really took me back to the great movies of the mid to late 80's...
June 22, 2022
It was a Great Movie probably the best movie I have seen in years !!!!!We absolutely loved it !!!!
June 21, 2022
Excellent movie!!! Worth going to see it.
June 21, 2022
Thank you for a good movie and Good times.
June 21, 2022
Best action movie that I have seen in many years. It was exciting and great actors.
June 20, 2022
See Top Gun to refresh your memory. Maverick has several references to Top Gun, like Goose, "letting go" and Admiral "Iceman." Great films.
June 20, 2022
it is amazing and dareing
June 20, 2022
Powerhouse of a movie! It pays great homage to the original, while being a stunning movie on its' own. I will be seeing it in the theatre again, and I rarely go to movies!!
June 20, 2022
Ok movie, but just that.
June 20, 2022
Would see again
June 19, 2022
Outstanding movie. Perfect transition from the first Top Gun movie to Top Gun Maverick. We loved the movie and will go back to see it again several times. Amazing action, aerial scenes and great acting.
June 19, 2022
It'll have you on the edge of your seat from the start to the finish! They did a nice job of bringing all of the old characters back, while introducing the new ones. EXCELLENT movie and I didn't even want to see it!
June 19, 2022
AMAZING! This movie was well worth the wait (30 years), and far exceeded my expectations for a sequel. There were some touching moments throughout the film that will make you wipe away a tear or two, especially if you are familiar with the original characters from the first film. GO SEE THIS MOVIE, THEN SEE IT AGAIN!
June 19, 2022
Great movie. Did not disappoint. Tom Cruise should win an Oscar for his performance
June 18, 2022
Great movie. No "woke" garage just action and fun.
June 18, 2022
Amazing. So many good things about this movie, I don't want to spoil writing about it for others who haven't seen it.
June 18, 2022
Pro-American, non-woke movie for anyone who loves our great country. Tom Cruise and the cast are excellent. Great soundtrack. Loved the nostalgic references to the original. Val Kilmer was also great!
June 18, 2022
OMYGOSH!!!! Awesome movie. Would even see it a third time. Action packed. Tom Cruise does NOT disappoint. Not a lot of bad language. Goes to show you what real actors can do
June 17, 2022
No politics, no agenda, just a good ole fashioned badass action thriller. Go see it.
June 16, 2022
Held my attention the whole time. The sequel was well weaved with the original movie flash backs. I would like to see it again.
June 16, 2022
Haven't left a theatre this exilerated in years…Give Tom Cruise an OSCAR please
June 14, 2022
Excellent!! Not disappointed at all. Tied in well with the original.
June 12, 2022
Perfect combination of call-backs and new plot lines. The acting and music is incredible. It's a must see and a must see in theaters simply for the noise quality. There is nothing better than watching the action on the big screen and feeling the roar from the afterburner.
June 12, 2022
HOLD ONTO YOUR SEAT! Fun ride with suspense and a lot action. Good acting and good plot.
June 11, 2022
You're in for a wild ride, dogfight even in this film. Well shot, casted, and delievered!
June 10, 2022
I have watched the first Top Gun soooo many times and was so excited to see this one and it didn't disappoint because they did an awesome job! Definitely worth watching!!!
June 10, 2022
Better than the original, a lot more action and suspense.
June 10, 2022
Good "Old Fashion" live action, no CGI and amazing cinematography. Even a fun story line!
June 10, 2022
This movie improves on the original in some ways, keeps the same spirit, and every actor plays their roles to perfection
June 09, 2022
What's not to like. Every bit as good as the original, and the flying sequences are even better. Saw it with my wife, who also gives it 5 stars.
June 09, 2022
As good if not better than the first
June 08, 2022
Really excellent in every way. Bravo Tom Cruise and company for delivering big time on the sequel - not easy to do !
June 07, 2022
Great Plot with plenty of Flying Action which keeps you on the edge of your seats in All of the Combat and Training Aviation Scenes !!! You will Love the Surprise Ending to this Movie !!! 🎬 This is the BEST MOVIE so far in 2022. Give it an OSCAR for Best Picture and Best Actor for Tom Cruise in the 2022 Movies!
June 06, 2022
Loved the story of Maverick , the speed, the action, the music and the excitement watching the flying. The cast is incredible. Tom Cruise was even better in this sequel then the original and he was stellar in the original. Val Kilmer appearing again as Iceman was genius. Miles Teller did justice to Goose as his son and was great in his role. The bar scenes and Maverick and Penny's storyline were so well done. The movie was exceptional and I loved it !!!! What a great escape and thank you Tom Cruise for all the enjoyment you give us from your exceptional work and talent !!!!
June 06, 2022
Good movie. Better than the original. They were right to not cast Kelly McGillis. People do want to see Kilmer return to his role, but McGillis is unrecognizable and any appearance by her would just lead to confusion and disappointment. Her role in the original was pretty thankless anyway. I don't think she was eager to reprise the role. Accusations of politicization or sexism are absurd and ignorant.
June 06, 2022
Fasten your seat belt! Good movie and acting. Full of suspense and some action. Tom's best film and best acting is in A FEW GOOD MEN with Jack Nicholson. Tom does push the envelope in this film and that is TOM.
June 06, 2022
When Tom Cruise entered the bar, I expected to see Kelly McGillis. Sorry to see he couldn't incorporate her into the movie somehow. If he could hire the fat, out-of-shape, Val Kilmer, into the movie, he could've brought in Kelly McGillis. Tom Cruise made a misogynistic move not bringing Kelly into the movie, a discriminating move against women.
June 05, 2022
We enjoyed it!! Excellent sequel Good fun and a great ride!!
June 05, 2022
Usually the sequel isn't as good as the original but WOW!!! This movie is great! It is truly a continuation of the first one. Absolutely loved it and plan on seeing it more than once. You have to see it on the big screen I think to get the awesome effect. You will be on the edge of your seat! Hope there is at least one more sequel to this one and soon!
June 04, 2022
This was awesome! I will definitely go to see it again before it leaves the theaters!!!! It was true to the original and at points kept you on the edge of your seat!!! Loved the soundtrack and the story…. Not sad that I had to wait so long to see it in the theaters, now. Thanks to our navy for being so AWESOME!
June 04, 2022
Excellent movie. Great story, great acting, great action. Loved it. Also nice to see a patriotic movie.
June 04, 2022
This is the best Tom Cruise movie ever!
June 04, 2022
Great from the beginning to end. Family a movie that I didn't fall asleep to
June 03, 2022
This film is made for the BIG SCREEN with speeding jets, motorcycles, major stars, dog fights, alpha pilot training drama and even a little romance. The in-theatre audio experience also helps. Definitely worth the price of admission!
June 03, 2022
It's what a good flick should be. Takes you somewhere. Good plot. Acting. Camera work. Tom Cruise doesn't dissapoint.
June 03, 2022
Standing ovation!! In TN the audience actually did stand up and clap. I really liked that Tom cruise talked to the audience before starting the show to thank them for seeing it "on the big screen".UNBELIEVABLE MOVIE👍👏🤸
June 03, 2022
Best show ever watched and there is also action