Trailer Park Boys: Countdown to Liquor Day - User Reviews
Thank you for rating this movie!
Read your review below. Ratings will be added after 24 hours.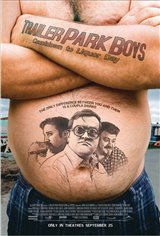 ---
Please rate movie 1 to 5 stars
Showing 1 to 23 of 23
December 25, 2009
I am a huge fan of the series, and have been for a while, i liked the move for the most half but something really dissapointed/pissed me off at the end, the movie just completly stops almost like they ran out of time to produce or something. I would like to have seen what all happened after in the long run with the boys, especially because it was the last ever trailer park boys episode/movie. And where the f*** is corey and trevor?,
December 25, 2009
the thetre people made me leave cause i was laughing so hard
October 21, 2009
it wasnt that good
October 16, 2009
I have been a big fan since the show started. I loved the first movie. I must say this one was extremely disappointing. Alot of the original cast left out and not very funny....really disappointing. wait for it to rent if you want to see it
October 10, 2009
The movie was absolutely hilarious and one to remember! I watched it twice now haha. This is a series that must continue:) go watch it..you wont regret it!
October 08, 2009
Funny in places, but ending was very disappointing!
October 06, 2009
One of The Funniest movies ever
October 05, 2009
It's true, there's only a coupla drinks separating us from them. It's funnier with a coupla drinks. Very good.
September 30, 2009
AWESOME MOVIE!!!!! should watch all the seasons before you watch the movie though, it makes it much better.
September 30, 2009
This was pure entertainment all the way through. Well done boys!! A must see if your a trailer park boys fan, hell even if your not you'll still laugh your balls off!
September 27, 2009
Better than the first movie, it had me laughing throughout the movie, it was well done in that over the top TPB way but not overly too crazy to make it annoying.
September 27, 2009
this movie was so awsome
September 26, 2009
Absolutely horrible movie!! Very boring, dragged on, no climax. Had it funny parts but it wasn't good at all. Do not waste your money on this film.
September 26, 2009
absolutly amazing!!!
September 26, 2009
How does one bring themselves to see such trash?
September 26, 2009
Great movie, darker themes and great performances make the film standout from the series
September 26, 2009
Just awesome.
September 26, 2009
If you're a trash you're gonna like it.
September 26, 2009
WORST MOVIE EVER!!!!!!!!!!!!!!!!!!!!!!
September 26, 2009
Epic movie, amasing acting. Directors are absolute masterminds. Bubbles was fantastic the mr.lahey was a little much!
September 26, 2009
This was a very disappointing movie and ending to The Trailer Park Boys saga. It was very boring and was a big drop from the first movie....Oh well we'll always have the seasons
September 25, 2009
GREAT! RICKY AT HIS BEST. FOR TPB FANS - THE BEST!
September 25, 2009
Extremely funny...