Training Day
Thank you for rating this movie!
Read your review below. Ratings will be added after 24 hours.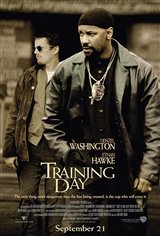 4.31 / 5
User Rating
Based on 1675 votes and 54 reviews
---
Please rate between 1 to 5 stars
Showing 1 to 50 of 54
July 27, 2006
trainig day rocked,i loved it,it was a great example of dirty cops and mafia in a big city,the cast was great,washington rocked,he was so coool,and this movie was so cool,not packed with action er nething,few shoot outs,lots of thrills,and vulgar language,lol, and it was a great movie,a great dirty-cop-mafia-shooting movie!
April 07, 2006
an astounding piece of art. washington was at one of his best performances of all time. ethan hawke accentuates the movie, with his acting as well. i just could not get enough of this film, one of my favorites movies of all time.
December 16, 2005
Great acting by Mr. Washington! Show`s even more of his versitility as an actor. Have seen the movie several times as well as now own a copy of it on DVD.
December 07, 2005
this movie rules i watched it 3 times on 12/5
October 30, 2005
ETHANN I LOWE YOUUUUUU ! HOW CAN A MOVIE BE DUMB WHEN YOURE IN IT! !!!!! =)
December 19, 2004
what can I say?Provided that you don`t have the slightest idea of the story and if your expectation is completely different from the ending of the movie, then of course the movie is really good.
August 21, 2004
LOVE IT!! GREAT PLOT, GREAT ACT!!
July 24, 2004
one of the best movies ever, denzel did a hell of a job, story line was great
April 29, 2004
great movie. Denzel Washingto should play more of the bad guy roles, he was really good.
September 10, 2002
It was a terrible movie, with no plot!! It majorly sucked!!!
July 04, 2002
great movie, Denzel and Hawk make you watch the screen every second.
March 27, 2002
Good film .
March 25, 2002
I came out of the theatre disappointed, good performances marred by an unbelieveably bad screenplay.
February 03, 2002
Amazing acting. Great action and suspense!!!!
February 02, 2002
THE BEST MOVIE
January 08, 2002
Awesum moview and had me on the edge of my seat....racy, I love it
December 10, 2001
Too unrealistic. even though the acting was good. but it just seems too much stuff has happened in less than 24 hours. "Training week" would have made more sense.
December 04, 2001
dont ever make a movie like this again...Macy Gray...What were you boys thinking?
November 28, 2001
The acting is great, but that s beyond the point, there was way too much gratuitous violence. The story itself was average, but it was way beyond it s 13+ rating. I am quite distrubed that it could be rated for such a young audience. I myself am extremely calloused, but honestly, this is way beyond a mere 13 year old.
November 20, 2001
It was way too disturbing
November 19, 2001
Great story, although disturbing. Too much swearing
November 16, 2001
Awesome! Few movies turn out to be worth the admission, but this is!
November 15, 2001
Very goood movie, lots of action...
November 11, 2001
I m glad i hacked it off the net, I would have felt like a victim if I spent money on it.
November 09, 2001
Damn this movie is good I wish there s still part 2 I ve never seen denzel doin s***
October 25, 2001
what do others think of this movie?
October 24, 2001
Amazing movie! Denzel outdid himself this time. I think he did well with the new role. He has been typecasted in a way to always be the good guy. It was a nice change, and he didnt flop. King Kong aint got Shh** on Denzel! I agree with the other comment, he should get an award for this one. but of course theres the politricks...sorry i mean politics of the whole matter. Bigup Denzel u get a nomination in me!
October 23, 2001
If you like gangsta-cop-black leather-thick chain-violent type of scene flavoured with some hip-hop beats this movie is for you.
October 22, 2001
Lots of action and suspense. Was not at all predictable. Both Denzel Washington and Ethan Hunte gave convincing performances.
October 21, 2001
Great movie!! was alot better than expected. Best of the best cop movies. A movie to remember
October 21, 2001
Excellent film! Not one minute of it is less than intense.... excelent acting, beautifully shot, great music and cameos. King Kong ain t got nothin on Denzel!
October 19, 2001
The release date was pushed back from September 21 to October 5, 2001 both to replace Collateral Damage (which was postponed indefinitely) and to distance it from the September 11 terrorist attacks on the US.
October 18, 2001
Denzel is the bomb....mmmmm, yummy!!
October 17, 2001
Denzel Washington foiled Bruce Willis in what was a battle of the superstar villians at the weekend box office. Training Day remained the top movie in its second week in release, earning just over $1 million. Bandits, which also stars Billy Bob Thorton, opened at third place with $836,178. Both films feature bad guys in the leading roles.
October 17, 2001
I hated this movie! It dragged on for ever, had virtually no story, and was a display of senseless violence.
October 16, 2001
this movie was wicked and i love every part of it and well i was very certain that this movie was a GREAT movie !!! !!!!!WATCH IT !!! !!!!!!!!YOU LL LOVE EVERY PART OF IT!!!!!!
October 16, 2001
Denzel was pure, unadulterated evil! [yes it s me!] The D-Man should get an Oscar nod for this one.
October 16, 2001
Training Day remained the top movie in its second week in release, earning just over $1 million. Bandits, which also stars Billy Bob Thorton, opened at third place with $836,178. Both films feature bad guys in the leading roles.
October 15, 2001
the best road-cop movie I have ever seen!!!... outstanding performence by Denzel
October 14, 2001
Good Movie!
October 14, 2001
Well done... not Washington s best work but it was nice seeing him as a bad guy
October 13, 2001
I thoght it was such an awesome flick. Denzel switched it on us by playing this role. I don t know about an Oscar nomination, but he will sure go down in the books as being a better actor because of this movie.
October 12, 2001
the best action and drama i ve seen in years!!!
October 12, 2001
The movie was FANTASTIC....Denzel did a wonderful job
October 12, 2001
It was tedious and predictable
October 09, 2001
dark and brilliant
October 09, 2001
Great Performances by both actors! Not you average "cop" movie. Well written and directed. Plot was average although I had a hard time figuring what it was. Go see for yourself...you won t be dissapointed.
October 09, 2001
the chick from el salvador was a hottie.
October 09, 2001
This movie was one of the worst movies I have ever seen. Not only was it too long but the acting totally sucked. I really detest movies that are based on one day. It really DRRRRRRAAAAAAAGGGGGGGGEEEEEEEDDDDDDDD onnnnnnnnnnnnnnnnn.........Boring! I fell asleep and was woken up only by the sounds of cussing and shots being fired...Definately NOT WORTH THE MONEY!
October 09, 2001
Not one of Denzel Washington s best performances. Too much overacting