Transamerica - User Reviews
Thank you for rating this movie!
Read your review below. Ratings will be added after 24 hours.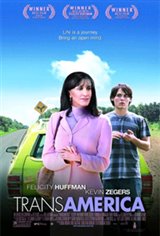 ---
Please rate movie 1 to 5 stars
Showing 1 to 17 of 17
January 30, 2010
This is one of the best movies I have ever seen. Huffman is just brilliant.
March 01, 2007
TRANSAMERICA IS SO GOOD! THE HOLE MOVIE AND EVERYBODY IN IT WERE GREAT! Kevin Zegers, woow he`s hot! toppenbra film!
October 05, 2006
A very warm and sensitive movie. No gender would feel threatened.
May 23, 2006
it makes you laugh it makes you cry its a wonderful and very GOOD movie! Certainly recommend it to everyone.
April 26, 2006
Man, I feel like a woman!
April 15, 2006
I thought it was great, with an important message about accepting people for who they are, done with a great sense of humour and a sense of caring.
February 27, 2006
Great Movie. Great Acting. Well written. Hope it sees some Oscar gold.
February 26, 2006
it was such a special movie, it was touching and amusing
February 17, 2006
The star. The story. It`s hard to know what to praise when a movie is this good. There were moments of such poetry and searing honesty that it was hard to believe that this was an american film. One of the best films I`ve seen in a long while.
February 13, 2006
So Good... The humour wasn`t laugh out loud funny, but it wasn`t forced either. This movie proves you don`t need to spend $150 million+ to have a fantastic film. One of the best times I`ve had at the movies all year!
February 05, 2006
Absolutely Breathtaking!
January 31, 2006
completely amazing.
January 30, 2006
Wondefull movie. Utterly honest and entertaining. 5 stars.
January 06, 2006
Felicity is amazing! Story totally draws you in and takes on you along on their trip. Open minds will love the film because it`s certainly different from the usual dramas that come out this time of year.
January 06, 2006
The movie was really good!!!! the actors played in the most convincing way!!!! i truely apploud for Felicity huffman for playing this role in the bets way imaginable!!!
December 30, 2005
The movie is good. Felicity Huffman`s performance is BRILLIANT. One of the best screen performances of the past few years. She is daring and honest and shocking and never less than entirely believeable.