Transformers: The Last Knight - User Reviews
Thank you for rating this movie!
Read your review below. Ratings will be added after 24 hours.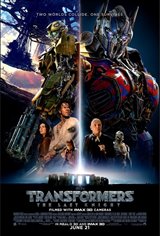 ---
Please rate movie 1 to 5 stars
Showing 1 to 50 of 95
November 05, 2018
TWO THUMBS DOWN!!!!! AND 0 STARS
October 26, 2017
Holy cheese batman! Not unlike all of the other Transformers, the so called comedy made this almost unbearable to watch. Transform into a fetus and 'head out' of the theatre.
October 01, 2017
It was a really great movie. It had a really great plot.
September 05, 2017
Spectacle galore, but it's the characters that keep you riveted.
September 05, 2017
IT WAS ACTION PACKED FUNNY AND JUST REALLY GREAT I WANNA SEE IT AGAIN you have got to see it it was very good towards the end love it yes go transformers
September 04, 2017
Michael Bay, do you not care anymore? We went to see in the cheap theatre because wanted to see on the big screen, made sure I didn't read ant reviews or talk to anyone before getting a chance to see it, sorry but really disappointed, my boys that are transformer nuts were not even paying attention and looking around and waiting for it end. You did not even try hard to tie it into the other movies or a storyline, I could go on, but......
August 25, 2017
Great movie. Great stunts and interesting storyline!!! Loved seeing all the Autobots in actions!!!
August 22, 2017
exellent movie and briliant mark wahlberg
August 18, 2017
Directors of sequels are just going through the motions. I believe that's what happened here with Michael Bay. He left it up to the CGI guys to make this movie.
August 09, 2017
Great but it's too long
August 07, 2017
Awesome movie!! Great action scenes!! My boys loved it!
August 03, 2017
See it over and over and over.
August 01, 2017
worst movie. no story at all
July 31, 2017
As long as it has Mark Whalberg
July 28, 2017
Fun action packed popcorn movie
July 27, 2017
Worst transformers movie I've ever seen
July 24, 2017
Great movie!! Love the special fx!!
July 22, 2017
I am a transformer fanatic.
July 21, 2017
I completely enjoyed all the effects and also the plot. So worth seeing again and again.
July 20, 2017
I really enjoyed this movie! Took my son and his friend - both 11 years old. They enjoyed it too. The story and all the action were great
July 20, 2017
Needs a really good story clear. Action is not good without good story. Direction please.
July 16, 2017
Took my 7 year old daughter & nephew to see it. They loved it. The animation and action were worth the price of admission. Definitely, the best Transformers movie, since the original. The story line was predictable as it played out, but most summer movies are.
July 14, 2017
Critics wouldn't know a good movie if it punched them in the face. This was the best transformers movie so far!
July 09, 2017
If you've only seen The Dark Knight and The Dark Knight Rises, you haven't seen The Last Knight.
July 09, 2017
What was the use of doing this Transformers movie. This one is a terrible movie. The acting of some of the characters wasn't that great. The movie was boring and i wouldn't want to watch this movie again.
July 06, 2017
Terrible movie. Lacked plot, didn't fit in with the other movies. Way too long. Wouldn't watch again or recommend.
July 05, 2017
It was a fun flick but to long....both characters and transformers were funny and entertaining.
July 03, 2017
I fell asleep during this movie. Terrible also it's very long!
July 03, 2017
A long movie; a little too long.
July 02, 2017
The movie insn't great but its a good summer movie much better than the last few. I enjoyed it, just don't take it seriously and its a good summer film.
July 01, 2017
Fantastic, exhilarating action scenes. Great transforming transports, some funny scenes, enjoyed it.
June 30, 2017
Wow! A lot of movie for the money. Great actors and action. Hard to find any criticism except I didn't really need quite so many transformer fights. I wonder if Laura H had a shot at the Wonder Woman movie role.
June 30, 2017
This movie is terrible. Walked out and I never walked out. A transformer as a butler? Come on. The pour performance at the domestic box office proves that people don't want this anymore, or at least take some time to write some decent characters.
June 29, 2017
Movie for kids? Had preteen saying sh#t and that was favorite word of the movie. Which according to some PG-rated movies was mild.
June 29, 2017
Plot was better than the other Transformers' movies. Exception is 1st T movie.
June 29, 2017
My family absolutely loved, loved, loved this movie!!!! It was fantastic from start to finish! The story line wrapped everything up with a perfect bow and we could not be more pleased!!! Michael Bay did a smashing job and made this the best of the best! We have to see it again because it is one the best continuing series! Great job Michael Bay and don't listen to the naysayers!!! A Doting Fan!
June 29, 2017
I personally thought this was one of the best movies I've seen in the last year. The action sequences were great, and not much lag time.
June 28, 2017
Best one of the lot! Story was fantastic!
June 28, 2017
COOL CARS AND GREAT ACTION
June 28, 2017
You could tell Michael Bay doesn't care about this franchise anymore when his trademark over-explosive action scenes were missing. I kept checking my watch because it was so boring - movie dragged on for far too long.
June 27, 2017
If you like the last you will love this one.
June 26, 2017
I loved this movie because it was very surprising and interesting. I've always been a fan of transformers!
June 26, 2017
Utterly charming; easy to see why this series continues to have a place in the hearts of moviegoers.
June 25, 2017
Been watching transformers since the 80's out of all 5 of the transformers movies this one is by far the worst. way too many dumb jokes, storyline takes forever, not really any new autobots besides hotrod which he doesn't do anything anyways and the new decepticons are kinda goofy. Whoever wrote this storyline should be fired.nice special effects to get your mind off the horrible story. WHAT A WASTE OF TIME.
June 25, 2017
Best film of the year by far.
June 24, 2017
Movie was crap along with the acting. Ending had good action but the rest was boring. I fell asleep like 3 times during this. Too much nonsense talking
June 24, 2017
Some scenes were too long before moving on. Otherwise a typically good movie