Treasure Planet - User Reviews
Thank you for rating this movie!
Read your review below. Ratings will be added after 24 hours.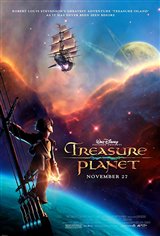 3.60 / 5
User Rating
Based on 2298 votes and 63 reviews
---
Please rate movie 1 to 5 stars
Showing 1 to 50 of 63
December 03, 2022
Treasure Island meets Star Wars. Who would guess it could work? But it does.
May 17, 2008
i thought this was an awesome movie. one of the best disney made in a while. it was different and very involving with v. different characters. i would recommend it for any age group. im 16 and i really liked this movie.
July 05, 2005
It was a wonderful film! I loved it!
September 11, 2003
it was good
September 10, 2003
Treasure planet was actually an adorable movie. I would recommend it to others. It has a lot of exitement, adventure, sorrow, love, and comedy. It had glued my eyes to the screen. My favorite character is Morf. He was just the cutest thing I have ever saw. The way he could change shapes and items. He made me "awwww" the entire time. My second favorite was JohnSilver. He had determination towards his life long goal for his treasure. In the end it turns about that he cared for the boy rather his gold, which is showing that he had a heart. So, for my opinion Disney made a great movie for the children.
September 10, 2003
I thought that the visual graphics were very detailed though they were added to hand drawn characters. I think that most of the characters fit in with Robert Lewis Stevensons story "Treasure Island." I also found that the the galleons and the flintlock pistols were well created.
September 10, 2003
I think this movie was pretty cool. It also gave some good laughs and all to. I liked the characters cause they played some good rolls. But the best character would have to be Morph. He was one of the most funniest ones in the movie out of them all. I think this movie was pretty good but in certian areas I think they could have done a better job on it but still I think they did an excellant job on this movie so I rate this movie 3 stars.
September 10, 2003
I thought the movie Treasure Planet was good.It had some good characters and it was funny.Its a real good movie for little kids.
September 10, 2003
I loved "Treasure Island".It was great. The characters were my favorite part of the movie. Especially morph and B.E.N. They added comedy to the picture, and it made the movie great
September 10, 2003
I thought the movie was a good movie for kids. If you haven't seen other Disney movies you would have thought it was great! But I thought that it was ripping off the other Disney movies with the animation style. My favorite character was the captain. She was very cool and very strong. Nothing scared her and when a problem came up she faced it with bravery and cunningness. My least favorite character was the insect thing. He was really mean and ugly. My favorite part of the movie was the ending; it was very funny and happy.
September 10, 2003
I think that the movie treasure planet was an ok movie. The thing that I like the best about the movie is the little character morp. The rest of the characters were good to but I think that he was the best one.
September 10, 2003
I thought the movie was very cute.
September 10, 2003
I think that treasure planet was predictable, like every other walt disney movie there is. The movie had exelent special effects.
September 10, 2003
treasure planet was a movie that kept you on yours toes.Meaning it was a good movie that kept me watching and waiting for them to get to the planet. it was a good movie in my terms. hopefully i can see mre of these kinds of movies.
September 10, 2003
I really liked the movie. It was inspiring and heroic, but on the other hand it was so happy. My favorite part was when i thought Jim was going to crash but he ended up flipping the Skiff and starting the fire at the end to make it ride. Jim ended up being the hero and saved the day. The only thing I think that would make it better is maybe changing the charecters except Morph.
September 10, 2003
i think this movie was horrible i hated it i liked the original treasure island first the charactor looked exactly like the charactor on Titan A.E. i didnt like it at all two thumbs down
September 10, 2003
I liked the little character moprh. He was really cute......
September 10, 2003
it had a great plot it ketp me a wake
September 10, 2003
I thought Treasure Planet was a cute cartoon. It might be a little violent for a 3-year-old or any other young child, however the movie expresses itself very well. The movie aims more towards the older crowd (ages 6-99). Treasure Planet is a "must see" movie for someone who likes comedy,adventure and sensitivity.
September 10, 2003
I thought Treasure Planet was a pretty good cartoon movie. I thought it was better than Monsters Inc. It had some pretty good graphics in it . Overall I thought it was a good movie to watch while your bored or not doing anything or just want to watch a really cute animated movie.
September 10, 2003
I thought that Treasure Planet was a great movie to provide back ground information for previous films such as Treasure Island. Movies with animation, draw the attention from children and adults, but also gain a learning experience for the different age groups. More than likely, everyone learns at least one or two things from both movies. If they have not seen Treasure Island, they will learn what it was about, and what happened throughout that period of time. Treasure Planet could have been a little more realistic, but it was a good movie.
September 10, 2003
I think this movie was pretty good the charectors were very funny looking and I like to see that. The noises that they made were funny too, the graphicks wernt so good compared to some of the movies today.
September 10, 2003
i think disneys movie treasure island is a good movie to show the the class.i enjoyed this movie because it kept me intrested at all times.i give it two thumbs up.
September 10, 2003
I personally think that the movie was very interesting, and very creative! From the boats that float in the air, to the heat sensored sails. I think that Disney is coming up with many good ideas. I liked the story, and how it was different, and complicated in a way with the ball being the map, and only the young boy knowing how to open it. Also I liked how the had most of the things as machines. The planet was a machine, and I thought that it was interesting to think that, cause a typical planet wouldnt be like that. From the center being the treasure, and the portal. I thought the movie was AWESOME!
September 10, 2003
I think this cartoon was really boring for a cartoon.
September 10, 2003
I thought it was very entertaining and worth seeing. I have always been a fan of treasure hunting and this movie had a lot of it.
September 10, 2003
Over all it was a good adventure film. I loved the little character morph. I like how disney movies always brings in a bouncey, fun kind of character. Some of disney`s movies the characters look all the same but I didn`t think they were to much like any other movie. I liked this movie it was funny, adventurous, and it showed that even the people with a bad rap and make good things.
September 10, 2003
i think treasure planet was a cute movie for kids and teenagers i enjoyed watching this movie i rated this movie 4 stars i think that the ending could`ve been a lil better but other then that i really liked the movie i realy dont think that i would change anythin about this movie... i think that its perfect for little kids and i dont think that it is copying other movies like toy story or monsters inc.
September 10, 2003
I think the movie was kinda cool. Because it was a look of what the future might looks like. And it could have been longer but it was ok.
September 10, 2003
i didn`t like it all to much. It was too male oriented. It seemed as if it was mainly focused on the male perspective because it had too much adventure. I did like the little guy morph. he made the movie good in some parts.
September 10, 2003
What I thought of Treasure Palnet, was that I really wasn`t that into it, but I gave it four stars and it was a good movie I just couldn`t get into the story!
September 10, 2003
I thought that treasure planet was a good movie especially for an animated movie. i thought the main character Hawkins played a great role in the movie.
September 10, 2003
Is one of the best adventure cartoon movies i had ever seen, i think it has pretty good graphics and the story was well made, i hope they get like a second party of it so it will be more exitement. for me the movie was exelent.
September 10, 2003
Treasure Planet was an all around good movie. I`ve never read Treasure Island, but I thought that this movie was ver interesting. It delt with the way todays youth is and then they threw in space and old fashioned dancing. They way the movie was set up and all the different characters was what really made the movie. James had a hard life, like most kids do these days, and he wanted to prove himself to his mother. He wanted to show her that he wasn`t a complete failer. This movie really clashes the way the word can change in a matter of years and how the way people are never really changes. Overall I think that it was a good movie with many vo
September 10, 2003
treasure planet is an amazing story for young watchers.it is vary stimulating.you have your good vs.evil theme in which most people enjoy.it relates to tenns today. and touches bases on our issues of today,between devorce,and peer preshure. i enjoyed it and i hope you do to.
September 10, 2003
i think that treasure planet was a very good movie. i think it is more geared for teenagers, just because of the troubled teen. i really liked it a bunch.i give it a 10 out of 10,and two thumbs up.
September 10, 2003
I thought Treasure Island was great! It was so entertaining and thrilling! DISNEY IS AWESOME~IT ROCKS MY SOCKS
September 10, 2003
Its a really good kids movie.
September 10, 2003
i thought treasure plant was a relly cool movie. It was a cartoon but very entertaining. I didnt think any parts of the movie were bad.
June 23, 2003
The movie rocks my socks. The animation is great, the characters are loveable and well developed. They did a great job adapting the story to movie. It was so fun to watch. The cheesiness you`d expect from a kids movie was not as frequent in this one. I think it`s one of Disney`s better movies as far as that goes. Basically I love it. That`s all.
June 20, 2003
The animation was totally inspirational! The bast animated film I`ve ever seen! I wanna animate at Disney!
May 27, 2003
way over great, cool or anything!! really a super great movie. i`ve watched it so many times and i still absolutley LOVE it! every second is exciting and interesting, and awsome!!! one of disney`s best pictures ever!!!!!*
May 18, 2003
This movie is the best animation in Disney! I`m very very sad for some people don`t like this. But I love TREASURE PLANET!
May 15, 2003
I think it was the greatest movie ever! i love the adventure and all the detail and love into everything that took place in the movie. I`d never get tired of it. truly a masterpiece and deserves it`s name.
May 14, 2003
it was cool,but needed more detail and emoion,omiGod!Come on,people!
May 05, 2003
Definitley a wonderful movie. The father+son relationship between Jim and Silver was very touching. I was in tears at the part where they hugged at the end of the movie. I was very happy that Disney "fixed" the story so it ended with Jim and Silver still being friends. The graphics were great and the story was entertaining, with lots of funny parts, too. I would recommend Treasure Planet to any animation fan age five to a hundred and five!
April 15, 2003
treasure planet was BRILLIANT.I fancy the cat women
December 29, 2002
"Treasure Planet" was unfortunately dissapointing. It had great potential: moving stevenson`s tale into space was quite original. However, Disney failed to concentrate on the relationship between Silver and Jim, as well as its evolution. Instead, action and visuals are the focus, when they should only complement and add to the story, not be the story. Therefore, "Treasure Planet" lacks heart and the quality story-telling Disney is famous for (not to say they should always stick to the same formula). The latter movie may even be Disney worse movie, eventhough it had everything going for it.
December 23, 2002
A very good movie. Instead of a romantic love story, it builds in an interesting father-son friendship in the movie. Creative as well.