Tyler Perry's Boo 2! A Madea Halloween - User Reviews
Thank you for rating this movie!
Read your review below. Ratings will be added after 24 hours.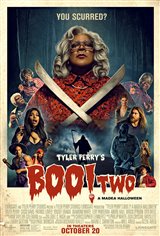 ---
Please rate movie 1 to 5 stars
Showing 1 to 28 of 28
March 11, 2021
This is scary! Madea is frightening!
February 03, 2018
epic! LMFAO
November 30, 2017
So stupid!
November 29, 2017
This movie was a joke. So predictable, some bad acting and a Stupid story. I kept looking at my watch for it to just get over!
November 27, 2017
I loved this movie it was so funny I love all of the madea movies
November 14, 2017
Too much cussing not necessary. It becomes repetitive and not funny. Very disappointed in these Boo movies. Tyler Perry fan for years. So sad to see thie sexual and language boundaries be pushed so hard. It's not funny it's ridiculous.
November 08, 2017
I WAS EXPECTING A GOOD COMEDY MOVIE, BUT THIS TIME TYLER PERRY DISAPPOINT ME
November 08, 2017
Its about time there was a really funny movie out instead of fowl language, sex and violence! I would see this movie again, keep up the good work Tyler Perry!
November 07, 2017
Tyler Perry's movies are becoming more sexual and lack any substance. I tried really hard to find something to laugh at during this comedy, but there was nothing. Acting was poor, especially the role of the head of the fraternity. Mr Perry is very talented and can do better than this. I regret spending my $ and time watching this.
November 02, 2017
This movie just sort of rambled. No point. No plot. No laughs. Tyler Perry is capable of so much more. I think he took all the other Madea scripts, cut them up, put them in a hat and shook it till this thing came out. It was that nonsensical. Hoping for better Perry Movies ahead.
November 01, 2017
Horrible very disappointing. Everything I hate about today's culture Tyler perry can do better.
November 01, 2017
I love Madea & Tyler Perry...but this movie...was awful! Seriously it was bad! Really bad! I was disappointed, everyone else in the theater was too! C'mon Tyler, give us a good Christmas one! Redeem yourself!
October 31, 2017
This movie was boring, predictable, and not very funny.
October 29, 2017
Disgusting Tyler Perry movie. Poorly written. NOT for younger kids! The first one was funny. This was just a pure waste of time and effort.
October 29, 2017
Tyler Perry should just become a woman in real life like he obviously wants to, and then he can stop polluting the world with this nonsense. I can't believe so many people waste their money on this.
October 28, 2017
funny and horror much see twice
October 28, 2017
we lmao ,YOU GO FUNNY MOVIE JUST LOVED IT SEE YOU NEXT YEAR BOO 3
October 26, 2017
this movie is garbage. he should stop making them. waste of $$$.
October 25, 2017
Finally, a sequel worthy of the original.
October 24, 2017
Great movie loved it
October 23, 2017
Great Movie ! Lots of laughs. Something we all need, is laughter, and not being stuck up and bitter.
October 21, 2017
Garbage movie.
October 21, 2017
Some funny parts.
October 21, 2017
Stupid movie. Not funny or scary at all. Do not waste your time
October 21, 2017
Movie was hilarious!! I literally just spit my drink out laughing on two different occasions. The whole theater was bursting in laughter!
October 21, 2017
I was not too impressed. Same plot as last year. use of the "N" word was not needed to express themselves. Want to move forward not backwards even to sell a movie. Last years' movie was funnier scarier and a little more entertaining.
October 20, 2017
Loved it!!
October 17, 2017
The movie and i love all made-a movies so keep it up!!!