Unbroken - User Reviews
Thank you for rating this movie!
Read your review below. Ratings will be added after 24 hours.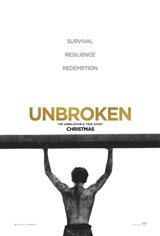 4.24 / 5
User Rating
Based on 644 votes and 122 reviews
---
Please rate movie 1 to 5 stars
Showing 1 to 50 of 122
November 06, 2016
A great suspenseful movie, a great story
March 11, 2016
Inspiring story - well done movie!
September 14, 2015
Amazing man, well done
June 11, 2015
Great movie. Angelina Jolie did a great job of producing it. Read the book too!
April 26, 2015
TRUE HERO!!!!!
April 17, 2015
Excellent movie
March 28, 2015
Excellent movie worth watching, shows the horror of war that was endured by the soldiers.
February 20, 2015
A little "draggie" in places, but definitely worth seeing. One of the better ones.
February 17, 2015
Exciting to watch on the edge of the seat movie kept you wondering if he would survive.
February 15, 2015
An amazing, true story that's a testament to perseverance and the human spirit!! A rare gem of movie making that's an instant classic.
February 13, 2015
Unbroken was so realistic that at times it was difficult to watch. It was long but needed to be. The part in flashback explained how Louis could endure such brutality. The story in the life raft also was very realistic and showed the hardship of 45 days and then to be taken prisoners of war. There is irony in that they made through the bombing but then had to be rescued themselves on the rescue mission. Angelina Jolie should have been nominated for best director and there should have been best actor and best supporting actor nomination.
February 12, 2015
Great film, Jack O'Connell puts forward an honest performance as Louis Zamperini. For her first feature length film this a fantastic achievement by Angelina Jolie.
February 12, 2015
Fantastic movie.
February 09, 2015
THIS WAS A GREAT MOVIE VERY INFORMATIVE SINCE IT WAS A TRUE STORY.
February 07, 2015
This was a really good movie. It did bring up a lot of emotions, I had an Uncle that was a POW in WWII. We saw it at the theater and will rent it to watch again.
February 06, 2015
The story alone is extraordinary, the will to live is amazing.
February 05, 2015
Very moving
January 26, 2015
A truly inspirational movie! I don't think I even heard 1 swear word. And no sex too. A good clean inspirational movie. 10 out of 10. A must see!
January 24, 2015
Poor acting. Don't waste your money.
January 24, 2015
Excellent movie!! Well done!!!
January 23, 2015
Exciting to watch on the edge of the seat movie kept you wondering if he would survive.
January 22, 2015
Can't believe that this movie was shunned at the Golden Globes and the Academy Awards... it deserves a nomination.
January 18, 2015
it captured my heart, and was very emotional. it showed the struggle, and what this man went through for all that time. it was very very well done and magnificent, and I think that everyone should be inspired by this movie.
January 18, 2015
Great movie that shows the struggle and perseverance of the soldiers in WW2 and the actors play the roles very well to show this which is why this movie is so good. I would see it again.
January 16, 2015
Great Movie! Well done Angelina; said that it did not even got nomination; Sorry Angelina Jolie, if they had their yes closed; Your movie should've got a Oscar; I give it a 5 Star!
January 16, 2015
no depth, poor acting, unnecessary prolonged violence, weak characters and writing.
January 16, 2015
poorly done, sorry I waisted 2 hours on this. Both the Holywood Foreign Press (Globe Awards) and the Academy Awards didn't nominate the movie or any of the actors, no wonder
January 16, 2015
Absolutely awful. There was a surprising lack of character development for such a long film. I laughed in moments where I should have been crying... Sign of a poorly done film. It's a shame because I'm sure the story is extremely touching in actuality.. Would have made a good documentary. And lastly.. An Italian immigrant would never mispronounce the word GNOCCHI.. Come on Angelina!
January 15, 2015
I expected to feel emotionally beaten up watching and did; however the movie was so well done the time flew by and only realized the length checking the time when we left the theatre. Loved it.
January 15, 2015
Too long in the Japanese prison. Makes me feel happy bout the atomic bombs though.
January 14, 2015
Great job the kind of movie we need not all swearing not just blood & guts & body count* Great Job Angelina. No gay stuff. Its too bad Louie didn't get to see it.
January 14, 2015
Great movie. For being a longer show time, it sure didn't feel like it when we were watching it. Love movies based on true stories and war time.
January 13, 2015
Excellent!
January 13, 2015
It was a hard watch in some ways due to the harshness of war. It speaks to endurance, perseverance and forgiveness.
January 13, 2015
The Hollywood Foreign Press didn't like Unbroken, my guess neither will the Academy Awards
January 13, 2015
I saw this piece of violent trash and wondered why the high ratings PS...Angelina Jolie was apparently hurt by the Golden Globe Awards snub last Sunday...not a mention...not a references nothing!!! When asked the Hollywood Foreign Press said "the film wasn't quite good enough to warrant a nomination"...it just shows you that because it's popular doesn't mean it's good!!!!...I guess there is a large audience for violence...$$$$...sigh...
January 13, 2015
Exceptional!! I was totally involved throughout the entire show. Extreme emotion shown with little or no foul language. It left me beyond words to describe this experience. Thank you.
January 12, 2015
The fact that it was based on a true story made the film that much more appealing. Acting was good, realistic.
January 12, 2015
Best movie I've seen in a very long time. Watched many interviews with Angelina Jolie before going. Can't say enough about this masterpiece!
January 10, 2015
This movie is inspirational movie for all ages.
January 10, 2015
Haven't enjoyed a movie that much in a while.
January 10, 2015
This was a difficult movie to watch... but excellent in every way! The acting was superlative, completely engaging! The story is based on truth and very important for all of us to remember as we give lip-service to our blessings. Very powerful... totally riveting!
January 10, 2015
Amazing movie about human resilience. The actors were very good at portraying the agony of war.
January 10, 2015
The story of Louie Zamperini is brilliantly told here! It is engaging throughout, horrifying in places but always an inspiration of the power of the human spirit. Every aspect of this movie from acting, directing and writing to filming, scenery and realism are stunning. Very few movies make we want to leave the theatre wanting to research more about the story but this wetted my appetite to learn all I could about Mr. Zamperini. Interestingly most of what I found was exactly as portrayed in the movie = well done!! There are many good movies out right now but you will do yourself a disservice if you miss this one on the big screen/sound - it deserves both and your 2+ hours.
January 10, 2015
Awesome. Couldn't stop watching.
January 10, 2015
If you can take it, Unbroken will lift you like the classics of adventure cinema.
January 10, 2015
Amazing movie. Some scenes hard to watch. A must see movie!
January 09, 2015
Angelina did a great job on this movie. Right from start to finish it had my attention. The acting was right on. Eating the raw sea food was a part I had to cover my eyes but was very real. Excellent. My friend and I were definitely Thumbs UP.
January 09, 2015
Some of the family scenes appeared familiar and to me were lacking something… however the war and concentration camp scenes were riveting and well acted.
January 08, 2015
A must go see. Jolie has become such a wonderful director.