Undercover Brother - User Reviews
Thank you for rating this movie!
Read your review below. Ratings will be added after 24 hours.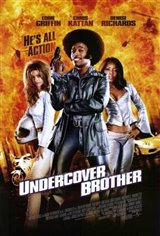 3.61 / 5
User Rating
Based on 1821 votes and 36 reviews
---
Please rate movie 1 to 5 stars
Showing 1 to 36 of 36
August 24, 2017
One of the most hilarious movies ever.
November 19, 2014
Loved it! Denise Richards is the new Jennifer Lawrence.
March 04, 2006
under cover funk thats good movie
November 10, 2005
When is the sequel being released?
September 14, 2005
this is one of the most hilarious movies of all time.so funny!!!my lungs hurt so much from laughing so much.i actually got a cramp from laughing so much!!!!!!!!
November 11, 2003
It was a really good movie . I honestly think Chris Kattan was the funniest character because he was the most physical and that for him brings out the true funny
October 26, 2003
This is the funny movie i have EVER Seen old School and this i watched this 10 times and its still funny!
January 19, 2003
really stupid movie
June 27, 2002
very good the best movie i seen since 1970!
June 19, 2002
pretty good movie
June 17, 2002
I liked it. And would all the negative reviewers here take an English 101 refresher course? Geez, you could all do with some impovement yourselves...
June 17, 2002
funny, hilarious and denise richards was awsome
June 17, 2002
I was reluctant to see it, I`ll admit, but when I was finally coaxed into the theatre and started watching it, I couldn`t stop laughing. The humour was light and fast, poking fun at blaxpoitation and thus teasing both white and black culture. It was fast paced and hilarious.
June 16, 2002
this movie was by far one of the funniest movies i have ever seen, something made me laugh about every 2 seconds. usually when you watch a stupid funny movie, most of the funny parts are in the commercials which is not the case with this movie. and also if the movie is pretty good usually the ending is very stupid which ruins the whole movie, which is not the case with this movie either. all in all the movie was hilarious, just as funny as Austin Powers. I definately recommend watching this movie if you want a good laugh.
June 16, 2002
i think its a great i could hav been better so i gave a 4 i love still.
June 13, 2002
As a white person I should have been offended by this film, but you just have to have a sense of humour about these things can we take a joke? I know I can. I recomend this movie to all races and people except to the white people who can not laugh at themselves a bit.
June 11, 2002
This movie just sucked a big sour lemon ...
June 11, 2002
I loved the movie...It was excellent....
June 09, 2002
Funny, excellent, we have recommended to many family and friends
June 06, 2002
I thought this movie was foolish for trying to make ignorant insulting jokes look funny. Making races separate each other, making peole sound like wanna be, its disrespectful. The movies was a joke!
June 06, 2002
i though this movie was aiight it was funny though
June 06, 2002
stupid black guy
June 06, 2002
too many racists jokes toward white
June 06, 2002
i didnt like it at all
June 06, 2002
it was reall a bad upset
June 06, 2002
i see white people??? wtf is that
June 05, 2002
talk about reverse racism... its wild when Black can get away with anything... a white guy would be racist! This movie was an insult to most ppl intelligents!
June 04, 2002
Don`t be fooled by the slick trailers.
June 03, 2002
undercover brother was a good movie but i woulden`t really give it 5 stars.that`s why i gave the movie 4 stars.
June 03, 2002
It was hilarious but to be perfectly honest, this movie will not be enjoyed by caucasions. Numberous jokes directly towards caucasions but still funny
June 01, 2002
this movie kicks, it`s got so many racist jokes you can`t help but love it.
May 31, 2002
Being lit might make this movie actually funny. HOW DO YOU LIKE THEM APPLES!!