Underworld: Evolution
Thank you for rating this movie!
Read your review below. Ratings will be added after 24 hours.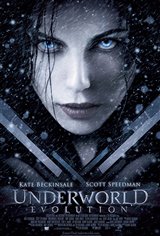 4.33 / 5
User Rating
Based on 3569 votes and 170 reviews
---
Please rate between 1 to 5 stars
Showing 51 to 100 of 170
February 14, 2006
better than the first more action cooler characters and better fight scenes great follow up when most sequels let down this one does not
February 13, 2006
Loved it, sets up the third nicely
February 12, 2006
Just as good as the frist movie.
February 11, 2006
underworld evolution rocks my socks! lmao
February 09, 2006
i love the two main acters... almost jelous...i love vampires and if i ever had the chance i would love to act in a movie like that.
February 09, 2006
Not nearly as good as the first
February 07, 2006
Underworld Evolution is packed with awesome visuals, action, and a great story. I liked the first one better though. I just loved the storyline and getting to know the characters. The Underworld series is the best vampire films ever made in my opinion. Tony Curran was excellent as Marcus, I was extremely impressed by his prescence on-screen. If you really liked Underworld, go and see Underworld Evolution. I can`t wait for the third one...
February 06, 2006
This was awesume and well done
February 05, 2006
the pictures are nice,but nothing else surprised me~
February 05, 2006
We enjoyed the film....It just amazed me tho that if are on your way to fight vampires AND a wearwolf and spend all that time with hi-tech weapons.....you Forget to bring some silver bullets?? needlessly stupid ! and the sex sceen was very bad. overall enjoyable.
February 03, 2006
This was a very well done movie, but even though I enjoyed it and would watch it again, I still think it could have been better. The certain inconsistancies within the plot, combined with the forced use of a Deus Ex Machina creates a somewhat bitter after-taste. The action was very well done, both graphicilly and choreographically. The music, like the first, leaves spine tingling goosebumbs. The acting on the part of the two main characters is rather well done. And while the plot may have suffered slightly, the whole resounding story still remains one of the best I have seen in a movie, The vampire-werewolf conflict is both original and intri
February 02, 2006
This movie rocked!It was soooo good.Even better than the first one.Alot more action,more gore too.The only bad thing was the sex part it was very pointless.BB
February 02, 2006
The movie was awesume. Great action and story answers lots of question. Go see it to enjoy it not to anylize it. Takes away from going out to the show?
February 02, 2006
The action in this movie was rather good however the plot outline was a little thin and undeveloped. Overall it was a good movie and well worth seeing in theatres, three and a half out of five.
February 01, 2006
this movie was intence...gory and..well I dont think its for children...but man was it amazing better than the first~ Shabz 06
February 01, 2006
This was a entertaining movie>ENTERTAINING I repeat.People can hate on this movie but really everthing was flawless. Len wiseman has the vision and creativity and it shows.The sex scene is tastefully done and was needed.Len wanted to show a complex realtionship between micheal and selene and the ending strings was breathtaking. Let me see this right now the third movie will be the best of the two>Reasons is the Unknown of the future and they can experiment more in the plot. Good job Len you are saving the vampire genre as we know it. P.S:This movie was the best movie ive seen in a while it got me glued to the screen.
February 01, 2006
Not that good. It really wasn`t anything special, just a typical sequal. Predictable, and sometimes silly. There were some good action parts and the Michael part (the emotional one..don`t want to ruin it for anyone) made me laugh because of how predictable it was. Overal, it could have been done better, but it answered any questions I had about the first movie.
February 01, 2006
Sex scene was unnecessary, but I enjoyed it!
January 31, 2006
action packed....and good sex scene with Beckinsale!! Overall great movie!!
January 31, 2006
Underworld Evolution was a great movie. Picked right up where the first one left off. Did anyone else notice the blond guy that played "tavern cop #2"? I believe the credits show him as Alexander Grant. Wouldn`t mind seeing him in another role!
January 31, 2006
Incredible film! Better than the first! Kate Beckinsale was again the sexiest, prettiest, most beautiful vampire ever made!
January 31, 2006
BEST MOVIE IVE EVER SEEN!!!! action packed, lots of violence, and wow! Beckinsale is soooo hott. If only more movies were like this one.
January 30, 2006
hoo! hoo the best!
January 30, 2006
It was a great movie, not much of a vampire movie, just a good time action thriller. if your looking for a great vampire movie rent Interview with a vampire.
January 30, 2006
Great movie, loved it as much as the first one. Sex scene was pointless and stupid.
January 30, 2006
Was very good, very entertaining. The action was awesome and the story was good. It accually comletes the first movie. Gotta like that. 5 stars for me.
January 30, 2006
Very cool, great action! Better than the first!
January 30, 2006
Very entertaining, way better than the first. I liked the beginning scenes, cool action. The fight scenes were cool and exciting. Scott Speedman was hot and a great actor! Kate is a great actor as well. Though there was were too many unecessary sex scenes, and too much gore. This movie is worth seeing, you won`t be dissapointed!
January 30, 2006
was expecting more war type action, but over all it was the best movie i have seen recently.. definitely did not disapoint! Scott Speedman was amazing! i loved the dark eerie feel to it.. just like the first one. i like that there is finally a movie that knows how to do a sequel.. taking place right after the first one! It`s definitely a must see!
January 30, 2006
better than the first!
January 29, 2006
Hopefully Len Wisemen will be able to continue with this story or, at least, pass the torch to someone who would be interested. This "world" of vampires and werewolves has been a refreshing change in the genre and MANY of us are "dying" to see more.
January 29, 2006
Pretty good movie. A bit too many guns-a-blazin` scenes and the sex scene was awkward, but a good movie.
January 29, 2006
five stars - excellent
January 29, 2006
just incredible!!very well put together action packed adventure.
January 29, 2006
if i had ten thumbs,they would all be up!!! excellent.
January 29, 2006
this is an excellent movie.the best of its kind.can`t wait for the third one.
January 29, 2006
Not bad.. but far from good. Itll make a good DVD movie.
January 29, 2006
I was actually really bored during the action scenes (kinda sad), it was not very good. The first one was much better.
January 28, 2006
Kate is hottt!! The movie was excellent and for those who don`t like it..check out BROKE BACK MOUNTAIN BOYS!!! That may be more your style.
January 28, 2006
I THOUGHT THE MOVIE WAS VERY GOOD. I WISH THEY WOULD HAVE SHOWN MORE OF THE STORY OF MARCUS AND WILLIAM. TONY CURRAN WAS EXCELLENT AS THE BAD MARCUS!!!
January 28, 2006
excellent, I love this movie. I hope there will be a part three.
January 27, 2006
The ending was awesome and unexpected. It was definitly better than the first one.
January 27, 2006
this movie was mind blowing.i would pay to see it again.i hope u enjoy it,i shure did!this is a toatal must see movie!
January 27, 2006
Not as good as the First.Action was ok but seen it all before.
January 27, 2006
If your already a fan of the type of movie this is..Sci-fi/gore..then you will be pleased. If your a fan of Kate Beckinsale...wait till you see her get unzipped from that skin tight leather...she is fit!!! If you don`t fit into the first two groups...the massive plot holes might make you wonder what`s happening? Or why? When does this end?
January 27, 2006
Storyline is weak but action and special effects are great. Beckingsale is clearly the lead role, not much character development for Speedman and others.
January 26, 2006
I loved the first underworld,i love vampires and warewolves. this was the ultimate battle between them. the second underworld was ten times better. alot more killing and gore, it was great seeing it on the big screen was the best i cant wait to own it.
January 26, 2006
I love dark eerie movies and this one sets the tone.
January 26, 2006
Very good money. Would watch it again. Hope theres a 3rd one