Valentine's Day - User Reviews
Thank you for rating this movie!
Read your review below. Ratings will be added after 24 hours.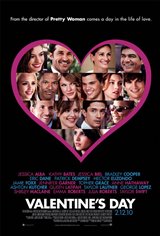 ---
Please rate movie 1 to 5 stars
Showing 1 to 50 of 52
July 29, 2010
Human relationships between men and women: I loved this movie. It describes different types of relationships between men and women. The author has managed to convey his message. The feast of love. Friendship. Love with a capital L. Human relationships where long-term true love can happen. This is where things are assessed. Take time to think, do not get excited too early; do not go too fast in a relationship. The moral is to keep its control and believe in love by valuing the great feelings. There is evidence of love: the person who will highlight some events in the life of his loved one, by remembering his birthday, for example. Valentine's Day can often take stock of the great feelings
July 06, 2010
STUPID MOVIE! too many story lines going on for any one to be developed. Big cast so you're bound to like at least some of the actors but really not worthwhile watching. There's only two scenes I actually enjoyed.
July 01, 2010
I really loved this movie. Julia Roberts was fabulous on the plane ride. She is such a naturally talented actress. Bradley Cooper was great eye candy. I loved the intertwined relationships with the other famous names. A person ready to get married may not be feeling what their partner is feeling. Love with a man that ends up married is no fun. And finding love built in friendship can be so right. Two thumbs up.
March 17, 2010
This movie pretty much copied off the "He's just not that into you" idea, except instead of having different endings for different characters, everybody has a cheesy happy ending. Not funny, and I can't stand Jessica Alba's bad acting.
March 10, 2010
not all that funny. kind of boring to watch
March 10, 2010
Very good romantic/comedy, it is what it is, some laughs, bit parts for a lot of stars, a few surprizes and more laughs. The dialogue was better than Avatar for sure.
March 09, 2010
Worst Movie of 2010 !!!! Hope They Get nominated For 2010 RAZZIES!!!!!
March 07, 2010
This movie is Awesome! It was such a sweet movie that I want to watch it over and over and over again. 4 and a half stars! :))
March 07, 2010
Another mundane movie! This movie followed a simple cookie cutter story line. It was about several relationships that were rather repetitive of many other romantic comedies but a lot less funny. They focused on certain relationships more than others, which was understandable given the amount of star power, but I thought some of the other story lines and relationships they showed such as the (Taylors) was pointless. They seemed to throw some stories in there just to showcase the stars as being in the movie without developing any story for them. I'm not going to say it was cute because it wasn't. It was another failed attempt at a romantic comedy that they put a lot of big stars in so that we
March 04, 2010
I wouldn't even give it one star. Such a poor movie. Too many cuts..to many actors.. characters weren't beleiveable. plot lacks interest..not realistic.. nothing taken away from the film. The only part that evoked any response from me than complete boredom was Julia Roberts final scene. Terrible Terrible story line for the characters. Not clever or funny at all.
March 01, 2010
I went into this movie expecting to endure two hours of cheese....but turned out the movie was quite thoughtful and sweet, although the plot jumped around a little too much. Very enjoyable though!
February 27, 2010
AWESOME!
February 26, 2010
the movie was awful. the cast is the only thing that made it worth while to watch
February 24, 2010
wow!! what a great movie i whold not recommend for anyone under 10 or 11 but overal it was one of the most exiting movies i ever watched
February 24, 2010
ok cute cute cute movie!!!!
February 23, 2010
This was a good movie- it may have been hyped a little too much, but overall, I really enjoyed watching it. It was funny when least expected. The characters were well played. I loved the Taylor's. The storyline jumped around a bit, but to create the overall finish in the end, it was necessary. The story for all the characters was good, and I reeally enjoyed watching this movie. It was plain out hilarious at times, but also extremely cute, but not mushy. Fantastic.
February 21, 2010
Alright movie- hated the Taylors though...
February 21, 2010
Movie was enjoyable enough but I HATED THE TAYLORS!
February 20, 2010
It was funny when I least expected it, and very entertaining. Perfect Valentine's movie because it was fun, and not mushy.
February 19, 2010
Really Hollywood really?..this movie was Awkward at lest, between looking at botox lips ala Jessica , Jennifer Garner and Ms Julia there was nothing to this movie the plot was Cr--p. The acting with this all star cast of jamie fox doing a rendition of Ray Charlish piano man seemed weak, the pity me V day party at the indian restraunt was hurting, nothing made sence and the two Taylors well i just about threw my shoe at the screen. Save u're money ppl.
February 19, 2010
it was amazing but it did have a bit of over acting but besides that it roxxxx!!! <3
February 18, 2010
I thought it was funny how this movie took extreme measures to be politically correct....from Emma Roberts putting on her seatbelt and looking both ways, to the dwarf couple coming out of the flower shop, to the mentally challenged girl, to the black man kissing the white woman...oh man...what next?? They covered it all.... btw Taylor Swift was amazing...so funny!!!
February 18, 2010
Terrible disappointment. Too many stories and bad over-acting. Julia Roberts was the only pro, but ridiculous casting for many of the others.
February 18, 2010
Save your money and see something else! This film may be filled with a huge cast of A-list celebrities, but the story line is all over the place. Too many big names squeezed into one movie. The biggest complaint we had with this movie was how it jumped back and forth between too many story lines. There were quick scene shots with Jessica Alba and Patrick Dempsey near the end that were totally unnecessary. (Ex: Jessica walking her dog) I feel like they were included just to give those actors face time. The movie would have been much more enjoyable if they had of stuck to a few of the story lines and expanded on them. A huge cast doesn't make for a huge movie. Save going out to the thea
February 17, 2010
I thought this movie was really cute! It had a ton of awesome actors in it, and was just a good relaxing movie to see on valentines day! I am going to see it again tonight! :)
February 17, 2010
one word-Sucked!!
February 17, 2010
It was a good movie!!
February 16, 2010
it wasnt that good
February 16, 2010
Mediocre, not worth the money!!
February 16, 2010
Hated the Taylors!!!
February 15, 2010
awesome movie, better then expected
February 15, 2010
This movie is the best if you have not saw it your crazy seriously!!!!!!!!!!!!
February 15, 2010
Very cute movie, awesome all star cast. This movie has a great sense of humour as well as cute love stories. Happy Valentine's Day
February 15, 2010
Enjoyed the movie. You don't always need special effects and big budgets to have fun at the movies. Leave Taylor alone. She was supposed to be playing the "dumb Blonde" role.
February 15, 2010
This movie was so enjoyable! I honestly thought it wasn't going to be very good based on the reviews below but I was wrong. This movie was so good. It is the kind of movie that puts a smile on your face throughout and you leave feeling happy. Go watch it!!
February 15, 2010
by all means this is a chick's movie, serves it purpose entertain. Could have been bettwer without Taylor Swift who should stick to her singing...
February 15, 2010
Too many stories going to - only good part of the movie was the end with Julia Roberts. Save your money!
February 14, 2010
Boring! the end was the best part but the rest was boring! and they should have deleted the taylors part! stupides thing ever!
February 14, 2010
Light and fluffy....no real substance...too many storey lines.... Save for a rainy day on video
February 14, 2010
Taylor swift and Taylor Launter were the only bad thing about this movie, extremely bad acting by them both. Other than their parts the movie was a good watch.
February 14, 2010
Walked out half way....crap
February 14, 2010
Wait for it to come to DVD. The movie is more like a TV movie. Great cast, but to many good actors, make for not a very good movie.
February 14, 2010
I have no issue seeing"chic" movies but I nearly OD'd sugar on this one
February 14, 2010
Decent movie, has a story line to represent every type of relationship. Liked the all star cast.
February 14, 2010
good movie
February 14, 2010
Funny ... cute... adorable... all of you can relate and find yourselves in this lovely film...
February 13, 2010
Not the greatest, honestly I expected something close to "He's just not that into you" - something fun and different. This movie was just lame and cheesy and not in a good way. Some parts are funny, but its more of a haha in your head funny than a laugh out loud. Disappointed.
February 13, 2010
Amazing
February 13, 2010
BECUZ I LOVE ALL THE STARS IN THE MOVIE: JAMIE FOXX, TAYLOR AND TAYLOR <3 QUEEN LATIFAH...AND THOSE ANOTHER AMAZIN' STARS
February 13, 2010
If you're not a teenager I would recommend watching this movie at home, because every time either of the Taylors came onscreen there was a lot of screaming and hooting.. (remember this movie is PG.. not PG13 or anything restricted) It is a heartwarming movie overall, because there are so many different stories that many people can relate to, but having to sit in a theater full of teens and tweens will definitely ruin your night. Wait for the DVD or late show on the cheap night.