Valiant
Thank you for rating this movie!
Read your review below. Ratings will be added after 24 hours.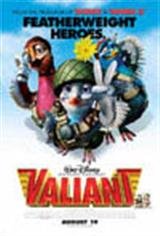 3.02 / 5
User Rating
Based on 1145 votes and 24 reviews
---
Please rate between 1 to 5 stars
Showing 1 to 24 of 24
May 15, 2010
Loved it! Too short, though, but had a good historical base.
September 30, 2006
S-T-U-P-I-D A-N-D B-O-R-I-N-G
January 22, 2006
I thought this movie was very good. It never had a dull moment plus it was very funny. I would have liked it to be a little longer, but other than that, this movie was awesome!!!!!!!!!!!!!!!!!!!!!!!!
October 22, 2005
that is so cute. i looved it!! it was so funny. ienjoyed every bit of it.
October 22, 2005
it was cute, i love the birds. Escpecially the one with the flower in its helmet.
September 17, 2005
Cute, not near as good as Finding Nemo, Madagascar or Robots.
September 10, 2005
Well i took my 4 and 6 year old to see valiant and they asked me to go home 6 minutes into the film it was quite bad we left at an hour in and went home to do a jigsaw puzzle that was alot more entertaining . WORST MOVIE EVER
September 04, 2005
Very disappointing. I wanted to leave the theatre after watching half an hour of this movie, and that`s never happened before! Some scenes were sort of entertaining, but I was really surprised at how dull the movie was. Where was the entertainment and humour? It definitely wasn`t in this film. It makes me sad because this movie could have been really promising if they just fixed the script.
September 04, 2005
Lame. If you`re over 8 (or even a relatively smart 8 year-old), you`re going to be bored to tears. Thankfully, it`s short.
September 03, 2005
I took my grandkids,ages 6-12, to see Valiant today. I had a couple short naps and the kids really liked the movie. Everyone was happy.
September 01, 2005
Very good story line, but too short in duration. Always feel ripped off when paying full price for less than 1.5 hours of entertainment.
August 29, 2005
dude its cool
August 29, 2005
cool dude
August 26, 2005
nice kids movie but its too short
August 26, 2005
good animation, ricky gervais steals the show, good family film
August 24, 2005
too predictable
August 23, 2005
it was aight.........kinda boring tho.
August 22, 2005
That was an awesome show. Ashley d.
August 22, 2005
Anything with Ricky Gervais is excellent! Look out for him as Bugsy! Great film but I`m sure it will only go down with anybody like me from the UK who will identify the actors from other programs.
August 19, 2005
Brilliant, loved the animation and very cute characters!
August 19, 2005
Cute, funny and great for kids of all ages, truly enjoyable!
August 19, 2005
VALIANT IS THIS YEARS BEST FAMILY COMEDY!!!
August 19, 2005
It was a ok movie.
August 19, 2005
It was weird.