Valkyrie - User Reviews
Thank you for rating this movie!
Read your review below. Ratings will be added after 24 hours.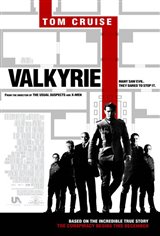 ---
Please rate movie 1 to 5 stars
Showing 1 to 50 of 76
October 20, 2011
interesting look at the inside of germany during world war 2
January 21, 2011
Better than I expected.
May 04, 2010
I waited a long time to see this film....I wish I waited longer - BBBOOORRRIIIINNNGGG!!!!
July 06, 2009
Really liked this movie
May 31, 2009
Not worth the time - interesting story, but overall, limiting in it's delivery. I understand the part in the beginning allows us to 'believe' everything's happening in German, but that every actor had his/her own accent took away from the presentation. Strangely enough, I'd have preferred they subtitle it. Cruise doesn't deliver in this film, as his portrayal is like every one of his previous characters - only this one is German.
May 26, 2009
Very intense film. Well done! Tom was great...as usual!
May 01, 2009
Tom Cruise might be as crazy as a Scientologist in the real world, but his portrayal in this movie was spectacular. This film is well acted and gripping to the end.
February 11, 2009
I've held my tongue too long. This is a truly wondeful movie. I've seen it twice in 4 days. Riveting. Amazing actors, terrific music, stuck to the truth of the story, and more suspense then I think I've seen in about 5 years in any theatre. Don't miss it. I'd give it 6 stars if I could.
February 11, 2009
Compelling historical event makes this a worthwhile movie. There were many German Nationals who had the courage to stand against Hilter. Strong support cast but Cruise didn't fit the role of a Nazi Officer.
February 03, 2009
a good suspensful movie. tom cruise actually acted well. i would recomend this movie, even though it shoud've had more acton
January 26, 2009
A decent flick.
January 21, 2009
As a historian who specifically orients himself into the period of and surrounding WW2 I found this film to be a very accurate portrayal of the subject. The actors played their roles very well with the expception of Kenneth Brannagh whos portrayal should receive an Oscar nod. The critisim of the actors use of non accented dialoge is to me a benefit, as I am seldom taken out of films that attempt to do accents and poorly. I am refering to another movie The Devils Own with Harrison Ford and Brad Pitt, who received enourmous critisim for his very poor Irish lilt. This movie stays on point, focuses on what is need to focus on, and delivers a stellar product that is worth the cost of admission.
January 20, 2009
Anyone who has anything bad to say about Tom Cruise's ability to act please watch "A Few Good Men". Best movie ever and his acting in this movie was just as professional. Very enjoyable and interesting.
January 18, 2009
Brilliant movie, very close to actual story. A few embelishments along the way but that's par for the course for all Holywood movies based on true stories. Tom Cruise did quite well, even though I think he's a train-wreck of a human being personally, professionally I think he's a good actor. For those that complain that this movie is not in german or not with accents, this movie would not have come out in mainstream theatres if it was in german and most of the actors that are in it are classically trained British actors and getting them to brutalize an accent even when they'd be speaking english anyway doesn't make much sense. All in all it was worth the admission price, and even though ever
January 18, 2009
This movie follows 3 h's. The first one being heroic. This is because it shows how some people tried eliminating Hitler, for the good of Germany. The second one is historical because it gives true facts, on true events. It helps us to revise our history, or learn more. The third one is hell. This is because, it must have been difficult in achieving on of the most dangerous, impossible goal, a 3.5 star. Look for more of my reviews on My Cineplex, and Tribute.ca.
January 18, 2009
I loved it. It was well made, although a german accent throughout would be more real, rather then british and american accents.
January 17, 2009
fell asleep during part of the movie, Tom Cruise speaks with no accent and is a brutal. Wait until it comes to rent if you want to learn some history. Not worth the price of admission.
January 17, 2009
Great movie; based on a fascinating historical event.
January 17, 2009
While Tom Cruise was fair at best in portraying Claus Von Stauffenburg, the supporting cast (Terrance Stamp, Kenneth Branagh, etc) absolutely makes this movie, which does a fine job of telling the story of the little-known German resistors within the Third Reich, many of whom risked and lost everything in an attempt to stop one of history's most most evil tyrants.
January 16, 2009
I thought this film was garbage Tom can't act it looked as if this was another Mission Imposible movie. I was offended by such a bad cast as well. I hope he sticks to action films that are ment to be action films nothing more nothing less.
January 15, 2009
THIS MOVIE IS VERY WELL ACTED. THERE IS NOT A BAD PERFORMANCE IN IT. THIS LOOKS LIKE IT WILL BE A CLASSIC ONE DAY. TOM NIGHY DESERVES AND OSCAR. WHEN HIS CHARACTER [GEN. OLBRECT] IS EXECUTED, IT BROUGHT TEARS TO MY EYES.
January 15, 2009
An expertly told, dramatic piece that is really a retelling of a Documentary on the subject. It's worth seeing, especially if you do not know the story.
January 14, 2009
Awesome movie. They need to do more movies inside wartime Germany.
January 13, 2009
Amazing story with exceptional actors...well done!
January 13, 2009
Well done and Cruise among others was excellent. Good story that needed to be told as well.
January 10, 2009
I thought the moving was extremely well done. Tom Cruise with a German accent would have been ridiculous and phoney. I also think speaking German with subtitles would have been over the top. They did start off speaking German and slowly worked it into English which I thought was well done. I also was in tears in the end, because it hit home for me that finally someone had the guts to make a movie depicting Germans as not all war mongering, Jew killing animals. As I am of German heritage and my mother and sister survived Dresden, I am grateful that the truth that not all Germans were behind Hitler has finally come out. The bravery of these men and the risks they took should not go unhea
January 07, 2009
Aside from a personal vendetta, I don't see why anybody can have a problem with Tom Cruise in this movie. The only thing that I had a problem with is the fact that it was all in English. I'd rather it be all in German with subtitles. I give it 4-stars. Another great WWII movie to add to the collection when it comes on blu-ray.
January 07, 2009
Great movie, great acting.
January 05, 2009
I was surprised Tom did as well as he did in terms of his acting. The true story is the real interesting aspect of this movie. I'd say so good is the story itself that the accents and any minor production flaws become irrelevent. Have an open mind and go see it. signed............GWH
January 05, 2009
Solid film across the board
January 04, 2009
Although the outcome of the movie is known, the movie is still worth watching. So many interesting incidents that occured in this mission that keeps you on the edge of the seat. As for Tom Cruise, I dont understand why everybody is crucifying him for this role but I think he was not a liability to the movie at all. I mean I think he is a nutjob too with the scientology and all but he does a decent job in this movie and the supporting cast is very good as well.
January 03, 2009
I found the story interesting and the actors were very believable. Too bad the ending both in the movie and 55 years ago was what it was.
January 02, 2009
Tom Cruise was brilliant. His German accent was fantastic.
January 02, 2009
Tom Cruise and mediocre acting ruined what should have been a great movie. Hopefully someone will redo it with real actors.
January 02, 2009
Movie is mediocre. Tom Cruise lacks credibility as this character. What's enven more amusing is that he doesn't even attempt a German accent but rather rolls through the film with a California accent. It reminds me of how ridiculous Kevin coster sounded when he played Robin Hood with an Californian accent.
January 02, 2009
An excellent portayal of a story that has needed to be told. My mother and many like her lost many friends who were German Nationals ( and NOT Nazis) who had the courage to stand up to Hitler on behalf of others and for the welfare of Germany and paid dearly for it. I salute the producers of this film and give well-deserved kudos to Tom Cruise and the rest of the cast.
January 01, 2009
Stellar film, the cast is "nothing but the best!" Truly provocative and nail-biting, a top-notch suspense thriller!
January 01, 2009
Better than expected once you get by Tom Cruise playing a Nazi soldier.Supporting cast is superior.
January 01, 2009
Really good flic...edge of your seat stuff...good performances...
January 01, 2009
Excellent movie - I would go a second time.
January 01, 2009
There is a downfall to this movie, not that it was a Hollywood production, but one can not help feeling a bit disappointed hearing actors speak in an English tone, without a slight bit of German accent and some English subtitles to go with it too. Regardless of that it was a well done movie, fairly done script foreshadowing the Downfall of Nazi Germany.
January 01, 2009
I didn't think Singer could make a worse movie than Superman Returns, but he comes close!
December 31, 2008
Terrible. Given the subject matter, this could have been a great movie, but they managed to make it very boring, disappointing.
December 31, 2008
Terrible. If you are going to make a movie that is is historically inaccurate, at least you can try to make it exiting. This took interesting subject matter and turned it into 2 hours of monotony.
December 31, 2008
this movie is awesome!!!!!!!!!!!
December 31, 2008
Very educational and entertaining. I found all the actors to be top notch and believable. Worth the time and money. Go see it.
December 31, 2008
Great movie...over my expectation.
December 31, 2008
Excellent Cast, very well done. Would strongly recommend everyone learning about this very important time in history.
December 30, 2008
I`m not a cruise fan but lets be honest, he did a super job in this movie. This movie was well made and acted. The British actors are probably the best in the world, the accents don`t matter, how well you act does; A terrific film... go see it ...
December 29, 2008
The best war movie ever made.