Venom: Let There Be Carnage - User Reviews
Thank you for rating this movie!
Read your review below. Ratings will be added after 24 hours.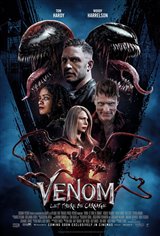 ---
Please rate movie 1 to 5 stars
Showing 1 to 19 of 19
August 18, 2022
I love films with good/bad guys . The unhero ,lol. Fun , gory , just a good movie in my estimation .
April 03, 2022
Reid scott is dan dan dan dan dan dan
April 02, 2022
Movie was good, but still thought that the first movie was better.
February 10, 2022
Not a very good movie. Makes one want to go read the comics which were much better.
February 10, 2022
Boringggggg. Should stop at 2
January 30, 2022
this movie was lit
January 03, 2022
I couldn't even finish watching this waste of my Marvel time. Embarrassing.
January 02, 2022
It was funny, but got a little over the top towards the end. Was entertaining though.
December 28, 2021
I'm not up that much on the Venom lore but I think I know enough to say that the report between him and Eddie was tiresome and overdone - and annoying really. Carnage was good though.. kinda. If the 3rd one gets cancelled, I won't lose sleep.
December 11, 2021
This is one trilogy that should stop at two.
November 18, 2021
Really fun, entertaining, funny and enjoyable movie! Had great action, fight scenes and an awesome ending! laughed a lot too!! going to see again
November 08, 2021
Sadly this movie is abysmal trash. Worse than Shang Chi. Worse than Black Widow. Worse than captain marvel. Worse than Batman returns and Batman and robin. It's BAD BAD BAD. All around bad.not good.
November 08, 2021
Another attempt at the 'anti-hero' by trying to reform an alien psycho serial killer, Venom, by having him satiate his blood lust by geeking chickens instead of humans, but it's O.K. if he beheads a human criminal once in a while. Meanwhile his prodigy, Carnage, behaves the way Venom is suppose to, but Venom is the hero? Both Venom and Carnage are equally dangerous to humanity.
October 18, 2021
I laughed so much I almost cried! The duality is great. The funniest scary movie ever
October 09, 2021
The moive was awesome I can't wait to get it on 4K and I can wait until the 3rd one comes out
October 03, 2021
I enjoyed this silly but fun movie! Just so nice to be back at the cinema!
October 02, 2021
I think it was not that good would not recommend if you are nine and under.
October 01, 2021
It's ok. Not much of a story, and it's kind of random. Not much character developments and Venom and Carnage powers are rather boring. But it's worth watching for the action.
October 01, 2021
My Friend and I saw the Opening Yesterday and it was fun. The Graphics were pretty cool. I still thought very good after the first one I saw. I wasn't Disappointed.