Waiting... - User Reviews
Thank you for rating this movie!
Read your review below. Ratings will be added after 24 hours.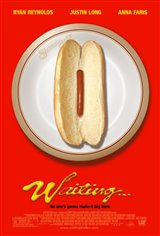 ---
Please rate movie 1 to 5 stars
Showing 1 to 43 of 43
November 12, 2006
well i thought ryan was hotter than ever!yum
May 19, 2006
Empire Records will a lot more laughs!!
April 21, 2006
don`t mess with people who serve your food, that`s it soo true!!!
April 06, 2006
Slow and juvenile. Waste of some good talent.
April 05, 2006
this is the funniest movie i have EVER seen.I could watch it a hundred more times and still die laughing. i wish there were more movies like waiting. 5 stars.
March 27, 2006
A lot of locker room humor but very funny to the core!!
March 26, 2006
pretty bad comedy...Reynolds is usually very funny, but it didn`t work here.
March 19, 2006
Dumb, but not that bad.
March 13, 2006
i work in a restaurant and there was a lot of truth to the movie...although ever since it has come out the guys have been doing bat wings, goats.....and i think i saw an abraham lincoln....best movie i have seen in a long time...
March 10, 2006
funniest movie ever. I LOVE DANE COOK
March 09, 2006
absolutely HILARIOUS!...
March 06, 2006
wow...how can u like this movie.not funny, very slow, and just not funny.not recomended to anyone.
February 08, 2006
Has some slow spots, but funny everywhere else
February 04, 2006
This movie hit the spot! I`m a waiter, so this movie worked out great!
January 18, 2006
this is the funniest movie i have EVER seen.I could watch it a hundred more times and still die laughing. i wish there were more movies like waiting. 5 stars.
December 18, 2005
its absolutely amazing
December 09, 2005
Very Funny, full of talented comedians, Bravo.
October 23, 2005
One thing that really annoys me about movies is when they show all the funny parts for a certain movie during commercials. I felt cheated paying 10 bucks for this ticket when I had already seen the best parts on t.v. for free! Ryan Reynolds disappoints his audience by trotting out his one character (Van Wilder) and putting him into a new setting (a restaurant) amid juvenile jokes and genitalia humour. If you`ve ever worked in a restaurant you`ll be able to relate. If you have never worked in a restaurant, heed the advice given in this movie and "Don`t *mess* with the people who handle your food" because now they have some ideas of what to
October 22, 2005
don`t waste your money. the few jokes are not worth it; the movie has a message but it`s not worth sitting through the horrible, disgusting, gross scenes
October 22, 2005
This movie is vulgar and disgusting. I urge you not to waste your time and see it. Unless of course you`re into crass and vile dialogue and humor. The only movie I`ve ever been tempted to walk out of just after it started.
October 22, 2005
HILARIOUS............if possible funnier then Anchorman....nah maybe not that good but its a good one.
October 17, 2005
If you work at a Restaurant this movie is a must see, sooooo funny, sooooo true in so many ways. The diffrent type of guests that are presented in the movie were exactly the type of guests we see at work all the time as well as the cast every restaurant has the same carecters working there. So people who go eat out and are bitchy and cheap, WATCH OUT cuse we know who u are and ur easy to pick out..... lol
October 16, 2005
A must see. It was so funny.I laughed all through the movie.
October 15, 2005
well, lots of laughter in the theatres from the early 20`s crowd that are still finding themselves. you might find that you have out grown this basic movie if you are on any type of career path. the title says it all, all about being a waiter and wishing you had finished school. might be funny for those who are in that lifestyle.
October 13, 2005
this movie is teh funniest, i work in a resturant and it just made me laugh and laugh
October 13, 2005
Go see this movie, it is the funniest ever, better than the wedding crashers which is also a great movie.
October 13, 2005
I wouldn`t worry about seeing this movie. It wasn`t not the greatest. If you are into moderate to severe sick humor (think pubic hair)you`ll probably be entertained. But if you plan on eating out any time soon, this may not be something you want to watch. jen
October 12, 2005
I loved this movie. The entire theatre was howling at the movie. There was like 10 mins of down time. I even cried at some parts I was laughing so hard. Don`t forget to sit through and *read all the credits(they are very funny at parts). I was very cheezed off at having to pay 28 bucks for two people, but after the movie I was no longer up set with my purchase. Money well spent.
October 11, 2005
Funniest movie ever
October 11, 2005
AWSOME MAN, AWSOME!!!!!
October 11, 2005
Soooo funny, The guy next to me was laughing so hard that he fell out of his chair!!!
October 10, 2005
Great cast means great movie a must see. Its van wilder meets harold and kumar
October 09, 2005
A MUST-SEE!!!
October 09, 2005
fabulous cast, a definite must see
October 09, 2005
Cool, very very funny. Ryan Raynolds rocks and Dane cook and Louiz Goozman are fantastic.
October 09, 2005
Excellent movie, a must see for everyone, especially young people.
October 09, 2005
FUNNIEST MOVIE EVER, FEEL SORRY FOR ALL THE UNDER AGE TEENS WHO CAN`T SEE IT.
October 08, 2005
i must say this movie is so funny, please go see this flick
October 08, 2005
well i must say i never laugh harder in any other movie, this is a must see
October 08, 2005
This movie is awesome. It`s a must see for fans of Ryan Reynolds and especially Dane Cook!
October 08, 2005
the hardest i`ve laffed in a long long time. Two words "bat wing"
October 07, 2005
Pretty funny.... needed more Dane Cook though.