Walk Hard: The Dewey Cox Story
Thank you for rating this movie!
Read your review below. Ratings will be added after 24 hours.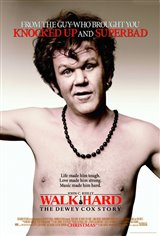 3.12 / 5
User Rating
Based on 1161 votes and 34 reviews
---
Please rate between 1 to 5 stars
Showing 1 to 34 of 34
March 22, 2011
WOW. This was a GREAT movie!!! How can you not think this movie was funny?!?! It's freakin hhilarious!!!
January 17, 2009
A waste of time. If you think Will Farrell is funny you may like this, otherwise avoid and find something else to do.
February 08, 2008
A Huge Dissapointment
January 26, 2008
I can't believe this movie bombed!!... people are so friggin' stupid for not going to see this!!!... this isn't just another retarded parody movie, like "Meet the Spartans" (which is probably gonna make $100 Million) or "Epic Movie", it was one of the funniest, and best written movies I've ever seen!!!!!... if you can still find it in theatres, do yourself a favour and go see it.. John C. Reiley's hilarious, and the supporting cast is made up of pretty much every funny actor/actress out there today... great, great movie.. I can't believe no one went to see this... people suck!!!..
January 19, 2008
If you do not want to laugh do not go. An oustanding, hilarious spoof.
January 14, 2008
Pay no attention to the negative comments. These people have no sense of humour. I definitely recommend this movie to anyone who likes Will Ferrell-like comedies. I laughed throughout the movie. Mind you, my girlfriend would most likely hate this movie. So if you're cool & have a silly sense of humour, you won't regret seeing this flick. If you're lame, you should probably stay at home.
January 09, 2008
A guaranteed good time, and a sweet soundtrack!!!
January 08, 2008
Very funny spoof if you have an open sense of humour
January 04, 2008
oh, no, this was real bad, just give it a miss and go see another movie. Believe me, you'll thank me.
January 03, 2008
funny enough, get's you to the end of the film, pretty funny.
January 02, 2008
worst movie ever!!! I think I laughed almost once.
January 02, 2008
This was the worst movie I have seen by far. The beginning was quite funny, but very soon I stopped laughing and was in awe at how bad it was. It was the worst spoof I have ever seen. It was like an extended Mad TV skit gone horribly wrong. The fact that celebrities and artists I admire actually agreed to be part of this film blows my mind. It was 1 1/2 hours of my life I can never get back.
January 02, 2008
Great movie. If you have even a mild interest in the evolution of the 'rock star' you will find this spoof to be hilarious. As for the full frontal nudity...well yah ok, bit over the top...But the comment about God and America...how does that even make sense? God shall smite thee Judd Apatow for showing the human body the way he made it...shame on you!
December 31, 2007
DAMN GOOD MOVIE with some very funny moments!!!
December 31, 2007
It could havebeen a lot better had there not been the raw nudity. it started off funny and my self and my darghter and my new son-in law were laughing until they started showing such raw nudity. that stuff doesn't belong on the movie screens of America .a country founded on God where around 80 % of the population claims to be christians!!!!
December 30, 2007
Excellent movie, all my friends enjoyed it, A MUST see comedy.
December 29, 2007
96 minutes of my life I will never get back. If must see it, wait for the DVD
December 29, 2007
One word "Horrible!" Not funny at all!
December 29, 2007
one stupid movie!!! only 2 stars...some parts r really funny...but just wait till it come on dvd..rent it..not worth watchin this while there r so many other good movies playin as well...dont bother watchin this movie..IT AINT GOOD!
December 28, 2007
Who could possibly find anything funny about this movie! I went in with high hopes and left without haveing laughed once. The odd smirk was the best I could do. Too bad; wait for the DVD,
December 28, 2007
Horrible, Waste of my time and money!
December 28, 2007
Not funny! Worst comedy i have seen in a while! Dont waste your money or time!
December 27, 2007
Good start that loses momentum by the final half hour.Not as biting as Spinal Tap,but some good chuckles.
December 26, 2007
amazing soundtrack, this movie is worth seeing
December 26, 2007
great movie, dirty humour but the soundtrack is seriously a 6 out of 5, really great!
December 26, 2007
This movie is a PARODY OF A ROCK BIOPIC (specifically, Walk the Line). If you walk in thinking it's going to be a Will Ferrell-type comedy, you'll hate it because you won't get any of the jokes. Subtly funny. At one point, Dewey started a serious speech by saying (not singing): "There's something happening here, what it is.. ain't exactly clear" - and nobody laughed!! Overall, the movie's great. Should have been marketed differently. This movie's for music nerds with a twisted sense of humour.
December 23, 2007
hilarious!!!!! worth the price of admission!
December 23, 2007
I would have gave it 5 stars. But the full frontal nudity was a bit much!
December 23, 2007
I took my girlfriend and my grandma to see this movie, me and both ladies loved it, but my grandma found it a bit over the top with the humor, especially the dirty humor, think of it as walk the line and the 40 year old virgin put together.
December 23, 2007
Hilarious haven't laughed that hard in a while. If you dont think this is a funny movie than there is something wrong with you. This is a must see comedy!
December 23, 2007
Excellent comedy - laughed through the whole thing! worth the money to go to the theatre!
December 22, 2007
Best movie!! Wow is all I have to say
December 22, 2007
I found it entertaining, but nonetheless, HORRIBLE. A laugh at movie, not a laugh with one.
December 21, 2007
Shake and bake baby