Wallace & Gromit: The Curse of the Were-Rabbit
Thank you for rating this movie!
Read your review below. Ratings will be added after 24 hours.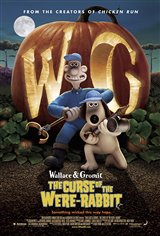 4.16 / 5
User Rating
Based on 1466 votes and 47 reviews
---
Please rate movie 1 to 5 stars
Showing 1 to 47 of 47
July 26, 2006
I found that the clay animation in this movie was fantastic and the story was really good as well. 5 stars.
April 03, 2006
I thought this was a FAB movie full of hilarity, a bit of spookiness and lots of fun! Absolutely first class, as Lady Tottingham would say!
March 08, 2006
I loved it!
February 24, 2006
It was really good and I like it and would like to see more of them.
February 09, 2006
It is from Animation SKG.
January 19, 2006
I`m a 47 year old and I hated it!!!!!!!!!! Waste of money
January 09, 2006
A kids movie. Found it rather boring.
January 07, 2006
Mediocre movie...suitable for younger kids...the wererabbit was pretty surprising though
January 03, 2006
I really didn`t think it was that entertaining...a good one for the kids likely to see.
December 30, 2005
The movie really isn`t meant for adults, despite what the other viewers say. It is cute, and my 3 year old loved it, but it just didn`t hit me as a great film.
December 30, 2005
I`m 3 yers ols an i luvd tha movie. it waz vary cute.
December 15, 2005
this movie was terrible. It was cute in some bits, but overall it was just horribly boring. I took a client, and even he thought it was bad! Just needed more funny stuff !
November 25, 2005
the perfect ending for the show
November 22, 2005
Wallace and Gromit is probably one of the best movie this because it just makes you laugh. The movie has a great and refreshing story line which, for once, you can`t predict. The charcters are superb and they are well formed and you get to know plently about them. The stop motion animation was spectacular. I now can see why a movie like this can take years to make, and it is all worth it. One part of this film, like any other wallace and Gromit film is that there are plently of hidden objects or humerous signs that you can spot, which can make mutiple watching fun. In the end, the movie is sure worth the bang for your buck, no matter how o
November 20, 2005
It was really great. I loved it!
November 13, 2005
I had no intention of seeing this movie until I saw a snippit of how it was made and I was totally impressed. I dragged my hubby to it and even though it was a childs movie we really enjoyed it! We were so impressed at what it took to put it together and the plot was sweet. We want to take our grandchildren to it, and having grandchildren it`s one I will surely buy.
November 08, 2005
I thought this movie was very dry and boring. My boyfriend & I took our 3yr old to see it. She sat there patiently watching but not once did I see her smile, laugh or show any sign of enjoyment. Two thumbs down, I`m afraid. The 5min mini movie of the penguins from Madagascar was great though! It was very cute & funny.
November 06, 2005
ONE word to discribe it, BORINGGGGG.......
November 05, 2005
This movie was so good I saw it two times in theatre!
November 04, 2005
i thought is was excellent.. they should make movies like that for kids... and they might want to get into making movies..when \ they get older..
October 30, 2005
I thought this was the funniest movie I have ever seen and I thought that the funniest part was when I saw the cute little bunnies. They were so cute. I am six years old and I think all kids should see this movie and I am giving it 5/5!!!
October 30, 2005
This was a great movie - fun story. And, let`s take a minute and celebrate the hard work it took to make this film!
October 29, 2005
Just got back from seeing W&G - great movie! Highly enjoyable. Watch out for those crazy rabbits!
October 24, 2005
I LOVE the rabbits! They are so cute.
October 24, 2005
most boring anime i`ve seen, jokes are so old, you can predict everything, it was dry throughout, especialy in the beginning
October 22, 2005
I loved this movie and I think it was the most hilarious movie I have ever seen. I think everyone who hasn`t seen this movie should see it as soon as possible.
October 18, 2005
This movie is hilarious
October 18, 2005
This is the best movie I`ve seen in a long time!!!
October 16, 2005
Brilliant movie, we liked the subtle jokes,plays on other movies but it also appeals to the kid in us at the same time.our 5yr old grandson really enjoyed the movie.
October 15, 2005
Horray! It`s good to see my boys up on the BIG SCREEN! Watching this movie makes me feel like warm tomato soup! Loads of fun, and adventure for the whole family!
October 15, 2005
This is an awesome movie for anyone who wants a good laugh - especially Wallace and Gromit fans.
October 14, 2005
it was an ok movie, the previews gave all the funny parts away, but it was still good, i wouldnt go see it again. depends what u like i guess. good for the family. 3 stars
October 14, 2005
Charming and funny
October 14, 2005
Fantastic movie, 5/5 stars! If you haven`t seen the original Wallace and Gromit trilogy, go rent/buy them!
October 12, 2005
Great show for the whole family!
October 11, 2005
Five adults went to this movie and each one of us enoyed it. There was humor that appealed to each of us in different ways. The claymation is fantastic; the characters are great. This movie was much better than we had even anticipated.
October 11, 2005
I wanted so much to love this movie.... but never got there. The creativity was amazing and the bunnies were so cute. Perhaps it was the crowd I was in, but even the little kids didn`t laugh much. I still think it is a very good family movie.
October 10, 2005
A very cute movie. I really enjoyed it! Great Job!
October 10, 2005
stop make dream work movies
October 10, 2005
It was the the best movie and was really worth the money.I can`t wait till it comes out on DVD.
October 09, 2005
Those bunnies deserve an oscar.
October 09, 2005
excellent movie loved the double entendres
October 08, 2005
it is the best movie of the year!!!!!!!!!a great family film......
October 08, 2005
i think that wallace and gromit curse of the were rabbit is an exelent movie. a true comedy that could make you pee your pants. its that funny. it has great scripts and great characters. it is a great family movie on a 1-10 scale i give it a ten....p.s you have got to go see this movie now!!!.....
October 08, 2005
This Was An Awsome Movie. You Got To See this movie for yourself. This movie was hilarous and a great family film!!!!!!!!!!!!!!!!!!
October 08, 2005
This movie was for little kids
October 07, 2005
A GREAT FAMILY FILM!!! I LOVED IT!!!