Wanted - User Reviews
Thank you for rating this movie!
Read your review below. Ratings will be added after 24 hours.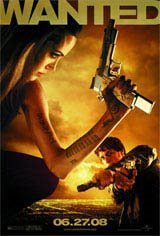 4.14 / 5
User Rating
Based on 1338 votes and 205 reviews
---
Please rate movie 1 to 5 stars
Showing 1 to 50 of 205
September 28, 2010
It's a fantastically stylish film with my flavour of the month, James McAvoy. The concepts and visuals are both cartoonish and semi-plausible at the same time. When our hero admonishes someone as not being a top assassin in the Fraternity but just a "thug who can bend bullets" it actually sounds reasonable. The audience on opening night was howling, squealing and clapping along with the newly-contrived action. It felt like a bunch of friends sitting around in a huge living room. A local reviewer nailed Jolie's contribution, "..she let's her eyeshadow do the acting." An early highlight (and since the entire first half is a breathtakingly screeching, crashing delight - it was hard to pick) inv
October 04, 2009
our indian bond.. g8 sexy
September 24, 2009
this movie is fantastic.............
March 27, 2009
i had to give 1 star but this was the stupidest movie i think i ever saw i give o stars
January 29, 2009
amazing amazing this movie had well done special effects nd jolie just made it even hotter
January 27, 2009
This movie was amazing! Don't watch it with your kids, though.
December 24, 2008
Awesome! Finally an action movie that blew my socks off. Amazing effects, good plot and total, non-stop edge of your seat action.
December 07, 2008
This was a really good movie! Angelina looked anorexic though, but awesome movie!
December 06, 2008
I liked the movie but the plot could have been better
December 01, 2008
It doesn't take a genius to see that Angelina Jolie IS the film. I think she may have uttered 3 lines during the course of the entire movie...her star power sells tickets. It was alright, didn't expect much of it.
November 17, 2008
This movie is AWESOME!!!the fighting and killing scences are great!!!
October 25, 2008
This movie is great
October 25, 2008
Awesome I loved this movie. It had one of the best plots I've seen all year the action was awesome. overall a great movie.
October 18, 2008
Loved the editing.
October 02, 2008
I loved this movie. I mean it kept you guessing on most things.
September 23, 2008
I Loved this film, it was wonderful fun. It's one of the reasons, I love the movies. The different genres it's GREAT!!!!!! so says the porgie
September 22, 2008
Really terrible movie - very boring, I wanted my money back.
September 19, 2008
total disappointment, at no time did I feel anything for any of the characters and found the lead character to be whiny at first and reprehensible after...kinda glad I went to the cheap theater to see it and still felt I paid too much...
September 04, 2008
I loved this film. Angelina is so talented. the movie had a "Matrix" feel to the beginning with concepts beyond the norm... and put the audience right away into the setting with expectations for the rest of the film that fit well. after seeing the beginning you are prepared for the concepts through to the end. awesome movie!!! -Talia
August 30, 2008
horible movie it was stupid. the rats come on and angelina is way to skinny
August 11, 2008
it's alrit, angelina made is more sexier...lol
August 06, 2008
This movie was not good at all. Its not even really violent, its just cheesy cartoon violence that is so unbelievable it just looks stupid and pointless. The 'assassins' are a bunch of skinny goofs and talk like they watch too much MTV.
August 04, 2008
Not that good. Watch it on DVD
August 04, 2008
i really liked it!!!
August 03, 2008
extremely corny but i loved it!!!!!
August 01, 2008
"The loom of fate" is telling you to skip this movie. Cool action sequences, but the ridiculous plot points will turn you off.
August 01, 2008
This movie was awesome!!! Loved it!!! I saw Dark Night, Hellboy & Brideshead too. "Wanted" was the best in my opinion. It's violent though, but not in a gruesome way.
August 01, 2008
Angelina is too sexy!
July 30, 2008
best movie ever
July 29, 2008
Made me want to gnaw off my own foot.
July 28, 2008
good special effects but too much violence
July 28, 2008
loved it!!!
July 28, 2008
It was great!!!!!!!!!!!!!!
July 27, 2008
This movie bites!! Don't waste your money!
July 24, 2008
Too much violence, free violence. When there's no story to tell, why not fill the emptiness by putting more gore and blood. If this is the new way of making action movie, then the art is dead. When you are good movie maker you let the imagination of the viewer do it's part. The movie was entertaining at most.
July 24, 2008
This was the worst movie that I saw this year! Used action and violence to make up for the lack of any decent story line. Tried to be like the Matrix and failed miserably! I left the theatre disappointed and disgusted.
July 23, 2008
I left the theatr thinking ..well that was okay, not great but okay.. The plot was good but the action was almost too intense on the big screen, sometimes I lost track of what was happening, it happened so fast, left you feeling like you may have missed some detail. I would say too much enhanced action left little room for the actors to show their stuff. Defineatly fast paced.
July 23, 2008
it was so good i am going to go see it again.
July 22, 2008
Crazy and totally fantasy but very action packed and quite entertaining with a bit of a plot twist to boot. Certainly not what I was expecting but I thoroughly enjoyed it!
July 22, 2008
It was an awesome movie! I loved James McAvoy! Totally worth seeing!!
July 22, 2008
Loved it!!!
July 22, 2008
Park your brain at the door.
July 21, 2008
The script was highly unlikely and the special effects have been done before. The only reason I went to see this film was for James McAvoy and he was excellent but Angelina Jolie left me cold. Even the great Morgan Freeman has been better but I'm sure that had more to do with the direction and the script than his abilities as an actor. I really give this movie only 2 1/2 stars but that doesn't seem to be an option on this rating system. Those stars are only for James McAvoy!
July 20, 2008
thought it was pretty awesome
July 20, 2008
loved this movie
July 20, 2008
not worth seeing, not a good story line, very little acting parts with Angelina and just blahh
July 18, 2008
Worst action movie ever. This movie had enormous potential for the first 10min then it just went downhill from there. I did not expect a belivable movie but there are only so many time that I can watch two bullets hit in mid air. Action scens like a delivery van chasing a high performance sports car (and keeping up)combined with a excellerated, choppy story I say don't even bother renting it.
July 18, 2008
Good movie.
July 17, 2008
Loved the plot wish it was more emphasize on acting like the first Bourne and a little less of the digitally altered stuff. All in all a good movie
July 16, 2008
Really enjoyed this movie. Lots of good action scenes allover a very good movie