Warrior - User Reviews
Thank you for rating this movie!
Read your review below. Ratings will be added after 24 hours.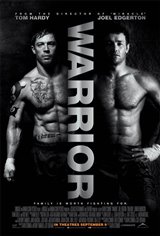 ---
Please rate movie 1 to 5 stars
Showing 1 to 50 of 50
August 22, 2012
awesome movie. great story, acting and fight sequences. more than a typical fight film, it's a story about redemption and family.
July 19, 2012
loved this movie!!!!!...the new rocky film for our generation
July 18, 2012
wowzers!!!...what a hidden gem of a movie. tom hardy kicks some serious butt. nolte is great in this film.
July 17, 2012
simply awesome!!!
June 11, 2012
excellent movie of 2 brothers both competing to win a large sum of money and are forced to fight each other but in the process work out their differences due to unfortunate childhood experiences.
April 24, 2012
awesome movie, for anyone who simply loves movies...you don't have to be an mma fan tolove this one.
April 22, 2012
4 1/2 stars. i am not much into mma but i loved this movie anyway. i wish there had been more information with respect to back story, but it is a minor criticism. worth a look see.
February 19, 2012
i was cheering throughout the entire movie!!! a lot of fun and highly entertaining.
January 17, 2012
loved it!!!!!!!!!
January 12, 2012
One of the best "fight" movies I've seen in years. A great story, mixed with great action. Also,Nick Nolte gives his best performance.
January 08, 2012
AMAZING!!!!!!!!
January 07, 2012
new rocky born
January 02, 2012
awesome!!!!!!!!!!!!
January 01, 2012
Excellent movie. They should be giving some best picture and acting awards for this one ! Highly reccommend.
December 29, 2011
Great movie!!!!! So much better than I expected!!
December 25, 2011
This movie is for everyone, not just fight fans. Great performances, especially Nick Nolte.
December 22, 2011
A highly entertaining fight movie that works for all audiences.
December 20, 2011
Loved it!!!
December 20, 2011
this movie might be one of the best "fight movies" ever made...a movie that everyone will enjoy!!
December 18, 2011
One of the best movies I have seen in a long time. Both me and my GF loved it.
November 27, 2011
One of the best and most inspiring movies I have seen in the longest time! Amazing acting and story! Definitely a MUST SEE!!
November 24, 2011
This movie was absolutely amazing. Never been one for anything outside the Sci/Fi, Fantasy or comedy genera, but I highly recommend this film. The story is well written and all the characters have real depth, making it easy to share their emotions.
November 22, 2011
INCREDIBLE! It's been a long time since i've seen a movie as good as this one. However, it's really long and shows a LOT of the actual UFC fighting so if you don't like the fighting then it's not for you. But AWESOME MOVIE!!
November 18, 2011
It's about time a decent MMA movie comes out. Great story about a family that's fallen apart and come back together through the sport. I wouldn't have minded seeing a little bit of a different side of bitter ex military brother, but it was still great. People were comparing it to the Fighter, I don't think it was that good, but still great.
November 12, 2011
Two brothers that grow up in the same family end up being soo different. Great character development. Its not a struggle of good and evil but a struggle of difference vs difference. Worth every penny to go a see it.
November 07, 2011
It's by far the best movie that came out in the summer of 2011. If you are lookin for action and a good story line then its a really good movie for viewing.
November 06, 2011
impressive
November 03, 2011
My kind of movie, a man's movie. Great scenes.
November 01, 2011
Worth the see... tense, tearful, lives facing struggles and failures, and great disappointments, as well as casualties of a broken family... I'm not a 'fighting ring' fan of UFC, and don't like the violence of physical fights, but the story touches the familiar harsh themes of many lives in our times, and the fighting was realistic. Enjoyed it a lot. I don't cry easy, not even as a girl, but I cried twice, it was hard to hold back.
October 28, 2011
Movie was well paced, acting was good. Story was decent. Helps that I'm a fan of MMA.
October 26, 2011
Heartwarming film.
October 25, 2011
Very realistic! Enjoyed the fact that the producers used experts in the area of MMA and made it very believable. Was truly a spectical
October 23, 2011
Excellent movie.
October 22, 2011
This is not a movie I expected to like. And yet, despite not being any kind of martial arts or boxing fan, this film impressed me. Yes, there is an excess of convenient coincidences, and yes, you know how the story has to end, but there's a satisfying tale of family beytayal and redemption in there--and some incredible fight sequences too, if that's your thing;)
October 21, 2011
Really good movie. Tom Hardy and Joel Edgerton had me crying at the end. So powerful.
October 21, 2011
Great movie with great story. It was emotional, being funny and sad.
October 20, 2011
This movie is awesome. I am not even an MMA/UFC fan, and I still loved this movie. This movie is so much more than a fight flick, its about a family and forgiveness. Its a must see. I would go as far as to say that Nick Nolte should be nominated for Best Supporting Actor at the Oscars.
October 20, 2011
Excellent movie! A realistic view of MMA and a great story!
September 18, 2011
The plot was completely unbelievable.
September 17, 2011
This movie is a must see!! Nick Nolte deserves an Oscar for his role!! People go see this movie. Don't have to even like UFC to enjoy this movie!
September 14, 2011
Better then Rocky. Oscar winner!!!!! Who voted one star? Why?
September 12, 2011
The best movie you will ever see, I loved it
September 12, 2011
Great movie. The fighter was a bit better in the drama department, but a better MMA movie I have not seen. Large amount of emotional sub-text, a lot is said with minimal dialog.
September 12, 2011
I loved it, 10 stars. Did not want it to end. Should of been called Warriors.
September 12, 2011
I think this film is really well done. Not sure why everyone went to see Contagion instead. I hope the big stars effect only can hold for a weekend. This film deserves a better marketing and promotion. I can't wait to see Tom Hardy as Banes in Dark Knight Rises. Nick Lotte is superb too.
September 12, 2011
This movie will win Best Picture. Amazing amazing.
September 11, 2011
One of the Best Movies you'll see all year. Amazing Story, Amazing Cast, Amazing Action. As mentioned before a cross between Rocky and the fighter. Definetly a must see for Sure. 1 Word "AMAZING"
September 10, 2011
Incredible. I thought it was going to be a good movie, but that exceeded my expectations. A perfect balance between intense emotional performances and equally entertaining fighting scenes. If your going to see a movie this weekend, it should be this one.
September 09, 2011
This film is absolute amazing. the excitement of Rocky with the dramatics of The Fighter. But Better. Oscar Worthy performances and direction. Do not miss this emotional and entertaining film.