Watchmen (2009) - User Reviews
Thank you for rating this movie!
Read your review below. Ratings will be added after 24 hours.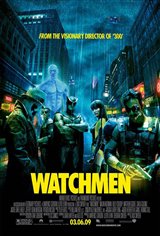 3.57 / 5
User Rating
Based on 2353 votes and 377 reviews
---
Please rate movie 1 to 5 stars
Showing 1 to 50 of 377
October 02, 2017
no wonder this sh*t has flopped in box office
October 02, 2017
so forgettable
September 29, 2017
very depressing
September 29, 2017
so dull
September 28, 2017
very boring
June 25, 2010
wow what a stupid movie i dont like 2 watch a big naked blu guy mr manhatten i didnt even understand the movie boring
May 24, 2010
Perhaps the best-ever adaptation of a graphic novel; Haley is great as Horshack.
May 16, 2010
this movie was good but too much talking and not too much fighting
May 16, 2010
i love this movie JACKIE EARLE HALEY is my favorite chacater
April 29, 2010
very good my favourite movie of the year
April 04, 2010
how many times they were having sex whats with that i hated it so much talking less fighting waste of money.
December 10, 2009
Excellent. I was surprised by how good it turned out to be. Definitely recommend.
August 30, 2009
Its a superhero movie depecting a realist comic series (like sin city or dark knight). It was long but ppl who dont like it for those kinds of reasons dont like good movies.
August 17, 2009
This movie, like space, lacks substance. Mor in common with a vacuum cleaner - they both suck.
July 24, 2009
To long had good parts and abit violent
July 07, 2009
Its not your typical "Super Hero" movie, but it an awesome flick!!
July 03, 2009
This movie is absoloutely exceptional, and no other word can describe it! Honestly, if one was to dislike this film, it probally is because he/she do not fully understand what is happening. This is a movie which involves you, as an Audience Member, to carefully listen and understand, and if one cannot comprehend that, then there is no use in seeing the film. The story line is multi-layered, vivid, and amazing. The characters all PERFECTLY made, each with their own flaws. Special effects, dialogue & action are also equally amazing. Though, the fact it is based on a comic book - the film is entirely unsutiable for children because of its recurring Graphic Violence and Sexual Content. Ev
June 21, 2009
Worst. Movie. EVER! It was so boring, and there was no point in having it at all. It was the worst 3 hours of my life.
June 14, 2009
you need a brain to appreciate!!!
June 07, 2009
Very intelligent plot. Unfortunately for some this movie requires that you appreciate intellectual art. The good news is, that based on ratings here, the majority of viewers are on the intelligent side.
May 28, 2009
Awesome movie, it seems to me that the people who did not like it did not read the comic book and didn't understand it! Great adaptation
May 23, 2009
very good got to buy it
May 19, 2009
WORST MOVIE I HAVE PAID TO SEE IN A THEATER, WALKED OUT AFTER TWO HOURS.
May 07, 2009
Never before have I been tempted to walk out of a movie, and this one was close. Awful. The only thing that made it remotely interesting is the unique take on traditional hero roles. Otherwise, total waste of a ticket.
May 06, 2009
No words can describe how awsome this movie was. Wolverine sucked.
April 20, 2009
Awesome flick.
April 16, 2009
saw this movie a few weeks ago, wasn't that bad. Puts a new twist on the way super heroes are viewed. they seemed more human than "super human" because of their own internal struggles. Hope this is'nt the last we see of them. Would have liked to have seen Dr. Manhatten in a more siniter distructive role.
April 14, 2009
Started out grandiose & lame and got worse until it ended, mercifully. Should of walked out but loyally hopeful of a cinematic save. Now, permanently a joke in family discussions, called Watchdick...
April 13, 2009
would give it 0 stars if I could. Walked out of the movie! Brutal
April 12, 2009
Excellent movie. Without the cliches of typical hero stories. Wish they would make more like it. Looking forward to see again soon at the theatre.
April 11, 2009
It followed close to the GN, but you should read it before seeing it. if you dont understand it, dont say its bad, you were probably 12 anyways, and shouldnt have seen it, saying 'Its long and boring' makes it obvious that you were.
April 10, 2009
Stunning. The movie was amazing. Reading the book before the movie would be such a great thing. You will apreciate the movie A LOT more. I actually bought the soundtrack. The music is amazing. 5 Stars
April 07, 2009
excessive violence and sex, I understand sometimes you need this stuff to create a movie and attract viewers but this movie was completely gorged with it, a pornographic slaughter show absolutely disgusting
April 06, 2009
I loved this movie. I never heard about the graphic novel before so when I show the movie I was like O...k.... But I love it.. the way the characters looked so damaged and how they really had to fight themselves before they could do any good. it was well done. I just start to read the novel and already I love the movie more.. 5 STARS FOR SURE!!!
April 06, 2009
Good. Not Amazing like the book. I see a lot of comments on here saying this movie was terrible, this is no doubt due to the fact that most people who cannot sit down and read the book (a graphic novel, no less) first would not posses the intellect to grasp the complex and deep story line of this movie. It saddens me to see the slipping intelligence of the west.
April 04, 2009
Was not worth waiting in the lineup to watch this movie.
April 03, 2009
I feel that you really need to read the book before you see the movie. I appreciated the movie so much, because I did just that. I thought it was great, and left the theatre felling like they did a good job making the book into a film.
April 02, 2009
This movie wasn't anything like I expected. I have to agree that it is one of the worst movies I have seen in a awhile. I usually like reading the viewers comments about the movies but this time I just went to the show, wish I would have read them. Anybody claiming it to be the best movie ever has only been to this one movie. Sorry, save your money.
March 31, 2009
one simple advise "watch it while you are sleeping"
March 30, 2009
long borin waist of timeeee..i was madd at this movie cuze i paid to see this crap and wat i got back was,SLEEPINESS..DOOO NOT WATCH THE WACKNESS, BCUZE no body is watching the watchmen.lol.plsss
March 30, 2009
this movie SUKED with capitol "S"...it was long BORING,terrible..and for those that never seen a movie that it might make you very madd because you were there sitting for a long time watching the watchmen be WACKNESS
March 30, 2009
Read the book people. Understand that this isn't a standard action movie about Superman.
March 29, 2009
Without a doubt, the worst movie I have ever seen.
March 29, 2009
Propoganda for the New World Order. An in your face account of their manipulation that IS leading to the demise of millions in the near future. They believe the plan is unstoppable. Wake up sheeple... WAKE UP!
March 29, 2009
This is the WORST movie I have seen in years. It is so bad it should have a disclaimer
March 28, 2009
completly confusing
March 28, 2009
Interesting movie, definetely not for kids under 13.
March 28, 2009
Anyone who doesn't like this movie is either too young to understand it or is completely ignorant and stupid. I wish this movie were 6 hours long.
March 28, 2009
I didn't know what to expect. I appreciated the symbolism and the '80s setting but, it really did, "insist upon itself".
March 27, 2009
Interesting, a bit too long, 3 stars.