Where'd You Go, Bernadette - User Reviews
Thank you for rating this movie!
Read your review below. Ratings will be added after 24 hours.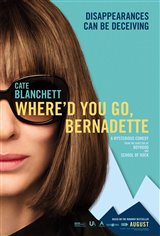 ---
Please rate movie 1 to 5 stars
Showing 1 to 17 of 17
September 15, 2019
I didn't like anything about this movie except the beautiful scenery of Antarctica at the end. I fell asleep twice. It had no point and just plain weird.
August 29, 2019
I was puzzled by the premise at first, due to the attributes of the main protagonist, Bernadette. But as I slowly came to realize what drove this character, it was a realization of how boxed in we as adults and how we settle in life, which stifles our natural curiosity. This is a wonderful movie that has you cheering for Bernadette at the end. What an eye opener!
August 27, 2019
The only good thing about the movie is Cate Blanchett and her acting. It is such s stupid script. Slow and boring.
August 23, 2019
Loved it!!! The creative mind behind this was awesome. I want to see it again.
August 22, 2019
This film is SSSOOOOOOOOO GOOD!!!!! Brilliant performance by Cate Blanchett that will garner attention when awards season arrives. I'd like to discuss the layered themes, but I'd give to much away. Made me laugh and made me cry. Guru Bob says--OUTSTANDING!!!...………………...95/100
August 21, 2019
I thought this movie was about the daughter! Cate Blanchett is fantastic and so fluent in the delivery of her lines. Truly creative! The house and sets were magical, the editing amazing, the photography fabulous, and it is well written.Totally enjoyed this movie!! NOT an action movie for sure
August 21, 2019
Basically the movie is about internal struggles & how this affects every one in her life. Slow & boring IF; You're looking for car crashes, shoot-outs, killings, CGI, & the like. A creative genius loses touch with reality when she no longer is working in her profession. As the story develops, (slow & boring to the immediate pleasure brainiacs) Cate reveals the world she now lives in. Touches on some life lessons. Very nice performance by Cate Blanchett. RH
August 20, 2019
The story was true and the characters were well acted and curious.
August 20, 2019
Way to many unanswered questions and way to many sub plots. Cool ending but wait till it hits Netflix!
August 19, 2019
Woe, incredible exploeation into tye creative psyche!
August 18, 2019
The movie flowed along very well, I would call it a feel good movie. The plot was well done and well thought out. Very surprised at the number of negative reviews.
August 18, 2019
Loved this movie. Cate Blanchett is always superb, and it is a warm movie with people lessons.
August 17, 2019
Doesn't grab your attention. Perhaps the book is better than the movie.
August 16, 2019
Cate Blanchett gives a wonderful performance, and the story had an insightful perspective on family and friendship dynamics.
August 16, 2019
Kind of boring and slow.
August 16, 2019
Not what I expected! Interesting but kind of boring and slow at times.
August 16, 2019
Long and boring. Poor acting.