Whiskey Tango Foxtrot
Thank you for rating this movie!
Read your review below. Ratings will be added after 24 hours.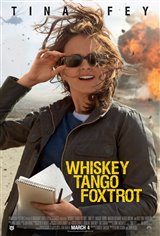 ---
Please rate between 1 to 5 stars
Showing 1 to 25 of 25
August 13, 2018
Best Movie Ive seen in ages. It is a truly quote classic feminist unquote movie. I just made that phrase up. If I could figure out how to put real quotation marks around that, on this unfamiliar keyboard, I would. Tina Fey is perfect. So are the other actors. The direction and editing is amazing -- subtle, intelligent, nuanced (even taking into account a few forgivable continuity goofs. We all know only Allah is perfect. The sound track is unbelievably great. I bought this as a dvd at a flea market and Ive watched it many times. Forgive me if i sound a bit over the top, but I was learning to be a femiist in the late 60s, and i love this story. I dont uderstand why it isnt better known. p.s.: I happened to be rereading Greg Mortensons books when I picked up this movie, not knowing they covered exactly the same time frame in the same area of Northern Afghanistan. Did your writers read those books before making the movie. The specific facts are the same. Congratulations. Make more movies K
July 05, 2016
Isn't a little soon to be remaking Rock the Kasbah?
July 05, 2016
outstanding film. Wonderful concept, great script and riveting to follow the nature of war journalism, tastefully eased by the humor of one of our greatest, Tina Fey. For those of you rating low because "the action isn't t that good" go watch some CG tranformers flick. This film's way more.
April 12, 2016
loved it! Five stars absolutely
April 09, 2016
garbage movie
April 08, 2016
Did not like it as much as most movies . Too much sexual references and foul language. At times, the film dragged . At least, it was a realistic portrayal of being a women journalist in an hostile environment. A few funny moments. No where as good as American Sniper, Lone Survivor, or Zero Dark Thirty.
April 03, 2016
BORING!!!!!!!!!!!! I want my money back
March 25, 2016
I thought it was boring. Not enough action more drinking and partying. Left in the middle of the movie.
March 24, 2016
Great movie. Loved it.
March 23, 2016
Three oldies (60+) went to this movie not expecting much (based on reading luke-warm reviews). Boy did we get lucky. This movie was a real treat and Tina Fey was wonderful.
March 23, 2016
Great. Very entertaining start to finish.
March 14, 2016
Although not really a comedy, my sister and I really enjoyed it. Time flew by as we watched. There was some profanity, but nothing over the top.
March 13, 2016
Where is the comedy? Waste of time and money.
March 11, 2016
This movie is not a comedy. There is excessive swearing "F" word language in it. I should have asked for my money back.
March 10, 2016
My rating was 4/5 not 1/5. Please note.
March 10, 2016
My daughter-in-law and I went and thoroughly enjoyed it. I don't go to a lot of movies but thought it was fast moving, lots of excitement and beautiful scenery. Yes, there was more swearing than I am used to but it seemed to go fine with this movie. I thought the acting was great and could hardly believe a couple of hours had slipped away. I enjoyed Tina and all. 4/5
March 10, 2016
I thought it was an alright movie. It's not a comedy but has a couple of funny moments. About a woman who needs a change/something more in her life. If you like Tina Fey then go see it.
March 09, 2016
Based on a true story, the movie provide you a sense of chaos and abnormality in a war zone. Be prepared of constant "F " words. It is a so, so movie.
March 09, 2016
Four of us thought this was a good movie. Not as much comedy as commercials show, but that was a good thing. Tina Fey was great as well as the supporting characters....go see this movie, you WILL like it!
March 09, 2016
Love Tina Fey but she lacks the nuance as an actor required to make her role convincing. Not a very good movie but Bill Bob was fantastic as was the guy who played Ian. Disappointing movie.
March 08, 2016
Full of completely unnecessary swearing! Not much of a plot! Wish I had never seen this movie!!!
March 06, 2016
Loved this movie!!! Thought it was going to be a comedy being Tina Fey and all, but it is not really and was so fantastic. Tina is just a genius and her talent in producing and acting amazes me. Great true story. It was not dragged out at all. Have never written a review in my life on a movie, but enjoyed this one so much I wanted to encourage others to see it.
March 04, 2016
Tina Fey rocks.
March 04, 2016
Very funny exciting movie!
March 04, 2016
Tina Fey was spectacular in this movie, as were all of the other amazing actors. Please note that 4 straight 5 stars does not give this a 1 star rating...it is just a computer error...lol...i know for all you tech types this seems to be impossible.