World Trade Center - User Reviews
Thank you for rating this movie!
Read your review below. Ratings will be added after 24 hours.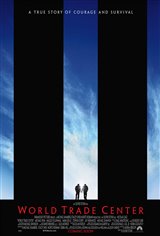 3.78 / 5
User Rating
Based on 2443 votes and 178 reviews
---
Please rate movie 1 to 5 stars
Showing 1 to 50 of 178
June 03, 2007
Really disappointed,thoguht that it would be so much more than 2 guys talking about their families. Decent acting. Untied93 was much better. This movie will definitslly not be nominated for any awards.
February 01, 2007
I can not believe that Hollywood would portray such a globally significant event like 911 with such a garbage of a movie. Starts off wonderful and then goes downhill quick. Twenty minutes of "the event", two hours of trapped guys talking. Average rating of "3.8 stars", baahhh....Hollywood owes us some stars for watching this!
January 08, 2007
Incredible set design and incredible acting. However, it was pretty boring. However, I salute all the firefighters and police officers that were involved in 9/11. They are truly heroes. 3.5 stars
December 27, 2006
The first fifteen minutes was good then the middle hour went to slow and they just did the same thing in that part but at the end it really shined. 3 1/2 *`s
December 20, 2006
unbelievable but very true and sad
December 20, 2006
Awesome! I had some doubts about the production before seeing it...now, all I can say is "GO"!
December 18, 2006
Sorta good.
December 13, 2006
great movie-
November 17, 2006
Excellant film, go out and see it!!
October 02, 2006
I KNOW THAT NONE OF US WILL EVER FORGET THAT DAY BUT EACH AND EVERY ONE OF US WAS AT A DIFFERENT PLACE DOING A DIFFERENT THING IN LIFE THAT TERRIBLE MORNING,WHILE THOSE PEOPLE IN NEW YORK SHOWED THE WORLD THAT THE HUMAN SPIRIT IS GREATER THAN WE MAY THINK AND NEW HEROES WERE BORN.OLIVER STONE`S FILM IS BEAUTIFUL,VERY EMOTIONAL REMINISCE OF WHAT IT WAS LIKE FOR THOSE HEROES ON THAT TERRIBLE DAY.pEACE
October 01, 2006
I would give this movie 4 stars. The first quarter of the movie gives a different perspective, one from the rescue workers` point of view. The rest of the movie, I thought, was well done and very moving. Although I do agree that it moved too slowly through the middle. But it was a good movie, and well worth seeing.
September 22, 2006
I couldn`t stop crying... This movie brought to life the human element of what happened on that tragic day in 2001.
September 21, 2006
SAVE YOUR TIME AND MONEY. The actual footage on the news was far better directed and film worthy than this pethetic attempt at makind a movie. I hope you get kicked out of Hollywood Olive stone (director)!!! Horrible waste of film!
September 14, 2006
soo slow and bad dialogue and it was about the police who really didnt have a big part in the real story, it was the firemen. The movie could have been made better and will probably be re-done
September 13, 2006
Enjoyable but claustrophobic and slow. I enjoyed it but only because it was an historical event that moved me. It was very claustrophobic and other than the actual attack, it was a bit slow. The acting needed improvement and not even one actor stood out.
September 11, 2006
Slow and painful, didn`t stay until the end.
September 11, 2006
1 word HORRIble!it`s too soon to screen this movie
September 09, 2006
this was the most breath taking movie i had ever seen
September 09, 2006
Tough to watch but holds your attention
September 05, 2006
awsome. this movie made me cry !
September 04, 2006
This movie never captured the enormous shock that the world felt when the trade centre was hit. It missed the mark completely .
September 01, 2006
World Trade Center 6.5/10 A fact that I truly enjoyed in WTC is that no one pointed an accusing finger at anybody, here in this review I am not going to either. It wasn't a question of who did it but more of a question of how can we help make things better at this point. In my humble opinion, the film's greatest assets; its humanity, simplicity and sincerity are ironically and unavoidably its greatest weaknesses, as far as the entertaining factor goes. It was a tragedy, a terrible day when thousands of people died, families were broken, a nation was in tears and the world was shocked. Although some moments of the film were poignant all of
August 31, 2006
the greatist movie ever
August 31, 2006
This was an excellent movie, anyone that saw this movie and thought it was boring doesn`t have any feelings for the people that went through this tragedy or their families. It was an emotional movie and very heartwarming when they were finally found. A must see!!!
August 31, 2006
GOOD MOVIE, EMOTIONAL. 3 STARS
August 29, 2006
Bring a box of Kleenex and be prepared to share with other movie-goers.
August 29, 2006
This is a must see movie. It brings back that terrible day but it also shows the heroism of so many. It brought tears to my eyes.
August 28, 2006
A respectful movie on this event.
August 28, 2006
This movie really touched me...it gave perspectives that I never would have known had this movie not come out...
August 27, 2006
I saw world trade center with my teenage/adult children. I thought from the viewpoint of the police officers and their families that went through this crisis the movie was very good. some people I spoke to did not think it was a good movie compared to the earlier movie released but they have not yet seen this movie and I hopefully explained to them the difference. as per earlier comments about nicholas cage`s waste of talent. I thought this was a good ventue for some serious protrayal and the comment is incorrect
August 27, 2006
Viewers should afterwards go see `The Road to Guantanamo`. Two viewpoints of the same tragedy.
August 27, 2006
Considering the story they had to work with, I thought the scripting and story line could have been much more inspired. T think they thought yhe subject would sell the movie.It did`t.
August 27, 2006
definatally not what i thoguht it was going to be,i thought it`d be way better..but still it is an interesting movie,suspensful..... i tohught it would show more of other things on that day,like the planes and the passengers,but it was basically about 7 rescue officers going into the towers while they collapse,with barely any equipment,and when the building collapses they end up being trapped,and struggling for their lives,for 2 hours. nicholas cage done a very well job in this movie,he is such a great actor,but i didnt get any good out of this movie...it was o.k. but nothing great,it could definatally waite till a rental........ bitta goo
August 27, 2006
Great movie. I really enjoyed it!
August 27, 2006
emotional
August 26, 2006
Very well done, Emotional but not overly so.
August 26, 2006
Eye opening and emtotional
August 26, 2006
A great movie.
August 26, 2006
A bit slow.
August 26, 2006
Tramatic for survivors.
August 26, 2006
Not bad, interesting, below my expactation though.
August 25, 2006
I really found the movie very emotional, I left the movie emotionally drained. Although it is there job to go in and rescue those that where in the building we have to remember how brave these men were and are. The movie focus on two of the rescued, numbers 18 and 19, it is not just what the endured after being trapped beneath the rubble but the pain and emotional tramua that the will have to endure until there days are done.
August 25, 2006
Very interesting to see it from a different point of view. We don`t see the planes hit the towers because the Port Authority Police Officers didn`t see them hit the towers. Very powerful.
August 25, 2006
Obviously very sad as it is based on true stories. The actors did a great job in portraying the feelings the real people must have felt.
August 25, 2006
Excellent plot and characters. Acting was superb. Academy Award winner
August 25, 2006
I thought that this movie was a bit drawn out, but overall, it lent a feeling of humanity and brotherhood to see the stories of people who actually lived through this horrible event.
August 25, 2006
I thought World Trade Center was an excellent movie and really didn`t need Nicholas Cage to play the lead. It was so heartfelt that any unknown could`ve played the part. It was a difficult movie to watch but very well done. Kudos to the producers, directors, etc.
August 25, 2006
Fantastic movie!!!!
August 25, 2006
VERY TOUCHING TO KNOW WHAT WHEN ON FOR THE PEOPLE TRAPPED THAT DAY, I WOULD NOT AND COULD NOT IMAGINE GOING THROUGH THE TERRIFYING TIME THAT WAS TO CHANGE THE WAY WE SEE THE WORLD. BRAVO FOR CAPTURING AN INSIDE STORY THAT IS TRULY HEART-WRENCHING.