X-Men Origins: Wolverine - User Reviews
Thank you for rating this movie!
Read your review below. Ratings will be added after 24 hours.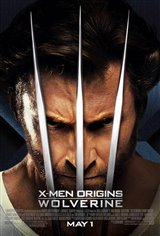 3.32 / 5
User Rating
Based on 4578 votes and 213 reviews
---
Please rate movie 1 to 5 stars
Showing 1 to 50 of 213
May 12, 2018
It was sooo good! Ryan Reynolds put his definitive stamp on the Deadpool character in a great supporting turn. Definitely a flick to revisit before heading out to DEADPOOL 2!
May 23, 2016
Non-stop excitement powers this massive crowd-pleaser to the top of the X-MEN franchise.
February 14, 2016
Best of the X-Men Origin movies! Jackman (Wolverine) and Reynolds (Gambit) are simply extraordinary!!!
December 20, 2011
i didn`t like it...I LOVED IT
December 20, 2011
why this film be 3 stars?! 5 stars because the visual FX were great and this film should be at the oscars for best visual FX.literley!!!
December 14, 2010
this movie is sooooooooooooo awsome 5 stars 4 my vote
July 28, 2010
Short and sweet. My biggest criticism though would be that this film was SO short and sweet that it seemed overly breezy and simple. So much so that it seemed like scenes were missing, which kind of defeats the purpose of editing for time contraints. Like, what made Sabretooth take out all his animosity on Wolverine? What happened when Gambit escaped from Stryker's facility? There was great depth that could have been explored in this story, and as big and unweildy as Xmen 3 was, this one was too truncated and somewhat shallow. I think that's pretty much as far as this film's weaknesses go. Liev Shreiber was absolutely great as Victor Creed, as was everyone else in thier roles: Danny Huston,
October 06, 2009
best xmen movie
October 06, 2009
great movie , goin 2 watch dis again
September 27, 2009
Best X-men movie so far,It goes way more into relevant storylines.
September 22, 2009
Very Good. Love it.
September 14, 2009
Fantastic movie, loved it!
September 05, 2009
great movie it could have been better
August 11, 2009
I could have waited for it to be on T.V.
August 08, 2009
It was great.
August 07, 2009
Good Story. Not what I was expecting at all.
July 28, 2009
Wolverine is one of the best X-Men movies yet Hugh Jackman is the man
July 27, 2009
Excellent film, a great detail on the past to future of Wolverine.
July 23, 2009
it was good movie and thier was a lot of action in the movie none stop some parts were funny and you can understand the movie and it is definetly better than the movie up and other movies so i dont understand why it is at a 3 lousy stars
July 16, 2009
Very good movie. I liked how everything tied into the X-Men movies. 3.5 stars
July 15, 2009
I'm tired of people downing this movie. I loved it! Yeah, it didn't follow the comics exactly but wolverine has such a long history, that to fit his whole origin into a single movie would be impossible! And marvel must have been okay with it or they would have never backed the script. As an added note Liev as Victor was awesome he added a personality to a character that in the first movie was 2-D. Sabre tooth isn't the brightest but he is ruthless and Liev got that dead on! 5 Stars!
July 15, 2009
Good, hype was over the top before the trailers came out. Good anyways.
July 07, 2009
I loved it. Go X-men.
July 06, 2009
You kidding me?! This is one awesome movie!!!
July 02, 2009
only problem i had with this movie was that gambit have a cajun accent like in the original series
July 02, 2009
this movie is thrilling
June 22, 2009
Surpassed my expectations - been reading Uncanny X-men since I was about 15 and the characters are perfect.....Hugh Jackman was born to play the role of Wolverine...he's perfect!!!
June 13, 2009
best movie ever dead pool Ryan renalds was the perfect choice for him.
June 12, 2009
This movie ROCKED ! Much better than I expected !
June 11, 2009
It is so good if you have not wacthed this movie wacth it!!!!!!!!!!
June 04, 2009
one of the worst movie that I have seen in decades! seriously, no jokes! Many parts of the movie is contradicting itself.
May 30, 2009
special effect aint that great
May 30, 2009
It was very enjoyable, great backstory for the Wolverine character.
May 30, 2009
somehow i got the impression that ppl can be really impressed by cheesy stuff like this.
May 30, 2009
I really don't see why Wolvertine would even need the Adamantium thingy, cuz at the first 3 mins of the movie, you can tell that bullets can't kill him at all when Victor and Logan were being executed by the military.
May 29, 2009
I loved this Movie... I think if you liked the previous X'men you'll like this. If you look to deeply into some things you will lose the enjoyment hence the previous comments about the history scenes and how the claws didn't look real enough. Who cares... I have seen all the Big Block Busters, Star Wars, Angels and Demons, Terminator.... and you know what I left feeling I wanted more ... it was great enjoy and expect a little cheese... it's a comic book series.
May 28, 2009
Can't stand his pair of fake claws... such a huge flaw in the movie
May 27, 2009
absolutely terrible
May 26, 2009
This is the worst of all X-men series!
May 25, 2009
I didn't want to go see this movie at all but had to with the group, and it was awesome! I loved it!!!
May 24, 2009
awesome movie i liked it
May 24, 2009
This Movie could have been better.what they did to the deadpool characer was stupid.RR did a good job though...
May 21, 2009
Even better than X-3!
May 21, 2009
When a singer can become an actor, you know this movie is bad! You know what I am talking about, when you see the actor for John Wraith!
May 21, 2009
this movie is a joke
May 21, 2009
Like the critics from Spill.com has said, this movie is really BAD! End of story!
May 21, 2009
Deadpool is a joke in this movie, it is not the real Deadpool, man!