X-Men Origins: Wolverine - User Reviews
Thank you for rating this movie!
Read your review below. Ratings will be added after 24 hours.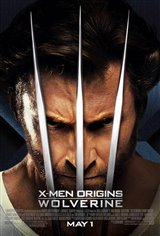 3.32 / 5
User Rating
Based on 4578 votes and 213 reviews
---
Please rate movie 1 to 5 stars
Showing 51 to 100 of 213
May 20, 2009
randomly putting x-men marvel superheros into the movie, which makes it sooo bad
May 20, 2009
intensive storyline looooove Gambit n Deadpool
May 20, 2009
I liked it, but compared to the other X-men it could have been better. I like the Canadian references though.
May 19, 2009
This movie is crazy
May 19, 2009
Entertaining action flick ,much better than I was expecting as I don't usually go to "comic Book" films.Worth seeing.
May 19, 2009
starts out good but looses focus and dies
May 18, 2009
His claws like soooo FAKE! Thats my biggest complain about this movie ever!
May 18, 2009
great action, great characters!! loved it
May 18, 2009
Entertaining...sometimes. Other than "Hugh" The acting was very sleep walkish. Fight scenes near the were all poorly choreographed , no relation to the comic at all. Although the last fight scene with deadpool was neat, made me wonder if somebody else choreographed it. Plot was poorly put together, you would have to watch the very first X-Men movie to understand some of the key plot points. 3/5.
May 18, 2009
they should of kept it up at a more mature rating
May 18, 2009
Totally awesome. Best show of the Xmen series
May 18, 2009
Excellent movie!
May 17, 2009
Not sure why some people thought this was a good movie, the story was bad and the other characters were not utilized, gambit was a waste and so was deadpool. People who thought this was good needs to get a shake.
May 17, 2009
For me I love action movies and this is the real deal! This movie was a great experience for me and my Dad! This movie is definetly my style!
May 17, 2009
Best movie i've seen in a long time. i don't know what people are complaining about, action the whole way through and always keeps you on the edge of your seet
May 17, 2009
Two reasons why I dislike this movie: 1) The movie was released on a bad day, my friends and I were still doing final exams during that week. 2) The story plot was soooo bad! The only part is the special CG effects, thats it! Probably the only reason people would go see this movie is because of the effects
May 17, 2009
not bad the story need some work
May 17, 2009
a real yawner.. wait to rent it
May 17, 2009
amazing movie!
May 17, 2009
Excellent Movie. Deserves The 5 stars,the best X-Men Yet! Hopefully they come out with another one!!!!
May 17, 2009
nice movie. 5 stars
May 17, 2009
I really enjoying the movie. Wolverine rules.
May 17, 2009
It was the best x-men movie, I hope they make more, start fresh. Simply amazing must see.
May 16, 2009
this movie rocks and make evry body watch this movie
May 15, 2009
I want my money back, wait for it to be on tv :(
May 15, 2009
Great entertainment. As good as the first three or even better...definately a must see.
May 14, 2009
I'd rather watch barney.
May 14, 2009
wish it had followed up more with the comic books, than reinventing the whole story in the movie!
May 14, 2009
Maybe not a great film for those who aren't X-men fans, but definitely pretty good for those who are! I've been waiting a pretty long freakin' time for the possibility of this film ever happening and now that it finally hit theatres, it did alright.
May 14, 2009
The worst movie ever made in 2009! It is not that good comparing the comics
May 13, 2009
Very disappointed
May 12, 2009
written by a grade 3 for grade 3's, really no character development and mostly cameos, stupid sabretooth background and deadpool was not deadpool
May 12, 2009
This movie was OK. It certainly helps explain what was going on in the first movie. Worth seeing.
May 12, 2009
It was Awesome!! YOU Have to see it!:)
May 12, 2009
BOOOOOOOOOOOOOO 'NUFF SAID
May 11, 2009
Bad story, felt contrived and hallow, wait for the dvd...
May 11, 2009
very well made movie, definitely worth the price of admission.
May 11, 2009
Fantacy vs Fantastic! Wow woth the money! Cant wait for DVD
May 11, 2009
When I wuz A kid reading Wolverine mini series under the cover`s wit a flash lite I never dreamed it would`ve gottin better. WOW ! wuz I wrong, two claw`s up, Bub!!!
May 10, 2009
So hyped that I was a little disappointed by the actual movie. Gambits accent was not nearly good enough... and brothers?? Hmmm... I still gave it 4 stars, I was only going to give it 3 but Hugh being naked gave it and extra star ;)
May 10, 2009
THIS MOVIE WAS TOO GOOD TO BE TRUE , i had seen the reviews in the torotno star giving it a rating of 2.5 , i had doubts at first but , i had bought tickets already , so we went opening day , its was soo crowded , BUT GOSSH I STYLL CANT BELIEVE HOW AMAZING IT WAS , if you havent seen it yet , you MUST , i could get ina car right now adn goo see it , speacily in high definition
May 10, 2009
Excellent movie........Huge Jackman....rocks as Wolverine. I can't wait for the next installment.
May 09, 2009
Just when I thought the X-Men franchise couldn't get any better, these people bring the two best Canadian comic characters to life from a different perspective... and a better and more personal level.
May 09, 2009
A fun movie. Not of course without its flaws, and non-canonical parts that will irritate hardcore fans no end, but it was entertaining which is the general idea of a movie.
May 08, 2009
I actualy saw this in the middle of April (It got leaked on the internet). And I thought it was amazing! I didn't think it would live up to the other X-men movies, boy was I in for a suprise! Better than the third one, a little better than the first and came close to the second. Very entertaining movie, and definetly lives up to the other three movies. I highly recommend seeing this movie in theatres! (Or computer, whatever one you prefer. :P)
May 08, 2009
It is not the best movie I've seen but it is what it is. An action adventure movie and it is just that. If you are looking for something fun and not really worried about a hardcore story line. You'll enjoy it.