X-Men Origins: Wolverine - User Reviews
Thank you for rating this movie!
Read your review below. Ratings will be added after 24 hours.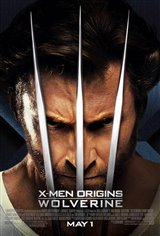 3.32 / 5
User Rating
Based on 4578 votes and 213 reviews
---
Please rate movie 1 to 5 stars
Showing 151 to 200 of 213
May 03, 2009
nothing special...
May 03, 2009
crappy plot, crappy effects, doesn't fit with the other movies.
May 03, 2009
Alright action flick but too many indescrepancies with the X-men.
May 03, 2009
the best movie i've seen
May 03, 2009
Not good, not bad, but a fun watch. If you like the comics be warned, this is not remotely close to what we fans deserve for years of devotion...even Deadpool couldn't escape the idiocy of the writers.
May 03, 2009
Wait until all the credits are done. There is an extra scene.
May 03, 2009
There is simply no other Wolverine than Hugh Jackman. This movie rocked!!!
May 03, 2009
awesome movie
May 03, 2009
hugh jackman has an inspiring role as wolverine for the x-men series
May 02, 2009
Suprisingly average...I think kids between 8 and 12 will love it, but everyone else will find it cheap looking and dull.
May 02, 2009
It was a great movie. But I gave it a 4. I was above average and I think that the character choices were great. I didn't like some of the changes they made to the movie such as Deadpool becoming the son of Striker and how we don't get to see that wicked mask he puts on. I thought that the Dark Knight was a 5 star movie. It was just amazing on all levels and was essentially perfect. To say this movie was as good as the Dark Knight I don't think I could do so that is my reason for 4 stars. All and all it was a great movie.
May 02, 2009
Pretty standard superhero movie.Predictable,but FUN to watch.Those who don't know Wolverine lore,should like to get to know it.The claws WERE somewhat cheesy,tho.GREAT sense of humour,go see this one.
May 02, 2009
one of the best blockbuster of 2009, ppl sopt bullshiting and appreciate a good movie. Its really worth of money.
May 02, 2009
This was a good movie. I didn't know what to expect but I was pleased with the outcome.
May 02, 2009
Decent film, nothing spectacular... The triligy is better. Funny, and Action Packed, though no story to hold it over. 3 stars
May 02, 2009
What a great start for this seasons blockbusters. It's hard not to like the film. For those who may not have like the film, all I can say is, stay home and be bored. there are plenty of more films that are entertaining coming out after this one.
May 02, 2009
GREAT MOVIE. I LOVE X-MEN!
May 02, 2009
this movie was awsome
May 02, 2009
This movie is amazing. All of you who dont like it are probably the kind of nerds that need every detail down to the exact molecule, like the shade of his side burns, or how shiney has claws are.
May 02, 2009
whoever says this movie sucked is a huge idiot this movie was amazing
May 02, 2009
On the edge of your seat action!
May 02, 2009
Absolute disaster the trailer is way better than the acctual movie..a totally nonsensical storyline and some moments that left you going wtf..
May 02, 2009
Fun to watch. Some good old male eye candy in this one ladies.
May 02, 2009
An EXCELLENT movie!! Honestly no matter what anyone says this movie is great hands down. Must see :)
May 02, 2009
Not really much dialogue or real story plot, but the action and a naked Hugh Jackman is still ace.
May 01, 2009
all over the place, special effects were crap (espically for his claws) and very predictable. only good part was with ryan reynolds as deadpool at the beginning (hopefully it leads to his own movie)
May 01, 2009
ZZZZZZZZZZZZZZZZZ.........
May 01, 2009
it was the best movie of the year better than spiderman really enjoy it
May 01, 2009
I love the X-Men Origins idea! Great way to keep the story alive without over killing. Fortunately, there are lots of characters that are interesting enough to create a sort of prequel to the X-Men trilogy. Not sure that they would do a Wolverine 2 since it is the "prequel" to X-Men... we already know what happens next.. Next in line for X-Men origins is Magneto, can't wait!
May 01, 2009
best movie ever you should go watch it
May 01, 2009
BOOOOO.... Biggest mistake fo the movie they made Sabertooth is his brother come on... the most basic facts are maybe like the comic and true.... they just desperately put a story line together. Movie watching was entertaining... story line was terrible.. crappy plot, crappy bad guys, crappy crappy crappy, no big mutant fights except the last fight. Please all his bones including his head are covered in addemantium ..... bullet proof, stab proof. grenade proof.... so how is Striker able to put several bullets in his head? and then the bullets in his head made him lose his memory. crap crap crap story line
May 01, 2009
If youve followed the storyline of all the x-men you should understand the movie no problem then its a wolverine bio but with lots of action in it
May 01, 2009
Terrible film. This was more like a video-game adaption and the digital effects were some of the worst I've seen in years.
May 01, 2009
LETS GO WOLVERINE LETS GO!!!
May 01, 2009
sickest movie...definitely the best x men movie
May 01, 2009
not bad, could've been better
May 01, 2009
this moviee was soo freking good omgshhhh i love it soo muchh
May 01, 2009
Wanted to see more Gambit, really not an imppact chardacter at all i nthe movie.
May 01, 2009
THE BEST MOVIE OF THE CENTURY!!!!!!! GREAT JOB MR. JACKMAN!
May 01, 2009
WOOOOOWLVERINE!!!!!!!!!!!!!!
May 01, 2009
best movie of the year so far
May 01, 2009
The fact that they made a wolverine movie is a very good thing. Also, the leaked unfinished version really is crap compared to the real thing.
May 01, 2009
great movie! Hugh Jackman fits the role soooo good. Can't wait for W2....