Y Tu Mamá También - User Reviews
Thank you for rating this movie!
Read your review below. Ratings will be added after 24 hours.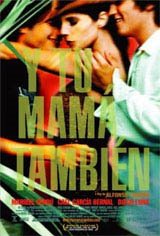 ---
Please rate movie 1 to 5 stars
Showing 1 to 14 of 14
July 06, 2006
an exceptional film, really gritty but true to life. Although i think i would have made a better lusia. x
June 17, 2006
I thought Luna and Bernal were very convinsing in there roles as typical teenage guys if you compare them to some of there other more serious work.I believe the sex scenes have a purpose in telling this story and there realistic,so each to there own i guess.If you like Luna you should see `Frida`,`Criminal` and if Bernal `Bad Education`and `The Motocycle Diaries`are excellent`films too.
May 29, 2006
I love you diegoo ur an awesome actor, i;ve seen lots of ur movies! ur the best keep up the good work cutie pie!:)
February 08, 2006
truly enjoyable and memorable i`m going to buy the dvd and watch it from time to time. diego,gael and maribel were great....i don`t think any other actors could have fit the roles so well. best wishes to the three of you in the future ;-)
December 28, 2005
This movie is seriously for adults. I admit, i tried my hardest to get hold of this movie eventhough i knew i was only 16. I thought i could handle the Adult Rated scenes but my actions came right back n bit me in the ass. This movie has sex scenes that are overbearing since ive never had any sexual experience. but minus the sex scenes it is a really a good movie because it puts you into perspective. Political differences, heavy desires for sex, knowing what`s important, and walking away from everything you had for one moment or one silly experience is not the best way to live your life. Quite intelligent for a sex movie. My parents would fre
December 07, 2005
gael garcia he is a very amazing actor. the film was very cool. And diego as well he is great actor too.
October 04, 2005
AMAZING, BRILLIANT, FANTASTIC
August 07, 2005
I love Gael Garcia Bernal, he is an amazing actor. The movie was great, it was so... moving. I think that Gael should contiue what he is doing.
September 10, 2004
i love you diegooo i love youuuuuu
September 05, 2002
Anyone watching this film can tell there wasn`t an enormous budget; however, it blows away the average 50 to 100 million budgeted movie. Y Tu Mama Tambien has that great combination of a well written screenplay, along with great acting, excellent direction and made on a very low budget. Even though we`ve seen plenty of road trip movies in the past, this one centres more on character development being the main focus than depending too heavily on an orchestrated plot. I would hope that this film ends up on a lot of critics top 10 lists at the end of the year and hopefully it will be nominated for some awards next year. Too bad this sort of film
July 06, 2002
Amazing. I really enjoyed the twist at the end as well as the "vacabulary". Fresh faces for the North American scene, an excellent gamit of issues examined in the film.
June 30, 2002
(*****) A superb satire of the hypocritical aspects of human relationships in issues of sex, business and politics seen through the clear eyes of a personal tragedy. Cinema at its best.
May 13, 2002
Honesthly, very very disgusting, specially the vacabulary that they used, no more comments!
April 30, 2002
I really enjoyed it!!!